Nearly 40 years since he competed for at Iowa, an alumnus still shines on the world stage.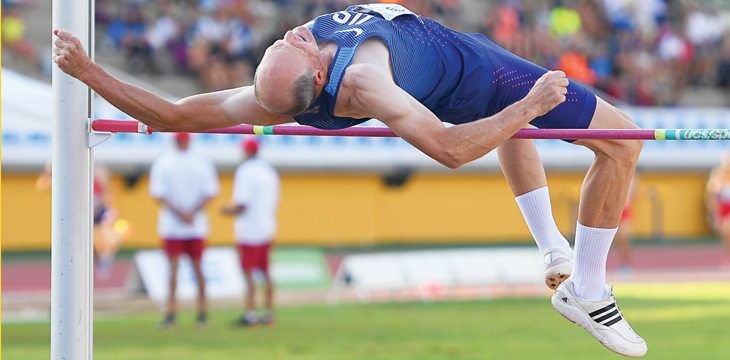 PHOTOS COURTESY PETER HLAVIN
Peter Hlavin springs for the high jump title at last fall's World Masters Athletics Championships.
At age 49, Peter Hlavin (80BBA) was down on his luck.
In 2007, the former Hawkeye track and field walk-on not only had recently recovered from melanoma, but also became unemployed. Hlavin—whose personal best 6-foot, 11-inch high jump has ranked in Iowa's all-time top 10 for four decades—decided to leap into action, volunteering as a high school high jump coach in Rancho Santa Margarita, California. "On my first day of coaching, I realized, 'I can still do this,'" he recalls. "That evening, I ordered new high jump shoes, and, by week's end, I was competing in a Masters meet for those over 30 years old."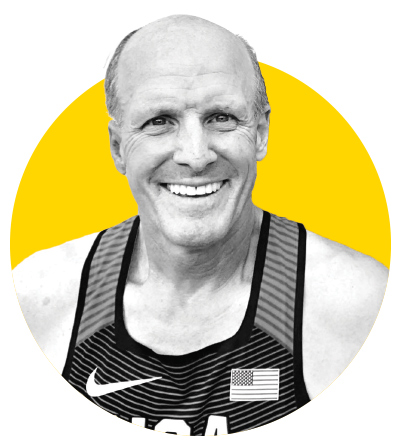 Peter Hlavin
Reigniting his passion for the high jump, Hlavin soared to No. 1 in the nation among men aged 45- 49 with a mark of 5 feet, 11 inches. His first international competition came later that season at the 2007 World Masters Athletics Championships in Italy. Even after banging his head on the vertical standard during a jump, drawing blood, and nearly exiting on a gurney, Hlavin mustered a 12th-place finish.
Soon, Hlavin began earning medals in a variety of national and international competitions. In 2013, at age 55, he tied Olympian Willie Banks' American high jump record for the age bracket, clearing 6 feet.
Still, a gold medal at the World Masters Athletics Championships had always eluded him. This changed last fall when he was crowned high jump world champion (among men aged 60-64) in Málaga, Spain. Winning against the best Masters high jumpers in the world, including a U.S. Olympian and past world champions, Hlavin was honored as one of seven finalists for the 2018 World Masters Athletics Jumps Athlete of the Year.
Far from unlucky these days, Hlavin serves as vice president of Chief Outsiders, a national management consulting firm in Orange County, California, that recently received recognition as one of Forbes' Best Small Companies of 2019.