A Hawkeye weight thrower resets the UI record books.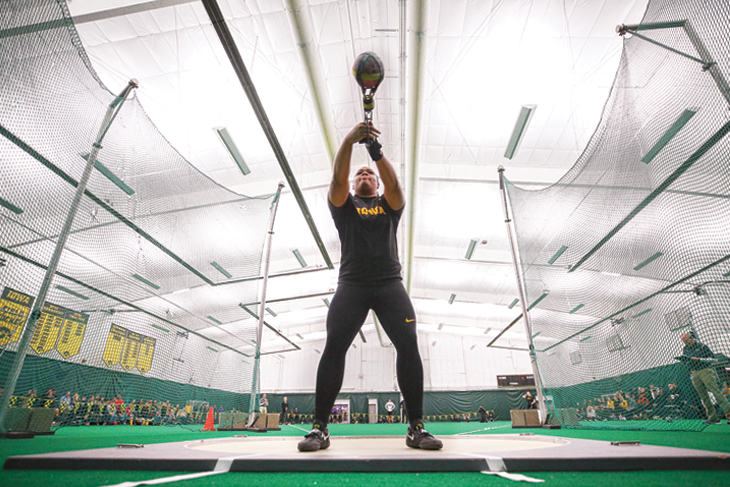 PHOTO: BRIAN RAY/UI ATHLETICS
Laulauga Tausaga practices the weight throw at the University of Iowa Recreation Building.
Throwing heavy objects has come naturally for Laulauga Tausaga since she attended a high school track practice on a whim. Then a freshman in Spring Valley, California, she heaved a men's shot and earned a varsity spot on the team.
Six years later, Tausaga is the most accomplished women's thrower in UI history, owning school records in the discus, shot put, hammer throw, and weight throw. Her résumé includes multiple Big Ten titles, All-American performances, a gold medal at the 2017 Pan American Junior Championships, and a discus title at this month's NCAA Track and Field Championships. Tausaga's discus title is the first outdoor national championship for a Hawkeye woman since 1985. Earlier this spring, the communication studies junior became the first UI woman to earn first-team All-American honors in the weight throw.
Tips for the Weight Throw
Tausaga recently shared these tips for the weight throw with Iowa Magazine. The indoor event involves swinging and throwing a 20-pound ball attached to a triangular handle within a 2.1-meter circle.
With your back to the landing area, wind the implement in your hand, swinging it past each side of your body before spinning it overhead. These movements generate speed so that by the time you turn your feet and spin (up to four times) toward the front of the circle, you're able to push the ball—and your body—in a smooth motion.
Instead of a wind, I use a cast-in motion (similar to fishing) to swing the ball side-to-side by my body before pushing the ball and my body into a turn.
For most throws, start controlled in the back and build speed with each turn. The fewer the turns, the more force you must use. I only make two turns, so I don't lose my rhythm.
The back sets up the front of the throw. When you push the ball, get down as quickly as possible, and make sure you're balanced and the ball is in front of you. By the time the last turn comes around, swing the ball and let it sail.
---
Watch Laulauga Tausaga in Action
Tausaga wins the shot put at the 2018 Big Ten Outdoor Track and Field Championships.
Big Ten Network host Spice Adams tries his hand at shot put against Tausaga.