Wide Receiver, 1984–87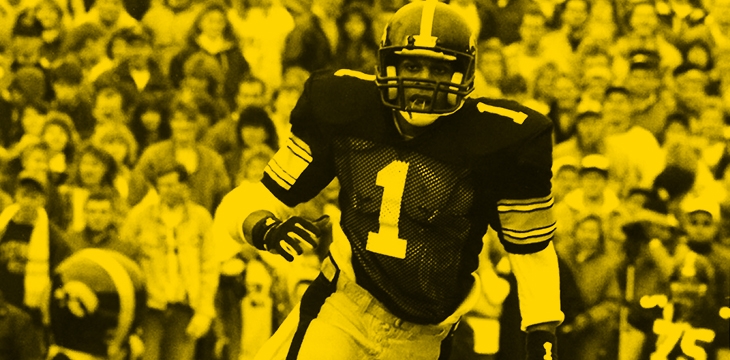 PHOTO COURTESY UI ATHLETICS
Former Hawkeye Quinn Early caught 106 passes for 1,845 yards and 13 touchdowns during his Iowa career.
Last August, Quinn Early (87BA) opened a box of books, got down on his knees, and wept. The former Hawkeye wide receiver held a copy of Bryant Acres—the final product of a promise he made to his mother, Ann L. Patterson Early, after she was diagnosed in 2008 with Alzheimer's disease.
Ann wrote the book about Sherrod Bryant, a family ancestor and indentured servant who became a successful Southern African American landowner in the 1800s—and asked Quinn to get it published. Quinn fulfilled his vow nearly five years after Ann died and felt her presence as he opened the first box of books.
"I really can feel her with me as I go through this journey," says Quinn, who's now an advocate for Alzheimer's research in addition to his role as a Hollywood stuntman for the likes of Will Smith and Laurence Fishburne. The former 12-year NFL veteran and Kung Fu expert founded the Ann Early Intervention Foundation (annearlyintervention.org), which focuses on early detection of Alzheimer's and will use all proceeds from the book toward Alzheimer's research.
Quinn first learned of his mother's writing in the late 1990s, but didn't give it much thought amid his NFL career and raising a family. The project gained greater importance as his mother's health worsened, and in 2010, Quinn agreed to get her book published.
Caring for his mother and then grieving her loss, Quinn didn't read the manuscript until 2016. But once he picked it up, he couldn't put it down. Left in tears by the end, he contacted editors and publishers, assembled photos, and lightly edited the copy. As the manuscript made its rounds, Quinn wrote a 200-page screenplay—his first ever—based on Ann's book.
"Something kept saying to me, 'This needs to be a movie,'" says Quinn, who purchased screenwriting software, studied classic screenplays, and gathered feedback from film industry colleagues. Earlier this winter, Quinn sat with about 10 actors who read lines from the screenplay, which he plans to further refine before pitching it to a director or actor.
"This is a story that needs to be told because there aren't a lot of success stories shared about people of color from American history," says Quinn. "I'm just trying to finish my mother's journey by sharing this story."
---
Quinn Early's Highlight Reel
---
Quinn Early shares his mother's story in an interview on his YouTube channel.