A decade since its introduction, the Wahls Protocol continues to help those with autoimmune diseases improve their lives.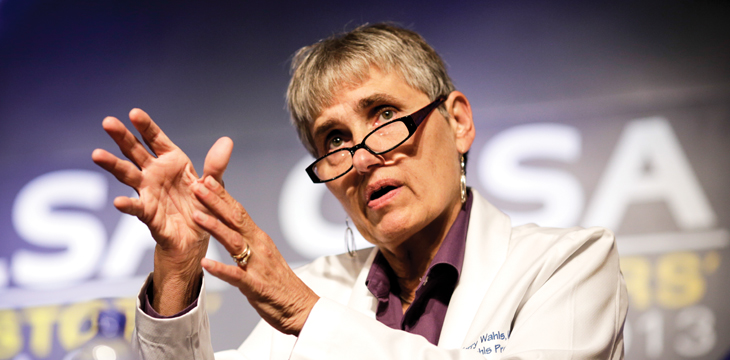 PHOTO COURTESY TERRY WAHLS
Hear physician Terry Wahls speak at Milwaukee Iowa Days in April. For more info, visit foriowa.org/events.
Two months after being diagnosed with multiple sclerosis, Annette Reed woke up unable to walk.
Doctors immediately put Reed on heavy-duty steroids for one week to help her body function. For Reed, the problem was just the beginning of a multi-year battle that saw her health slowly deteriorate. While her mobility suffered, she also experienced extreme fatigue and declining vision.
"I was still working, but I had lost a lot of function on the left side of my body," says Reed, a Hawkeye fan from Riverside, Iowa. "I knew that if it continued to progress, I was going to be in trouble."
Thanks to family and friends, Reed heard about the research of Terry Wahls (82MD, 86R), a clinical professor of internal medicine at the University of Iowa, and her novel way of approaching autoimmune diseases such as multiple sclerosis. After being diagnosed with multiple sclerosis in 2000 and experiencing a considerable decline in health, Wahls saw dramatic changes thanks to what is now known as the Wahls Protocol—a lifestyle plan that includes a Paleolithic diet, stress reduction, neuromuscular stimulation, and exercise.
UI physician Terry Wahls has spent the last decade introducing audiences to the Wahls Protocol, including through this 2011 TEDx Iowa City lecture.
Reed and her husband, Harry, went to a seminar featuring Wahls in 2010 and were convinced this was the answer to their problems. They were right.
"Within three months of following the Wahls Protocol, my mobility had stabilized, my mental clarity had improved, and I had increased energy," says Reed, who continues to follow the Wahls Protocol today.
During the past decade, Wahls has tirelessly researched how diet impacts multiple sclerosis. While she is currently leading a study funded by the National Multiple Sclerosis Society that compares a low saturated fat diet with the Wahls Protocol, Wahls says she would not be as far as she is today without the help of private support.
"My first three studies were conducted with the help of philanthropy," says Wahls. "When the data from those studies was published, the grants I was applying for started to become more and more successful."
Recently, Wahls participated in a fundraising campaign through GOLDrush, the UI's crowdfunding platform, and a total of 244 donors gave more than $35,000 to support future research projects. While there are still many unanswered questions, Wahls says eating more vegetables will always benefit your health.
"We have a ton of research that says each additional serving per day of greens or deeply colored vegetables will decrease your risk of heart disease, cancer, stroke, diabetes, obesity, and mental health problems," says Wahls. "Just adding more vegetables will have a huge impact.
---
WAHLS PROTOCOL
Want to give the Wahls Protocol a try? Here's a recipe to get you started.
TURKEY TACOS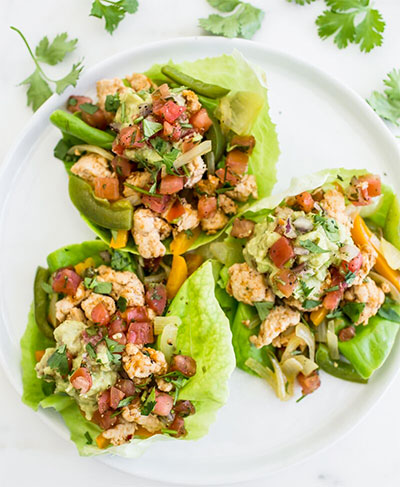 This recipe isn't a typical skillet recipe. Instead of preparing your greens with the other ingredients, you use the greens as a taco shell. Butter lettuce and Boston lettuce—or other greens such as mature curly kale or collard leaves—work well.
Ingredients:
1 pound of ground turkey
3 cups of thinly sliced bell peppers
3 cups of thinly sliced onions
3 garlic cloves, minced
8 large lettuce, kale, or collard leaves
2 tablespoons of ghee
˝ cup of chopped fresh cilantro
1 tablespoon of taco seasoning
Salsa and/or guacamole to taste
Directions:
Add ghee to a stockpot or large skillet over medium high heat. You do not need to add water or broth to the fat.
Add ground turkey, taco seasoning, bell peppers, and onions. Cook until turkey is browned and the vegetables are tender (10–12 minutes).
Stir the cilantro and hot sauce directly into the skillet, or serve them on the side.
Divide the taco filling among eight large leaves (lettuce, kale, or collards).
Add salsa and/or guacamole. Roll up or fold up, and enjoy! Alternatively, serve the filling on a bed of greens as a taco salad.
*Note: Makes four servings.