Iowa alumna Diablo Cody teams up with singer Alanis Morissette for a new Broadway musical.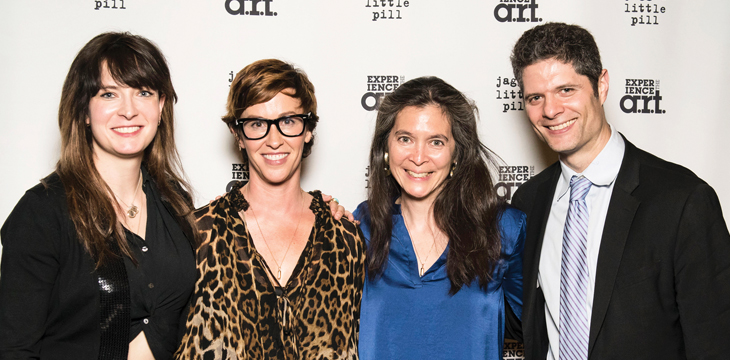 PHOTO COURTESY AMERICAN REPERTORY THEATER
From left, writer Diablo Cody is pictured with musician Alanis Morissette, director Diane Paulus, and music supervisor Tom Kitt at the premiere of the musical Jagged Little Pill last year in Cambridge, Massachusetts.
Brooke Busey-Maurio (00BA) was in her room painting her nails with whiteout one day after school when Alanis Morissette's voice first erupted from her boom box. Jagged Little Pill was just the right medicine for a teenager who had big feelings and, little did she know, an even bigger career ahead of her under the pen name Diablo Cody.
Today, Morissette's record, a 1995 alt-pop touchstone and one of the best-selling albums of all time, remains just as inspiring for Cody. In her first foray into theater, the Academy Award-winning screenwriter has written a novel based on the themes of the album that has been adapted into a new musical. Featuring Morissette's music and Cody's prose, the stage production of Jagged Little Pill premiered last year at Harvard University's American Repertory Theater to sold-out crowds and enthusiastic reviews. Now, a Broadway debut is in the works.
"Jagged Little Pill was the soundtrack to my 17th summer and has become even more meaningful to me as I head into my 41st," Cody wrote in an essay about the musical, which includes anthems like "You Oughta Know" and "Ironic." "Back in 1995, I never could have imagined I'd someday be tasked with creating a narrative around Alanis' incredible catalog of songs. Like the music itself, the job has been challenging bliss."
Cody, who grew up in the Chicago suburbs, has long been a music lover. A communications studies major at Iowa who worked for a time at UI Libraries, she also moonlighted as a DJ for the university's student radio station, KRUI. Under her pen name, Cody burst onto the literary scene with her 2005 memoir, Candy Girl, and three years later won an Academy Award for her screenplay of Juno. Since then she's written films like Young Adult, Jennifer's Body, and Tully, as well as helped create award-winning TV shows like United States of Tara and One Mississippi.
In Jagged Little Pill, Cody tells the story of a seemingly perfect suburban family whose members grapple with weighty issues like addiction, sexuality, and race. "The romance, laughter, tears, sex, and loss are already there, embroidered into the lyrics and melodies," Cody wrote of Morissette's music. "I am incredibly proud of my role as translator and midwife in this production."
Cody isn't the only UI graduate involved in the show. Among the musical's investors is film producer Kevin Gruneich (80BBA). Over the course of 10 weeks last year in Cambridge, Massachusetts, their show sold out 79 times and smashed the theater's attendance record by drawing more than 45,000 audience members. Buzz for Jagged Little Pill has only increased after it was announced in January that the musical is heading to Broadway this fall.
The most culturally relevant stage show of 2019 might turn out to be from 1995. Isn't it ironic, don't you think?
A video promo for Jagged Little Pill
---
Inside the rehearsals for Jagged Little Pill