Enter Schoevaert, who grew up in France and now works in New York City with artists from many disciplines to blend theater, dance, rhythmic text, visual arts, and live music. She joined Schlesinger and Patkanian for a month in summer 2017 at the UI's Obermann Center for Advanced Studies as part of the Interdisciplinary Research Grant program. Over four intense weeks, the trio reviewed and edited film footage, wrote, mapped out the show's structure, and created storyboards.
Through their research, they discovered that in Syria, a wedding is thrown at the funeral when someone dies before they are married. "In Euripides' play, Iphigenia is killed at her wedding to start a war," Schoevaert says. "I thought it would be interesting to use the funeral wedding as a concept. This is not a performance; it's a ritual. We are giving voice to these people through the text Lisa wrote. We are creating a raw, immersive experience where the audience doesn't just rest."
Schlesinger says she's pleased with what a production that incorporates many arts disciplines can accomplish. "I really love this kind of total theater," Schlesinger says. "I'm hoping for something that feels in the world of the sacred. That it's a kind of lament, a prayer, a call to our higher consciousness. To act human in the face of a really difficult world crisis."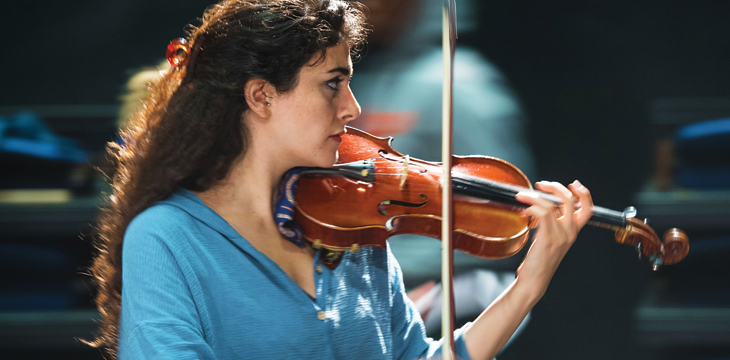 Award-winning Lebanese violinist Layale Chaker was among the international artists who collaborated with UI students and faculty on this production.
It's exactly the sort of play that Crystal Stewart, a first-year MFA student in acting from Greenville, South Carolina, says she came to the UI to work on. "This developmental work and mix of media and theater is more of what is being done professionally," she says. "We've been given so much opportunity to try stuff. I've never quite worked in that way before. But everyone feels like they're a part of creating it."
This type of hybrid production is new to most of the student actors, dancers, and musicians. Along with dance students practicing spoken word, the student actors learned the dances, which were choreographed by George de la Peña, UI professor and BFA program director for dance. Music students took advantage of a master class and concert by Kinan Azmeh, the Syrian composer and clarinetist who created the music for Iphigenia Point Blank. Both the play and concert were part of Hancher's Embracing Complexity project, which seeks to build greater awareness and understanding of Islamic cultures.
The world premiere of Iphigenia Point Blank is not the end of this version of Iphigenia's story. Along with the production being performed in New York next year, Patkanian continues to follow refugees' stories, most recently recording the testimonies of female refugees and volunteers in camps in Lebanon.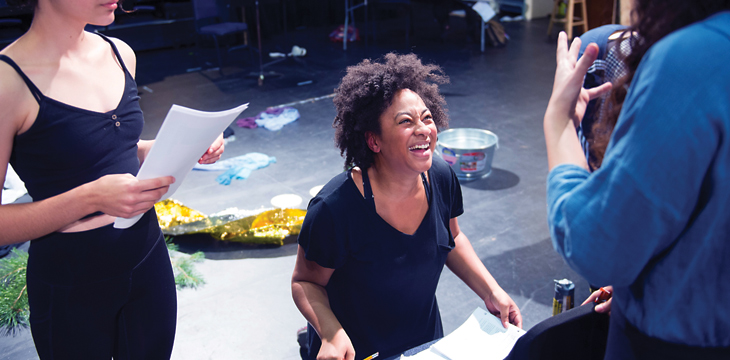 Crystal Stewart shares a laugh during rehearsals.
Meanwhile, Schlesinger is thinking about the next steps for the Iphigenia Project, which may include a digital archive, continued social activism and visiting refugee camps, and a published version of the play that contains the documents and research used in writing it.
"One of our goals was to commit as artists to this crisis, which we knew wasn't going to resolve immediately, and to keep our eyes and lens on it," Schlesinger says. "It's not like we think art can make a huge social change, but we feel if we put our efforts into keeping it current, we will come to the best solutions we can. Art asks lots of questions, and sometimes the world answers or asks questions back."
---