Go behind the scenes of the UI's world premiere of Iphigenia Point Blank: Story of the First Refugee, an interdisciplinary theatrical collaboration that addresses a global crisis.
According to Greek mythology, after King Agamemnon kills a deer in a field sacred to the goddess Artemis, she punishes him by stopping the wind so his fleet cannot set sail to wage war against Troy. Artemis tells Agamemnon that for the wind to blow again, he must sacrifice his daughter, Iphigenia. He does.
This tale of a horrific sacrifice made for the sake of war was most famously recounted in two plays by Euripides nearly 2,500 years ago, and in numerous adaptations since. Lisa Schlesinger first wrote about Iphigenia in the early 1990s while attending the UI Playwrights Workshop and the Iowa Writers' Workshop.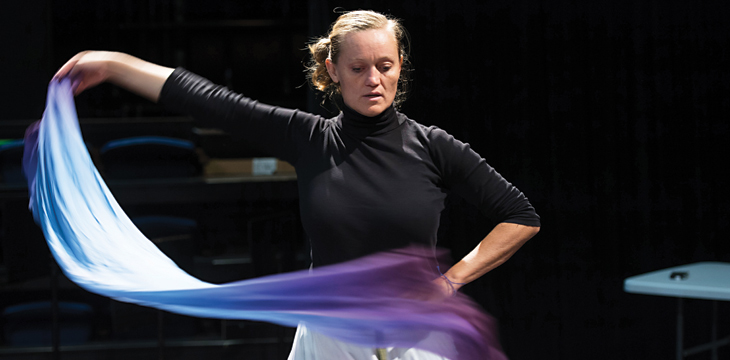 Director Marion Schoevaert
"I've always had a bit of a curiosity or obsession with this character, and I would picture her in places where war occurred," says Schlesinger (89MFA, 95MFA), now a co-head of the UI Playwrights Workshop. "I've been a peace activist since I was a teenager, and she's a strong anti-war symbol for me."
More than 20 years later, Schlesinger has returned to her adaptation of Iphigenia's story in an avant-garde production emerging from a multiyear collaboration with filmmaker Irina Patkanian (95MA, 00MFA) and director Marion Schoevaert. Iphigenia Point Blank: Story of the First Refugee is a unique live performance that blends film, theater, dance, and music to examine and respond to today's global refugee crises. Elements of the project culminated onstage at the university's David Thayer Theatre last month in a world premiere featuring UI students.
Schlesinger and Patkanian started working together in 2015 on Seven Songs for Iphigenia, a film/theater workshop and site-specific performance among ancient ruins in Crete. As they reached Greece, refugees from Syria, Iraq, and Afghanistan were pouring into the country, and the women immediately drew a connection to Iphigenia's mythological story. While some versions conclude with Iphigenia being sacrificed, others end with Artemis rescuing her and sending her to live in exile.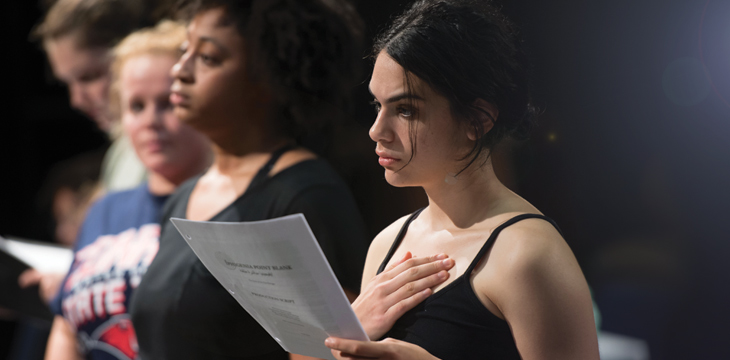 The cast of Iphigenia Point Blank rehearses this past fall at the UI Theatre Building.
"When we realized Iphigenia was the first refugee in world literature, we felt there was more work to do on this story," says Patkanian, a professor at Brooklyn College who then traveled to Lesvos, Greece, to capture footage of the refugee crisis. "The journalists were looking for quick action, a great shot, great quote, great headline. But I didn't think that was enough. After seeing so many of those, you become immune and don't feel anything anymore. It doesn't stick."
Meanwhile back in Iowa City, Schlesinger began writing a new play based on the project's fresh new focus on present-day war and refugees. Included in this version are words spoken by military personnel and young women since the beginning of the Iraq War 15 years ago.
"I wanted my film to not so much combine, but collide with Lisa's beautiful words," says Patkanian, a Russia native. "But we didn't know how yet. We needed someone who could realistically put this in a physical space, in a theater."