How a visionary doctor and his UI-hatched startup beat Google in the race to bring artificial intelligence to health care.
University of Iowa doctor Michael Abramoff was in a San Francisco hotel room one morning this past spring when he received a phone call that, in many ways, he'd been awaiting his entire career. For decades, Abramoff—an ophthalmologist, computer scientist, and entrepreneur—had studied how artificial intelligence could be used to autonomously detect a leading cause of blindness. He'd published hundreds of papers and secured a string of patents. Yet with each step he took, his work was met by a collective shrug from the scientific and medical communities.
That was about to change. Abramoff was on the West Coast to attend an investors meeting for IDx, a venture borne out of his research at the UI with the backing of longtime business executive Gary Seamans (71BSEE). He'd have some good news to announce at the meeting. The phone call was a heads-up that the Food and Drug Administration had granted formal approval for IDx to market its futuristic technology—the nation's first-ever AI system that could diagnose disease in place of a doctor.
After years of esoteric research, Abramoff suddenly had the health care industry's attention. The White House Office of Science and Technology Policy heralded the breakthrough on Twitter: "Smart, considerate regulatory approval of AI-based devices will improve our health, while keeping Americans safe." What followed was "a tsunami of interest," as Seamans put it. Dozens of calls and emails flooded in from investors, health care organizations, and science journalists around the country. They were all chasing the same thing—the pioneering researcher who taught computers how to think like doctors.
---
They call him the Retinator. Framed behind Abramoff's desk at UI Hospitals and Clinics, opposite a wall lined with his many patents, is a 2010 column from the Ophthalmology Times. Under the headline "Revenge of the Machines," the journal's chief medical editor discussed an eye-opening study by Abramoff that showed computer algorithms can be as accurate as doctors in detecting a devastating eye disease known as diabetic retinopathy. The column asked whether AI was a dangerous path for medicine and, if in true Terminator fashion, the machines would one day supplant the humans—or in this case, the doctors. (The columnist, thankfully, concluded that everything would be fine for his fellow ophthalmologists in the long run.)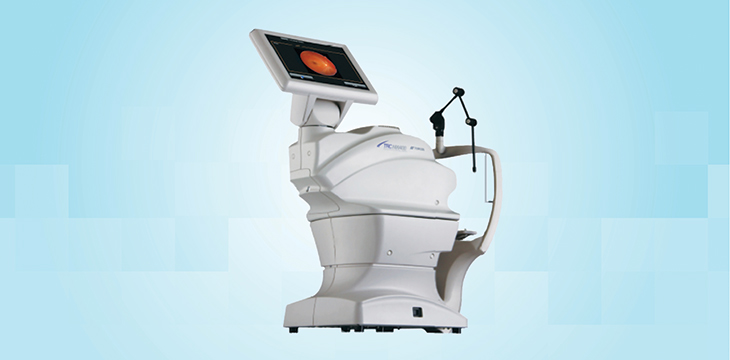 Abramoff wasn't exactly thrilled with the new nickname offered up by the magazine. "The Retinator," as colleagues began calling him, conjured up images of a cyborg in a lab coat training a laser beam at patients' eyeballs while delivering one-liners: "I'll be back—after you fill out this medical history form." Abramoff, a Netherlands-born retinal specialist who joined Iowa's renowned ophthalmology program in 2002, wasn't working to usher in an age of soulless, robot-run clinics. But he did envision a future in which AI gives medical workers "superpowers," as he likes to say, while making health care more affordable, accurate, and accessible for patients.
Today, Abramoff has come to embrace his nickname as it becomes evident that AI will play a prominent role in the future of medicine, and as some of the world's biggest companies play catchup to IDx's vision. Others exploring AI in health care include tech colossus Google, which—like IDx—is building an automated system to detect diabetic retinopathy. But it was Abramoff and his 40-person team—headquartered in a modest office at the UI Research Park—that emerged as the unlikely winner in the race to be first to FDA approval.
The rise of IDx's profile has only accelerated in recent months. In June, the company's AI system, called IDx-DR, was implemented for the first time at UI Hospitals and Clinics. Two months later, Abramoff published IDx's breakthrough clinical trial results in the journal Nature Digital Medicine, which overwhelmingly demonstrated the accuracy and safety of the system. And this past fall, four venture capital firms invested a total of $33 million in the company in what was reportedly one of the largest rounds of startup funding in Iowa's history.
Since receiving FDA approval, Abramoff has given more than 50 interviews, hosted webinars for international audiences, and participated in an "Ask Me Anything" session on the popular website Reddit that drew hundreds of questions. Often his biggest task is easing fears over the unknown when it comes to AI—much like he does with patients before surgery.
"As a doctor, you learn how to manage a patient's anxiety so they feel comfortable and safe; the procedure won't go well if there's stress for the patient," says Abramoff. "It's similar here; people are worried. What's this AI going to do? Will it make errors? Is it safe? Is it going to take away all of the jobs? There are a lot of concerns, but we're being very transparent and open and focusing on our goal: preventing blindness and vision loss."
---
Since June, patients at UI Hospitals and Clinics have been the first in the nation to receive a diagnosis by an AI system. Inside the Diabetes and Endocrinology Center on Coralville's Iowa River Landing, patients peer into a retinal imaging machine during their routine visits. Moments later, the computer reveals whether they have diabetic retinopathy—an all-too-common complication of diabetes that affects 7.7 million Americans and is the leading cause of vision impairment and blindness among adults. With diabetes rates climbing, the number of people in the U.S. suffering from the eye disease is expected to surpass 14 million by 2050, according to the Centers for Disease Control and Prevention.
Diabetic retinopathy occurs when the tiny blood vessels that feed the retinas—the light-sensitive tissue in the back of the eye—are damaged. Ophthalmologists can effectively treat the condition if it's caught early enough. But symptoms like blurred or spotty vision typically don't manifest until it's too late, making it crucial for diabetes patients to see an eye specialist annually. Allowed to advance unchecked, the disease can lead to irreversible blindness, which occurs in 24,000 Americans each year.
The problem is that more than half of the 30 million American adults with diabetes aren't getting their annual eye exam. For many, the likelihood that they don't have the disease, as well as the hassle of making the appointment, filing another insurance claim, or—for those living in rural or remote areas—driving hours to the nearest eye specialist, keeps them away. The issue is compounded for those living in developing countries, where ophthalmologists are scarce and costs are prohibitive. IDx aims to overcome those barriers by equipping primary care providers, retail clinics, urgent care offices, and other frontline health care sites with its inexpensive system, which performs the screening without an eye doctor present. Any clinic staff member with a high school degree or above who completes a four-hour training program can administer the IDx-DR test.
Here's how it works: With the guidance of the trained operator, patients slide their chair up to a robotic retinal camera, which captures two digital images of each eye. Software powered by the IDx-DR algorithms analyzes the images and within minutes makes a clinical decision: Either the patient has "more than mild" diabetic retinopathy and should be seen as soon as possible by an eye specialist for further evaluation and possible treatment, or the patient tests negative and should be retested in 12 months.
Screening for diabetic retinopathy directly at diabetes clinics isn't a new concept, says Yumi Imai, a physician and associate professor of internal medicine who has overseen the implementation of IDx-DR at UI Hospitals and Clinics. But even if images were taken in the clinic, they previously had to be sent to an ophthalmologist for analysis—a step that could delay diagnosis for weeks. "IDx solved that major bottleneck," Imai says. "Now the diagnosis comes back within five minutes, which makes it extremely practical."
Abramoff's AI algorithms, which were built with data from more than one million retinal image samples, scrutinize a patient's retinas in the same manner a trained specialist would, searching for hemorrhages, microaneurysms, and other abnormalities. That's different than the approach used by other research groups working to diagnose disease with AI, Abramoff says. Google uses a so-called "black box" algorithm, which is trained using vast numbers of retinal images that are each assigned an outcome—this image shows diabetic retinopathy; this image does not. But a black-box approach assumes every conceivable scenario is represented in the training data, which Abramoff says is impossible to prove and can result in what are called "biases" in the algorithm. Unlike IDx-DR, which thinks like a doctor, black-box AI doesn't know why it's making its diagnosis, Abramoff argues.
In the groundbreaking clinical trial that earned FDA approval, IDx tested its system among 900 patients at 10 primary care sites across the U.S. and demonstrated that it could correctly detect the disease 87 percent of the time and accurately identify those who didn't have the disease 90 percent of the time. Those rates were both well above the benchmarks set by the FDA. IDx had previously secured approval to sell its system in Europe, but FDA clearance paved the way for IDx to break into an American market where more money is spent per capita on health care than any other nation.
What makes AI particularly appealing is its ability to reduce the soaring costs of health care, explains Seamans, IDx's executive chairman. While a half-hour screening for diabetic retinopathy by a specialist results in a $220 claim to Medicare, he says an IDx-DR screening costs $30 to $50 per patient.
As for the ophthalmologists who would be performing fewer screenings, they'll be able to spend more time actually treating people with the disease, Seamans says. He adds that from a revenue perspective, those treatments and procedures will generate significantly larger reimbursement for clinics than routine screenings.
"One of the questions people ask is who wins and who loses in this," Seamans says. "And that's usually the case—somebody wins and somebody loses because it's a zero-sum game. But they're all winners here. Everybody wins; nobody loses. And that's why this is so game-changing."
---
Seamans first met Abramoff more than a decade ago at the behest of Keith Carter (88F), a physician and the newly appointed chairman of the UI Department of Ophthalmology. Seamans, a charismatic businessman who held executive posts at AT&T and Westell Technologies before retirement, was a longtime board member at the UI's Institute for Vision Research. Carter asked Seamans to analyze his department from a business perspective and interview its principal players, including Abramoff.
Seamans was fascinated by the brilliant doctor, who he learned spoke seven languages and could code in nearly a dozen more. "Off-the-charts Mensa" is how Seamans describes Abramoff, who today holds UI professorships in ophthalmology and visual sciences, electrical and computer engineering, and biomedical engineering. Seamans found Abramoff's research particularly compelling. After the doctor explained his idea of using retinal imaging to autonomously diagnose disease, Seamans sat back in his chair. "Michael, you should take this public," he said.
At that point Abramoff had been working on the problem for nearly 10 years. When he was a resident doctor in his native Netherlands, he first noticed that his fellow ophthalmologists' schedules were crowded with routine diabetic retinopathy screenings, most of which came back negative. Meanwhile, many patients who actually had the disease were failing to get checked until it was too late. The inefficiency gnawed at Abramoff. He wondered if it was possible to train computers to look for the same anomalies he did during an exam.
It was a question that Abramoff was uniquely equipped to tackle. Though he had long been interested in medicine, Abramoff's education and career took an unexpected detour into computer science in the 1980s. At that time, the Netherlands used a socialized lottery system to admit applicants to medical school, and Abramoff's number didn't get drawn the first year he was eligible despite his strong academic record. Instead, he went to work at a Dutch software company—a job that helped him pay his way through medical school when he was eventually admitted. Not ready to abandon computer science, Abramoff went on to earn his master's and Ph.D. in image analysis. He was particularly fascinated by artificial neural networks—computing systems that mimic the human brain—and in 1989 he wrote his master's thesis on the topic. "Understanding the brain and being able to implement it in silicone has always been exciting to me," he says.
Abramoff spent his early career in the budding tech industry, taking a post-doctoral position at a neural network research lab in Japan, then a software company in Paris. He eventually returned to medicine and to Amsterdam, where he completed his residency and began thinking about novel ways to combine his scientific interests. Electronic medical records was the obvious—albeit less exciting—choice, but Abramoff wanted to directly help patients. So when it struck him that millions of people suffering from diabetic retinopathy could benefit from AI, he dove into the research. In the coming years he began building algorithms aided by imaging machines that became increasingly powerful, and he conducted numerous studies in Amsterdam and Iowa. Along the way he secured 16 patents, with six more provisional patents currently in the works.
Abramoff hoped the medical world would take notice—that a forward-thinking company would swoop in and adapt his technology for the masses. But the reaction wasn't quite that enthusiastic. "Dead silence," Abramoff says.
"I thought, well, I've published 50 papers on this and clearly it's not moving," he recalls. "I'm a physician, so for me it was more than an interesting coding or mathematical subject—I wanted it to benefit patients. Otherwise it was a waste of time for me. Other researchers are happy getting new papers, new publications, and new grants, but I wanted more."
The biggest obstacle, Abramoff came to understand, was securing FDA approval—an undertaking that would require a major clinical study, years of work, and millions of dollars. Abramoff approached private philanthropists but found that key aspects like hiring clinical trial auditors weren't exciting enough to pitch to funders. So in 2010, Abramoff took a different route, founding his own company with fellow UI professors and ophthalmologists James Folk and Steve Russell (88F).
Seamans came on board later that year as CEO, eager to transform Abramoff's ideas into a viable company. An Iowa City native, Seamans became acquainted with the UI's ophthalmology program after physician Ed Stone (90F, 92F) saved his mother's eyesight from age-related macular degeneration. Seamans joined the board of directors for the UI Institute for Vision Research in the 1990s as a way to give back, in addition to his other philanthropic contributions to the university. The College of Engineering's Seamans Center, for example, is named in recognition of his support, and he's a member of the UI Center for Advancement board of directors.
Seamans had retired from the corporate world years earlier, but he joined IDx in exchange for a stake in the company, no salary, and the notion that the small venture would require just a couple hours of work each week. Today, it's become much more than a full-time role for Seamans, who wakes up before dawn each day to answer emails from potential investors and leads the company's high-profile board of directors, which includes former U.S. senate majority leader Bill Frist and businessmen Howard Leach and Martin Carver (70BA).
Abramoff considers Seamans his mentor, though that admiration might not be evident to those walking by his office on a given day if the two are locked in debate. Conversations between them often devolve into "healthy shouting," as Abramoff puts it. It's a dynamic that reflects their shared passion for IDx's success more so than the pressures of building a new company, they say. For Abramoff, it is also a reflection of the hard-headedness that propelled him forward for so many years in the face of naysayers.
No one is doubting Abramoff or IDx today, and Seamans says he "could not be more bullish" on their future. "It's not wild-eyed craziness; it's justifiable bullishness," says Seamans. "Success is a journey and not a destination, and we're on a roll right now. To me, the idea of being able to fundamentally advance health care worldwide with something that's the first ever, not a lot of people get that opportunity."
---
IDx isn't the first biomedical startup to spin out from the university. The UI's strong tradition in research and medicine has proven fertile ground for marketable ventures. One UI success story is Integrated DNA Technologies, a genomics company founded by faculty member Joseph Walder in 1987 that today is headquartered in Coralville with offices around the world. Currently, nearly 50 other startups are in various phases of development through the UI Ventures program, which helps faculty, staff, and students turn their ideas into businesses by connecting them with capital and other resources.
Jordan Kaufmann, director of startups for UI Ventures, says while faculty innovators are often eager to get their technology to patients, launching a company can be a long and complex process. In IDx's case, the company raised $22 million to fund its FDA trial through angel investors.
On average, nine out of 10 startups fail, Kaufmann says. "It's not for the faint of heart. But most of our faculty who have been on this path really believe in their technology and that it's going to absolutely make a difference," she says.
IDx is on a trajectory to be one of those rare success stories. The company is in talks with a number of major health care systems and expects to roll out IDx-DR in several new markets beyond Iowa in the coming months. Even more, screening for diabetic retinopathy is likely just the beginning of what's to come for AI-driven medical diagnostics. Abramoff and his team are hard at work developing prototypes to detect glaucoma and macular degeneration, which are two other major causes of blindness. Beyond the eye, the company is exploring how AI can be used to diagnose conditions like Alzheimer's, cardiovascular disease, and stroke risk, as well as developing therapeutic AI that can make treatment decisions once diseases are diagnosed.
UI Health Care leaders have been the earliest champions of IDx and its vision. Brooks Jackson, UI vice president for medical affairs and dean of the Carver College of Medicine, said it was important that Iowa patients were among the first to benefit from the technology, and he sees advances in AI as only enhancing patient care at UI Hospitals and Clinics.
"AI will continue to be an area of research interest in the years ahead—for clinical applications such as IDx-DR but also in terms of using AI to analyze medical data, such as electronic health records, to predict a patient's risk for certain diseases," Jackson says. "Obviously there's a lot of work to be done, but I think we're just starting to scratch the surface of the potential of AI."
The university is also invested in IDx's success on the business side. Because much of the intellectual property used by IDx emerged from Abramoff's research while at the UI, those patents have since become the property of the UI Research Foundation. Instead of collecting licensing fees from IDx that could reach six figures, though, the UI has opted to take equity ownership in the company.
The UI has also supplied a pipeline of talent to IDx. What began as just a handful of people in a small downtown Iowa City office has evolved into a 40-person company that is growing by the week. As of this fall, 27 employees at IDx were UI alumni, including president Benjamin Clark (13MBA), and vice presidents John Casko (13MBA), Eric Talmage (13MBA), and J.D. McCullough (15BSE).
The company has plans to scale up to 165 employees in the coming years, says Seamans, and it's already outgrowing its office at the UI Research Park in Coralville, where it only moved this past March. As its stature has grown, IDx has declined overtures to relocate to the Bay area and elsewhere beyond the Midwest.
Abramoff is determined that the AI revolution in health care will begin in Iowa. "This company is based here and will stay here," he says, "to give something back to the people of Iowa."