A UI initiative brings excitement and change to a city on the rebound.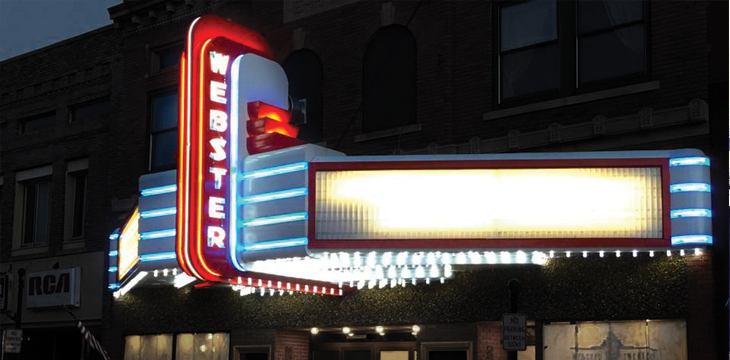 sign photo courtesy webster theater
Seven years have passed since Webster City, Iowa, lost its flagship employer, Swedish appliance maker Electrolux. It hasn't been easy for the community of 7,700 to bounce back from losing thousands of jobs, but a partnership with the University of Iowa Office of Outreach and Engagement's Iowa Initiative for Sustainable Communities is helping their efforts.
From a strategic plan for downtown to designing and engineering a pedestrian bridge, UI students and faculty are working on 16 projects during the 2018–19 academic year to assist the community and its residents. While class projects touch every part of the community, one of the highest priorities will be the downtown district, which—at its lowest point—saw 23 percent vacancy.
"Revitalization of our downtown is a priority for me in my role with the city, and it's also a priority for our city council, our heads of industry, and the broader community," says Lindsay Henderson, a native of Webster City and its community vitality director.
The reopening of the local movie theater (pictured) in 2014 after a community-led fundraising effort has inspired UI students to identify additional ways to bring life to downtown Webster City. Five graduate students in the UI School of Urban and Regional Planning—Jessica Baker, Jasmine Frias (17BA), Reuben Grandon (09BBA), Emily Legel (17BS), and Ryan Schweitzer (14BBA)—are leading efforts to create a downtown strategic plan.
"We plan to engage the public as much as we can," says Frias. "Our goal is to have a finished product that reflects proven planning strategies, as well as the desires of the community. It's an exciting opportunity to work with the people of Webster City."
Henderson says having UI students involved gives the community hope for the future. "Our citizens feel that change is happening," she says.
Find out more about the UI's impact on Hamilton County.