A jazz composer visits campus to perform music inspired by an acclaimed UI sculptor.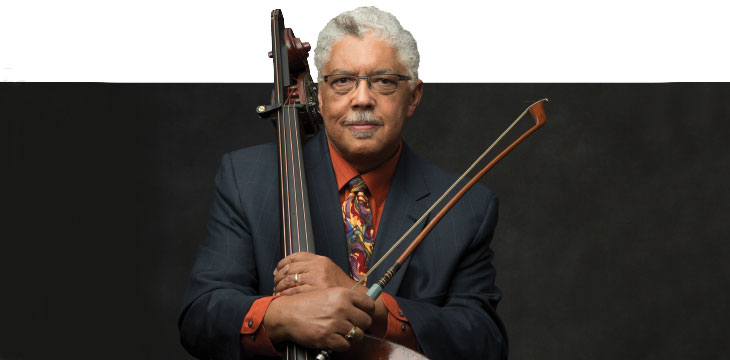 PHOTO: JIMMY KATZ
Rufus Reid celebrates the life and art of UI alumna Elizabeth Catlett (40MFA) in his Grammy-nominated, five-movement jazz suite, Quiet Pride.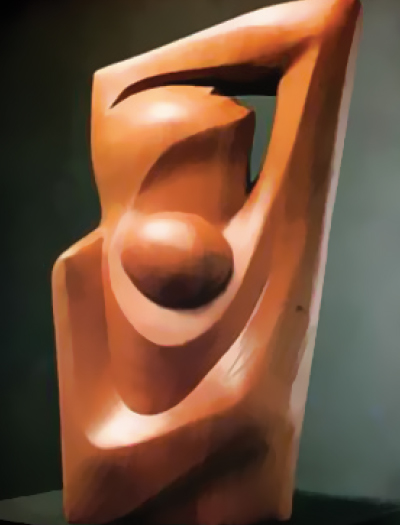 PHOTO COURTESY HANCHER
Mother and Child
The New Jersey-based composer and bassist has pored over Catlett's sculptures to find a musical muse in the smooth and flowing shapes of Mother and Child (pictured), as well as in the strength, power, and conviction of Glory. He even spent a week with Catlett at her home in Cuernavaca, Mexico, four years before she died in 2012 at age 96. Yet Reid's weeklong public residency at Iowa this past fall—which culminated in a performance at Hancher—gave him more appreciation than ever for the renowned artist, educator, and civil rights activist.
"This whole week has put her in a new position," Reid said as he perused prints by Catlett in the UI Stanley Museum of Art's collection. "I've never been this deep into who or what she was."
Catlett, who studied under Grant Wood and whose work often depicts the experience of African American women, was the first student to receive a Master of Fine Arts degree in sculpture from the UI. Her prints and sculptures are now displayed everywhere from the foyers of the Iowa Memorial Union and Oprah Winfrey's home to the halls of the Metropolitan Museum of Art and Museum of Modern Art—though Reid first became acquainted with her masterpieces through a book by Catlett protégé Samella Lewis.
While at Iowa, Reid introduced a new generation of Hawkeyes to Catlett's legacy, meeting with students of the arts and performing several concerts with local musicians—including at UI's Catlett Residence Hall. He also presented with Catlett expert Melanie Herzog, a professor of art history and dean of the School of Arts and Sciences at Edgewood College in Madison, Wisconsin, who called Catlett "one of the most important American artists of the 20th and early 21st century."
During a public lecture at the Old Capitol Museum, Reid explained that the title, Quiet Pride, refers both to the solitude of an artist at work and to his perception of Catlett, whom Reid said reminded him of his grandmother. "It does fit because her work is all about pride," replied Herzog. "Pride about being a woman, a black woman, an artist, an educator, an activist, a mother, a grandmother, a great-grandmother. There is a kind of quiet centeredness around it, and you see it in images of her work."