TAYLOR LOUIS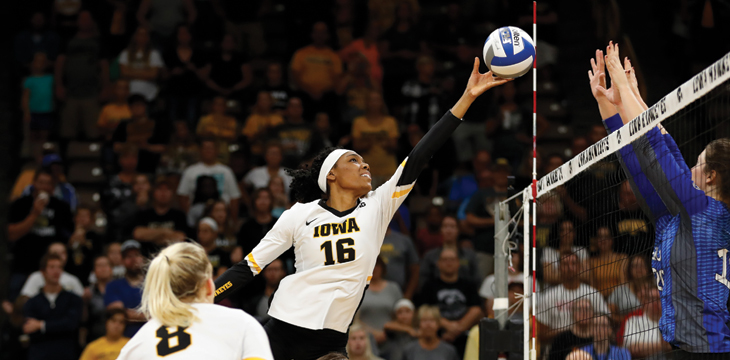 PHOTO: BRIAN RAY/UI ATHLETICS
Taylor Louis rose above the net and smashed a cross-court missile past Ohio State's front row, eliciting a loud cheer from the Carver-Hawkeye Arena crowd. The Evanston, Illinois, native jumped, pumped her fist, and flashed a big smile as her Iowa volleyball teammates rushed over to celebrate en route to a major 2017 victory over the Buckeyes.
Louis may have appeared confident and composed that season while earning an All-Big Ten honorable mention, but internally she fought a silent battle against depression. Fortunately, the 6-foot-3 outside hitter returned stronger than ever this season to lead the Hawkeyes as the nation's returning kills leader (ending her career with 1,964 kills) and the UI's first All-Big Ten honoree in 17 years.
"[Louis has] come back with a vengeance," Iowa volleyball coach Bond Shymansky (95BA, 98MAT) says. "She's got that in her. The team follows her when she goes there."
TAKE TWO
Shymansky first recruited Louis when he was head coach at Marquette in 2013, but he became the Hawkeyes' head coach three months later. The two reunited in January 2017 when Louis transferred to the Big Ten for better conference competition. Louis led Iowa in kills as a junior, and as a senior this fall was named to the Pac-12/Big Ten Challenge All-Tournament Team and recognized as MVP of the Cyclone Classic. She recorded the match-winning kills against Iowa State and No. 6 Wisconsin and was named September Athlete of the Month by UI Student-Athlete Academic Services.
BIG UNDERTAKING
Louis confronted her largest obstacle soon after her junior season, bringing her coaches aside to reveal a rival that still lingered: depression. Struggling to balance the stresses of athletics and academics, the communication studies major decided she needed a break before semester's end and retreated home for six weeks. Louis sought counseling, embraced extra time with her mother, and practiced self-reflection. "I learned a lot about myself and how I deal with pressure situations," says Louis. "Just getting that 'me' time helped me piece myself together, because I wasn't all there that fall semester."
BRIGHT OUTLOOK AHEAD
Since she didn't earn any credits in fall 2017, Louis undertook an 18-credit course load in spring 2018 to maintain her eligibility. She relied on a strong support system, including daily chats with her mother, to push through solo volleyball workouts and an arduous workload. Louis completed 13 more credits in the summer and began this season more confident in her abilities on and off the court.
Louis plans to pursue professional volleyball overseas after earning her diploma this spring, with interest in a long-term career in event planning. Whatever barriers she approaches along the way, Louis is armed with a lesson in resiliency she won't ever forget. "Dealing with depression and finishing 18 credit hours was the toughest thing I've ever had to do," says Louis. "I had struggled with academics before and now that I can go through thatónothing really fazes me anymore."