Spend a day with Kimberly Chexnayder (18BA), a recent journalism and mass communication grad from Kansas City, Missouri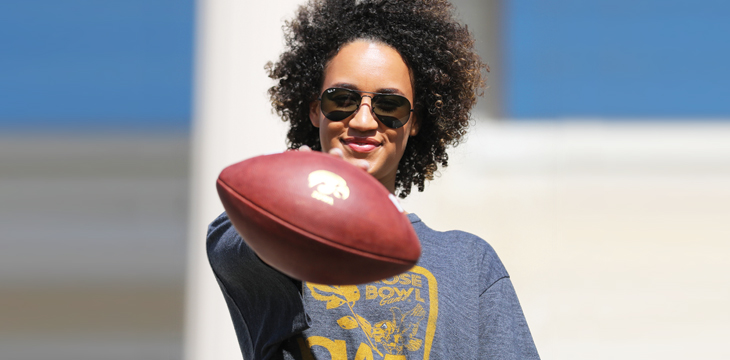 photo: max allen/UI athletics
Two weeks before the 2018 football season kicked off, Kimberly Chexnayder and her colleagues at the NFL headquarters in New York were in a quandary. Tottenham Stadium wouldn't be completed in time for the NFL's three fall games in London, forcing the league to move the games to Wembley Stadium.
Figuring out the logistics of the new game plan was all in a day's work for Chexnayder, who recently began a two-year full-time position through the NFL's Junior Rotational Program.
Chexnayder applied for the position this past spring, advanced through four rounds of interviews, and was one of seven chosen out of more than 2,500 applicants. She began her first rotation in July with international media and business development, where she works to improve the NFL's global reach. "This program allows me to get a holistic look at how the league operates and try out different things," says Chexnayder. "I'm a young, black woman from the Midwest who has a voice and is incredibly passionate about addressing hot-button social issues. Studying critical cultural competence at Iowa gave me a unique vantage point that is educationally based and allows me to speak on issues from a firmly rooted place of fact."
While at Iowa, Chexnayder also gained practical experience giving campus tours to UI football recruits and serving as the host of "Between the Tigerhawks," a weekly Iowa football video series. During her senior year, she worked as a remote talent coordinator for ESPN at the Ohio State-Iowa football game and the 2017 Orange Bowl to help plan game day logistics for the network's announcing crew.
Chexnayder, who now helps with email marketing for all 32 NFL teams, hopes to ultimately land a full-time position in the league or another company involved with work she's passionate about. The former high school cheerleader and football commentator says: "This is a stepping stone that will put me in the right direction for the rest of my life."
---
7:30 a.m.
Chexnayder awakens in her Long Island City apartment.
8:30 a.m.
Chexnayder boards the E train at Queens Plaza subway station for a seven-minute commute to the NFL office on Park Avenue.
9:30 a.m.
After breakfast at the NFL office's café, the Huddle, Chexnayder prepares an email promotion to New York Jets and Miami Dolphins fans for a Week 2 matchup.
10:30 a.m.
Chexnayder spends the next 90 minutes on calls with league officials in New York and London to discuss security, ticketing, and team walkthroughs for the NFL's games at Wembley Stadium.
2 p.m.
After lunch at the Little Beet, a healthy fast food option nearby, Chexnayder discusses social justice and minority representation within the NFL at an hour-long Black Engagement Network meeting. "The NFL is a part of American culture and identity so the stance we take matters to millions of people," says Chexnayder. "I want to be able to shine a light on why it's important we tackle this issue proactively as a league."
3 p.m.
Chexnayder prepares for five games she'll attend this season in New York, Kansas City, New Orleans, and Atlanta to evaluate the overall fan experience in areas such as stadium cleanliness, game entertainment, and travel and accessibility.
6:30 p.m.
After a weekly department meeting and more email marketing, Chexnayder leaves the office to grab dinner with a few friends.
9 p.m.
Chexnayder returns to her apartment and checks her email before getting ready for bed.
---