Two memorable trips provide business magnate and WWII veteran Henry Tippie occasion to reflect on his remarkable life.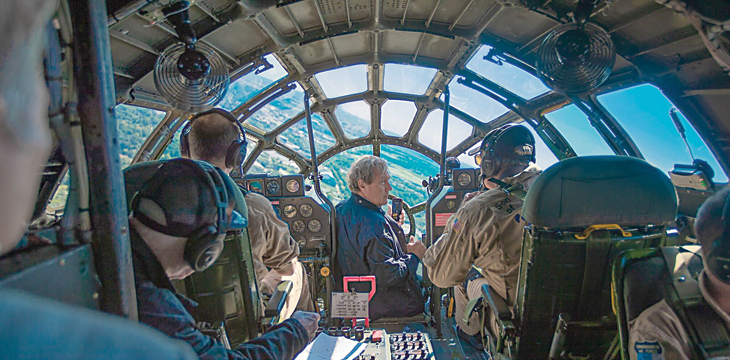 PHOTO: John Emigh
Henry Tippie, bottom left, and UI President Bruce Harreld, center, fly over Iowa in a B-29 Superfortress.
The 1940s were a transformative time for the world—and for Henry Tippie (49BCS, 09LHD). Over the course of five years, he said goodbye to small-town Iowa, served a tour of duty in the Western Pacific, and earned his degree at the State University of Iowa on the G.I. Bill. The bright farm boy grew into an ambitious accountant, setting the stage for a career in which he would help build one of the nation's most successful companies.
Tippie looked back at that journey from two unique vantages earlier this year: from the cockpit of an antique aircraft soaring over his home state, and from a famous perch overlooking the New York Stock Exchange, where he rang the closing bell.
In September, Tippie organized a flight above Eastern Iowa aboard a World War II-era Boeing B-29 Superfortress, a plane similar to one he'd flown in with the 55th Weather Recon Squadron decades earlier. One of just two remaining airworthy B-29s, the bomber is operated by the Commemorative Air Force, a national organization that preserves military aviation history. The nonprofit had extended the flight offer to Tippie as a token of thanks for his many decades of membership and support.
On a bright morning, Tippie and his wife, Patricia, departed from the Eastern Iowa Airport aboard the 99-foot-long, four-propeller warplane. Joining the Tippies and flight crew were several friends from the University of Iowa, including President Bruce Harreld. The silver bomber passed over the tall cornfields of Benton County where Tippie grew up and a museum in Belle Plaine where an entire annex is devoted to his life. Over Iowa City, passengers spotted Kinnick Stadium, the gleaming Old Capitol, and the Tippie College of Business, where the couple's generosity has benefited generations of students.
The B-29 trip also transported Tippie back to his days in the Army Air Force. He enlisted in the service at 17 and reported for duty at Camp Dodge on June 5, 1944, the day before D-Day. He deployed to the Pacific the following year, just as the war was coming to a close. A staff sergeant, Tippie primarily served as chief clerk for medical administration at the 20th Air Force's headquarters on the island of Guam during his 27 months in uniform.
"It was a life-changing experience for someone who hadn't been anyplace and grew up on a farm," Tippie says. "I began to learn something about discipline, organization, and responsibility."
Those traits, along with the accounting degree he earned from the UI, formed the bedrock of an accomplished business career that has spanned nearly 70 years. Just as the flight had stirred up memories, Tippie took time to reflect on his company's path to success when he was honored in August by the New York Stock Exchange. Tippie and his longtime business partner, Randall Rollins, stood on the exchange's balcony and rang the closing bell to mark the 50th anniversary of their company, Rollins Inc., being traded there for the first time. At a luncheon that day, the NYSE enshrined the men on its wall of fame, adding their photos to a display with 15 other Wall Street titans.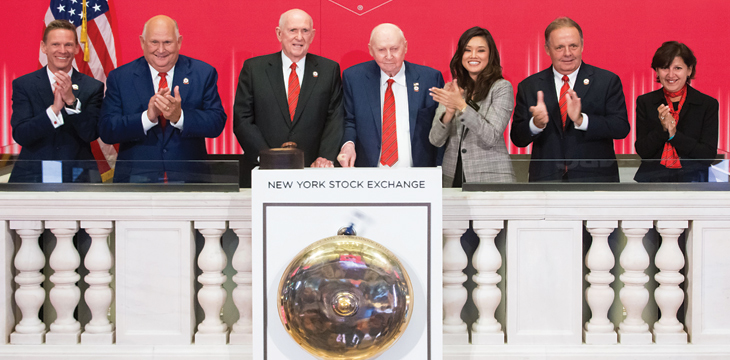 PHOTO COURTESY ROLLINS INC.
Henry Tippie, fourth from the left,and longtime business partner Randall Rollins, third from the left, ring the closing bell in August at the New York Stock Exchange.
Tippie joined Rollins, then a small Delaware-based communications company, as its controller in 1953. His business savvy helped transform Rollins into a corporate powerhouse, most notably through its acquisition of the pest-control company Orkin in 1964—one of the first leveraged buyouts in U.S. history. Today Tippie remains active as the lead director of the company, which has more than 700 pest control operations in 55 countries.
For Tippie, 50 years on the stock exchange represents his company's knack for "changing with the times, and being an innovator in the industry and a pioneer in how to work with customers."
The Tippies live in Austin, Texas, but retirement has never really suited Henry. He still can be found at his office each day—that is, when he's not on the road for quarterly board meetings in Atlanta or Delaware. He also makes regular visits back to his alma mater and the Tippie College of Business, where he drops in on classes, gets updates from those holding his endowed faculty positions and scholarships, and speaks to students managing real-world investments through the Henry Fund.
"I don't give advice, but I do make comments about how I approach things," Tippie says of his visits. "The students look forward to it, and I do too. I'd like to think we learn from each other."
---