Coming Soon
One of a few undergraduates selected for the Writing for Television course, Kaylyn Kluck is excited for the opportunity to learn from Iowa's storied alumni. "It's a new golden age of television, and there are more platforms than ever to have a TV show produced, but that doesn't mean it's easy to get there," says Kluck, a journalism and cinema major with a minor in theatre arts. "I hope this class will be a stepping stone on my way."
Though Kluck, a senior from Stevens Point, Wisconsin, is most passionate about writing for the screen, she's grateful that Iowa's vibrant literary atmosphere has allowed her to explore many different types of writing. She learned to get to the heart of a story as a reporter for The Daily Iowan, while penning plays produced by the theatre arts department allowed her to bring her stories from page to stage.
Much like Kluck, Writing for Television classmate Leigh M. Marshall was attracted to Iowa's rich literary tradition. Empowered by the support of her instructors and peers in the Iowa Playwrights Workshop, the second-year graduate student says she's become more productive than ever—finishing three new plays in one semester. "There are not many places like Iowa where there's a diversity of perspectives and no effort made to homogenize that voice," says the San Francisco native, who drew The Sopranos screenwriters' attention with her play that explores the impact of divisive political rhetoric on the United States. "Iowa's imperative to encourage originality and risk-taking creates an ideal environment for someone who wants to write for the screen."
Conditions also are ripe for playwrights like Marshall to break into television, which has tapped the dialogue-writing talent of Iowa Playwrights Workshop grads such as Mad Men and House of Cards screenwriters Rick Cleveland (95MFA) and Keith Huff (94MFA). "The rule for playwriting is that if you want an audience to have a piece of information, then a character has to speak it, so the entire world of the play exists in dialogue," says Marshall, who dreams of joining a TV writers' room and becoming the showrunner who holds creative authority. "The opposite in screenwriting can be true. There are scenes where no one speaks, and the image pulls the entire load."
As Kluck and Marshall receive guidance from experienced professionals in the classroom, two recent UI graduates have earned a more intensive, professional-level mentorship from Burgess and Green. Claudia Ramirez (18MFA) of the Iowa Writers' Workshop and Sam Lahne (16MFA) of the Iowa Playwrights Workshop have been working closely with The Sopranos screenwriters through a privately funded post-graduate fellowship. The fellows meet at least weekly with Burgess and Green to pitch and develop their ideas in a partnership similar to a TV writers' room.
A fan of The Sopranos and Blue Bloods, Lahne carefully studied Burgess and Green's work in preparation for the fellowship. "Once I applied, I went back to re-watch The Sopranos and quickly realized my favorite episodes were written by them," he says. "Their writing is perceptive without being heavy-handed, and they do a fabulous job of connecting the interpersonal relationships of the characters within the larger scale of the show. I have so much to learn from them."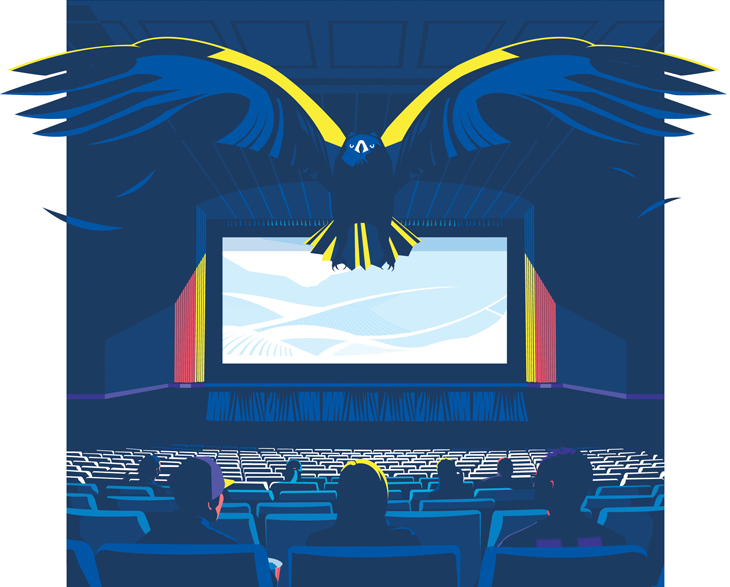 Now Playing
Lahne already has benefited from the support of established alumni such as Newhart and Coach creator Barry Kemp (71BA) and The Man from U.N.C.L.E. producer Norman Felton (40BFA, 40MA, 41MA), who have donated scholarships to promising UI theatre arts students. Now the Washington, D.C., native hopes to trace the path of rising young Iowa grads such as Lila Byock (04MFA) and Sam Shaw (04MFA), writers for Castle Rock, a hot new Hulu horror anthology series based on the characters and stories of Stephen King.
Byock and Shaw first met at the Iowa Writers' Workshop during the rise of The Sopranos. Still, the married couple never considered a career in TV until Burgess and Green made a guest appearance at the workshop. "It felt like they were emissaries from a different planet, but it was an exciting moment, because The Sopranos represented such a different idea of what TV could be," Shaw says of the show's novelistic quality. "It was attractive and appealing as a writer to do work that would find a much larger audience than a book."
Although they didn't focus on screenwriting while at Iowa, Byock and Shaw found the Iowa Writers' Workshop to be good preparation for the collaborative and competitive nature of the TV writers' rooms where they now work. In both spaces, the couple says writers learn to take a story apart to understand its underlying structure, its successes and failures, and how it creates an emotional experience. "Being in the workshop environment is about learning how to sublimate your own ego for the larger goal," adds Byock, "and that's a lot of the work of being a TV writer."
After landing his first major TV writing job with Showtime's Masters of Sex in 2013, Shaw created the critical darling Manhattan, which explored the lives of scientists working on the top-secret Manhattan Project during the 1940s. He then co-created Castle Rock. More than half of the writers' rooms on Manhattan and Castle Rock—including Shaw, Byock, Mark Lafferty (04MFA), and Vinnie Wilhelm (04MFA)—first began refining each other's words around the Iowa Writers' Workshop table as students of Ethan Canin (84MFA). Lafferty and Wilhelm also have worked with other Hawkeyes: Lafferty as a writer and producer for AMC's Halt and Catch Fire featuring Iowa actor and former UI student Toby Huss, and Wilhelm as a writer on AMC's The Terror, a chilling drama created by fellow Iowa Writers' Workshop grad David Kajganich (94MFA) about a famous lost expedition.
While Byock and Shaw have spent most of their TV careers surrounded by their former classmates, they never realized the growing number of Hawkeyes in Hollywood until UI faculty and staff began making visits to Los Angeles to receive alumni advice on how to best support students interested in the entertainment industry. The couple is heartened to see the UI's focus on the arts and humanities, bucking a trend of divestment seen at other schools. "In difficult times, it's easy to look at storytelling as inessential frivolity, but stories are important and remind us of who we are and what we believe in," Shaw says.
Adds Byock, a writer and producer on the forthcoming HBO series Watchmen: "It's clear that writing is the crown jewel of the UI, and the university is really trying to nurture and grow it."
Hollywood Network
Indeed, by the time Hawkeye writers graduate, they have built a supportive network not only of peers and instructors in Iowa City, but also of alumni across the country. Some donate their manuscripts and papers to the UI Libraries for study, while others give lectures, scholarships, and job opportunities to their fellow Hawkeyes. When the Saving Brinton filmmakers screened their documentary in major cities across the country this past summer, Iowans everywhere turned out in support. A recent showing for the Los Angeles IOWA Club drew about 50 people, including the likes of Russo, Star Trek screenwriter and director Nicholas Meyer (68BA), and actor Ron Livingston, a Cedar Rapids native best known for Office Space and Band of Brothers.
Beck and Woods say their first step when moving to Hollywood was connecting with other Hawkeyes, including members of the Los Angeles IOWA Club. At a critical juncture in his career, Beck will never forget Meyer's invitation to his home for some mentoring. "It was one of the most generous things that I think I've ever received from anybody," says Beck.
Nurtured by this creative environment, UI screenwriting grads say Iowa City was an influential stop on their way to Tinseltown and the Big Apple. "For some, L.A. or New York might be the entryway into the entertainment business, but in terms of quality of life and writing life, Iowa is incredibly supportive of writing across the board—from fiction writing to theatre and film," says Schlesinger, a graduate of both the Iowa Writers' Workshop and the Iowa Playwrights Workshop who now teaches screenwriting at Iowa. "You can get a lot of work done here as a writer."
That support continues even after writers receive their diplomas. As Lahne—who returned to campus for a post-grad fellowship with two of the most celebrated screenwriters of our time—says: "It's not news that Iowa is the place to be as a writer, but it's exciting that it continues to create new ways to engage and develop its wordsmiths."
---
Hawkeye Screenwriters and Filmmakers
Here are some of the UI's Hollywood storytellers and the notable projects they've written or directed.
Scott Beck (07BA)
A Quiet Place
"What's cool about the University of Iowa is it's such an artistic pocket within the state."
Mitchell Burgess (78BA)
Northern Exposure, The Sopranos, Blue Bloods
"Iowa was instrumental in helping our careers, without a doubt."
Lila Byock (04MFA)
Manhattan, The Leftovers, Castle Rock, Watchmen
"If the Iowa Writers' Workshop wants you, there's not really another place to go."
Patrick Sean Clark (88MFA)
Northern Exposure, Evening Shade, The Commish, Coach, Early Edition
Rick Cleveland (95MFA)
The West Wing, Six Feet Under, Mad Men, House of Cards, The Man in the High Castle
Diablo Cody (00BA)
Juno, Young Adult, Tully
John Falsey (78MFA)
St. Elsewhere, I'll Fly Away, Northern Exposure
Robin Green (77MFA)
Northern Exposure, The Sopranos, Blue Bloods
"All these experiences at Iowa shaped our future."
Tommy Haines (05BA)
Saving Brinton
Don Hall (91MFA)
Winnie the Pooh, Big Hero 6, Moana
Sarah Heyward (09MFA)
Girls
Heyward refers to her time at the Iowa Writers' Workshop as "the best two years of my life," which helped her to "see the different ways there are to be talented at writing."
Keith Huff (94MFA)
Mad Men, House of Cards, American Crime
John Irving (67MFA)
The World According to Garp, Simon Birch, The Cider House Rules
David Kajganich (94MFA)
True Story, A Bigger Splash, The Terror, Pet Sematary (2019)
Barry Kemp (71BA)
Taxi, Newhart, Coach
"At Iowa, I had a bright and thoughtful teacher with very high standards, who took the idea of wanting a career [in show business] seriously but was also cautious in painting a picture of what the real world looks like."
Mark Lafferty (04MFA)
Manhattan, Halt and Catch Fire, Castle Rock
Richard Maibaum (31BA, 32MA)
classic James Bond films
Nicholas Meyer (68BA)
The Seven-Per-Cent Solution, Star Trek II: The Wrath of Khan, Star Trek IV: The Voyage Home, Star Trek VI: The Undiscovered Country, The Prince of Egypt, Medici: Masters of Florence, Time After Time
"This is the place that shaped me; I'm a creature of this place. For better or worse, I was invented here."
David Milch (70MFA)
Hill Street Blues, NYPD Blue, Deadwood, True Detective
John Richard(04BS)
Saving Brinton
Joe Russo (92BA)
Arrested Development, Community, Captain America: The Winter Soldier, Captain America: Civil War, Avengers: Infinity War
Stephanie Savage (93MA)
The O.C., Gossip Girl, Runaways, Dynasty
Sam Shaw (04MFA)
Masters of Sex, Manhattan, Castle Rock
"Iowa is the mecca of literary fiction."
Stewart Stern (43BA)
Rebel Without a Cause
Jeff Tomsic (99BA)
Tag
D.B. Weiss (98MFA)
Game of Thrones, Star Wars
Gene Wilder (55BA)
Young Frankenstein
Vinnie Wilhelm (04MFA)
Manhattan, The Terror, Castle Rock
Tennessee Williams (38BA)
The Glass Menagerie, A Streetcar Named Desire
Bryan Woods (07BA)
A Quiet Place
Woods says he was shaped by "the rich history of writing and amazing writers that are on campus. It was just an inspiring environment to be a part of, and to be around so many talented people helped me be better."