Meet Claire Rutherford, a junior in business management from Iowa City.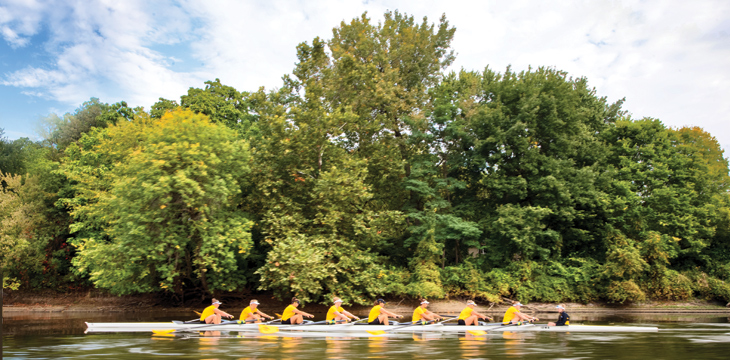 PHOTO: JUSTIN TORNER/UI OFFICE OF STRATEGIC COMMUNICATION
Claire Rutherford and her teammates are busy making Hawkeye history, charting a winning course for Iowa rowing on both national and international waters. Along with their coaches, they've helped transform a sometimes-struggling UI sport, which began 24 years ago, into a powerhouse program.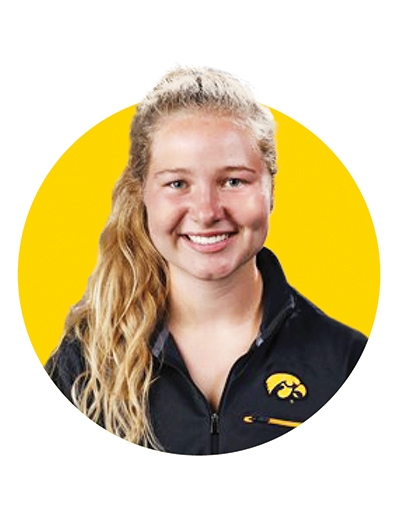 PHOTO: UI ATHLETICS
In 2017, the Hawkeye rowers earned a spot in the NCAA Rowing Championships—their first appearance since 2001—and in May 2018, the team scored a school-record 69 points to place 11th at the national championships in Sarasota, Florida. Along the way, they've broken all other school records, defeated a host of top-10 teams, climbed from the bottom of the Big Ten Championship to the top three, and sent crews to Boston's Head of the Charles Regatta—the most prestigious fall rowing race in the country.
Rutherford has been a major contributor in these events, and in June 2018, she embarked on a three-week excursion through Europe, where her team's first and second varsity eight crews competed in three regattas in England and the Netherlands. Rutherford, who sits in the bow seat of the second varsity eight, raced in the Henley Women's Regatta, the Royal Holland Beker Regatta, and the Henley Royal Regatta. During the Henley Royal Regatta, Iowa's first varsity eight became the first Big Ten crew to win a women's race in the 179-year history of the prestigious event.
As this season unfolds, Rutherford and her teammates are pushing for a top 10 finish at the next NCAA Rowing Championships, seeking to further elevate Iowa's status in the world of rowing.
---
6:15 a.m.
In a downtown Iowa City apartment, on a dark Wednesday morning this fall, Claire Rutherford's alarm pulls her awake. She and her roommate, a fellow women's rower, grab some granola bars and drive to Carver-Hawkeye Arena, picking up teammates along the way. They spend an hour lifting weights, then Claire stops by the Carver Fueling Station to pick up yogurt and a banana on her way to a morning yoga class.
11:30 a.m.
After a two-hour break between classes, Rutherford takes a seat in her Finding Patient Zero class, which investigates past and fictional outbreaks of pandemic diseases. She's close to completing a certificate in public health and is fascinated by the intersection of health work and the environment.
12:20 p.m.
Rutherford hops on her bike and hurries across campus to the Tippie College of Business for Introduction to Management, a course that will move her one stop closer to a possible career in the field of human resources.
1:20 p.m.
Downtime! Rutherford stops by her apartment to catch her breath, eat a snack, and do homework.
3:45 p.m.
At the P. Sue Beckwith Boathouse, Rutherford and her teammates pull down their single- or two-person boats and sculling blades and talk strategy with head coach Andrew Carter and his assistant coaches, Jeff Garbutt and Megan Fitzpatrick (16MA). Then the Hawkeye rowers launch into the Iowa River and start off on two slow loops of "steady state" rowing, from the Park Road bridge in Iowa City to the dam by the Iowa River Power Restaurant in Coralville. After warming up, the women pick up the pace for their long-distance workout. This fall training routine allows the rowers to concentrate on technique and fitness in preparation for an intense spring racing season.
6:30 p.m.
After a solid two-hour workout, the women get off the water to wash down and stow their equipment.
8 p.m.
Once dinner is done, Rutherford's evening includes homework and relaxation time.
10 p.m.
It's lights out, and Rutherford sets her alarm for 6 a.m. She doesn't want to miss her favorite team cross-training workout—soccer—in the morning.