Meet Emily Link, an Iowa athletic trainer who lived unknowingly with cancer for years.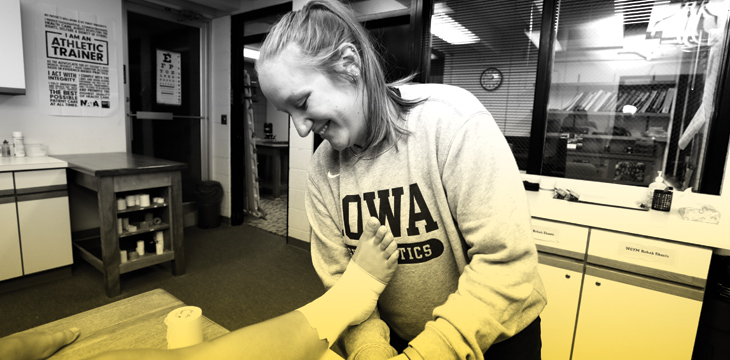 PHOTO: BRIAN RAY/UI ATHLETICS
No warning signs. No symptoms. No immediate family history.
When 29-year-old Emily Link was diagnosed with thyroid cancer two years ago, the news came as a complete surprise to her and her family. Even more shocking was the fact that the tumor had been growing inside her body for as many as five years.
After sharing her firsthand account with Women's Health earlier this year, Link recently sat down with Iowa Magazine in hopes of raising awareness of thyroid cancer and encouraging regular checkups.
How did you find out you had cancer?
During my yearly physical in 2016, my doctor discovered a lump on my neck. An ultrasound-guided biopsy uncovered a rare cancer called hurthle cell carcinoma. Based on the size of the tumor—which was the size of the palm of my hand—I was told it could have been there for as long as five years. It came as a complete surprise.
What happened next?
I had my thyroid, a parathyroid, and the tumor removed by surgeon Ronald Weigel at University of Iowa Hospitals and Clinics. I'd never had a big surgery before, so I was nervous. But I'd also been in a lot of surgeries with my student-athletes working as an athletic trainer for Wartburg College at the time, so I knew what to expect.
Just to make sure the cancer hadn't spread, I then went through a radioactive iodine therapy. That involved 72 hours of isolation and a low-iodine diet, which for me, consisted of Diet Coke, apples, and a special pumpkin bread.
When did you return to work?
I chose not to follow the rules and went back to work after one week of recovery, instead of the recommended two weeks, because work provided a welcome distraction. I work with students who are going through physical setbacks every day, and I try to be positive for them. I had to apply that same logic to my own situation.
Two years later, what's your prognosis?
I'm cancer free, but I'm still not 100 percent. I have yearly checkups with Joseph Dillon, an endocrinologist at UI Hospitals and Clinics. We are working on getting the right level of medications for me, because sometimes I'm too tired, or other times my heart is racing.
How has life changed since your diagnosis?
For one, I have a new job. I'm now an athletic trainer for UI women's gymnastics. Head coach Larissa Libby and her team have been awesome; it's ended up being a great move for me.
Personally, I've become much more empathetic to those around me. You don't know what others are going through—the battles they are fighting—and this experience really did change me for the better. I'm at a good place in my life.