MEGAN AND CIERA STITZ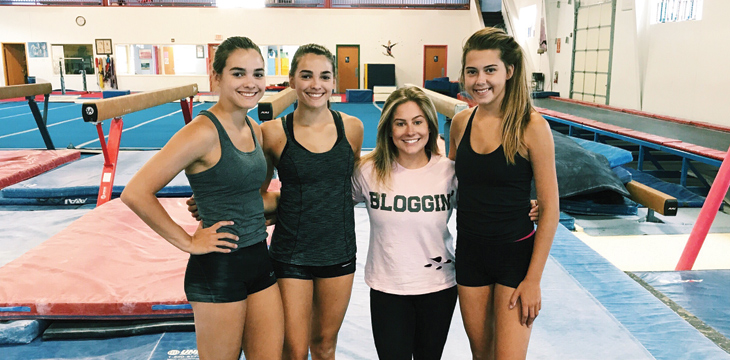 Iowan Olympic gymnast Shawn Johnson (second from right) joins (from left) Ciera and Megan Stitz and Maggie Atcheson to make a video for TheCheernastics2 YouTube channel.
UI sophomores Megan and Ciera Stitz have likely taught hundreds of thousands of children around the world how to perform a cartwheel.
In 2011, the twins and their cousin Maggie Atcheson launched a YouTube channel, TheCheernastics2, which features engaging gymnastics and cheerleading videos. After regular appearances on an established channel, SevenGymnasticsGirls, they saw their popularity soar from hundreds of followers in 2013 to 50,000 by 2014—the same year they released a cartwheel tutorial that's received 1.9 million views and generated top hits in Internet searches. TheCheernastics2 channel has since grown to reach more than 1.7 million subscribers.
TheCheernastics2 cartwheel tutorial.
It all began when the trio—who already recorded themselves performing various gymnastics tricks at Atcheson's house for fun—discovered an avenue to share their expertise with others. "A lot of people start [a YouTube channel] with the intention of getting big or making a ton of money, and that was definitely not even in our mindset," says Ciera. "We didn't even know you could make money on YouTube."
The hobby has brought in enough income to become Megan and Ciera's only job—requiring roughly 10 hours a week of planning, filming, and editing content. "We have to think of it more as a business now, and you have to be smart about what's going to keep you most successful," says Megan. "You have to find that balance of doing what you want to do but still making videos that our subscribers want."
College life has brought additional challenges to that balance. Without their equipment or third member, the Waukee, Iowa, natives often film their videos in bunches over college breaks. The human physiology majors also refreshed a secondary channel, Megan and Ciera, which features do-it-yourself projects, fashion and beauty tips, and day-in-the life videos that show their young audience what it's like to be a UI student. Recent videos show the twins giving a dorm room tour, sharing recommendations for surviving finals week, and answering questions from subscribers about their first year at Iowa.
As their lifestyles and priorities change, the Stitz twins plan to shift more attention to the Megan and Ciera channel. Aiming to graduate early on their pre-physical therapy track, they don't know how long they'll continue filming, but say matching or maintaining the popularity of TheCheernastics2 is less important than remembering why they started in the first place. Says Ciera: "As long as you're making videos that you enjoy, people will catch on to that, and you'll find an audience that works with the kind of content you're making."
Megan and Ciera's video on moving into the UI residence halls.