Photo: UI Special Collections, Nile Kinnick Digital Collections
Nile Kinnick gallops with the football during a victory over Indiana during the famed 1939 Ironmen season in Iowa City.
---
6

His name still stands atop the Hawkeye record books.

It's said that records are made to be broken, but some of Nile Kinnick's gridiron feats have withstood the test of time. A two-way player, Kinnick's eight interceptions in 1939 remain a Hawkeye record, though three defensive backs have equaled it since: Lou King (83BGS) in 1981, Desmond King (16BA) in 2015, and Josh Jackson in 2017. Kinnick leads the program in all-time career interceptions with 18—a mark matched only in 1985 by Devon Mitchell. Kinnick's No. 24 is one of only two jersey numbers retired at Iowa; Cal Jones' No. 62 is the other.
---
Photo: UI Special Collections, Nile Kinnick Digital Collections
Kinnick, bottom row, second from left, is pictured in 1931 with his junior high basketball team in Adel, Iowa. Kinnick was a standout basketball, baseball, and football player as a teenager, and he competed in all three sports for a time at the University of Iowa.
7

His hometown recently built a Kinnick museum.

The small town of Adel, Iowa, was home to one of the state's most influential families of the 20th century. In honor of hometown hero Kinnick and his grandfather, former Iowa Gov. George Clarke (1878LLB), the Adel Historical Museum constructed a new addition dedicated to the two men in 2016. The organizers of this year's FryFest, which is Aug. 31 in Coralville, are also planning a July celebration at the Adel museum to mark Kinnick's 100th birthday. Kinnick's 100th birthday is this year's FryFest theme.
---
8

There's a Nile Kinnick High School in Japan.

In 1959, the American military schools in Yokohama, Japan, were transferred from the Army to Navy and renamed after notable Navy men. The following year, a dedication ceremony was held for Nile Clarke Kinnick Jr. American School, which housed about 1,000 students in grades one through 12. The school relocated to Yokosuka in 1971 and is now known as Nile C. Kinnick High School, which serves about 600 students largely from U.S. military families. For a time Tokyo was also home to a Nile Kinnick Stadium, though the sporting venue was demolished decades ago.
---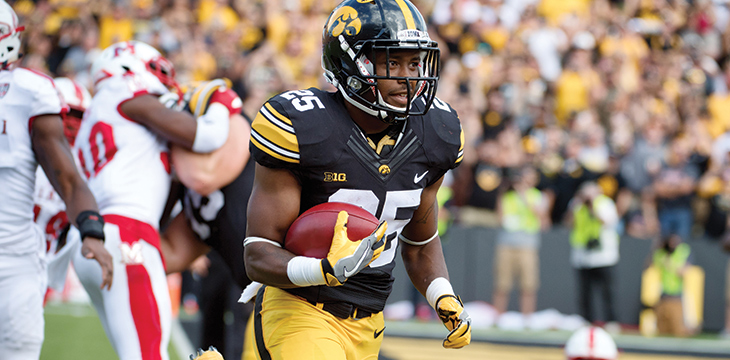 Photo: Justin Torner/UI Strategic Communications
Former Iowa running back Akrum Wadley was one of six student-athletes who received scholarships in Kinnick's memory last academic year.
9

Six student-athletes receive Kinnick scholarships each year.

In June 1944, less than a year after Kinnick's death, the Iowa City Junior Chamber of Commerce raised $50,000 to establish the Nile Kinnick Scholarship Fund. Sixty years later, in 2004, one of those scholarship recipients, Mark Schantz (63BA), established the Nile Kinnick Memorial Scholarship Women's Fund. And in 2006, Willard (50BA) and Patricia Shaw founded the Nile Kinnick Leadership and Scholarship Award. Recipients of the six Kinnick scholarships this past academic year were football student-athletes Akrum Wadley, James Daniels, Noah Fant, and Ben Niemann; women's soccer student-athlete Kaleigh Haus; and men's track student-athlete Mar'Yea Harris. Additionally, Kinnick's old fraternity, Phi Kappa Psi, has awarded a Nile C. Kinnick Scholarship the past 22 years to outstanding first-year students. The fraternity endowed the scholarship with a $100,000 fundraising effort in 2014.
---
10

A movie is in the works about Kinnick's life.

From triumph to tragedy, Kinnick's life story rivals that of any Hollywood script. Now, a filmmaker hopes to bring Kinnick to the big screen. Iowa City native and film producer Joe Heath is in the early stages of creating a movie titled The Ironmen based on Kinnick's famed 1939 team. Heath announced the film in 2017 and said he hopes to debut it in 2019 to an Iowa audience inside Kinnick Stadium, if all goes to plan. It wouldn't be the first time Kinnick's life was dramatized; in 2006, Iowa City's Riverside Theatre partnered with UI Athletics to stage an original play titled Kinnick at Hancher Auditorium.
---