A century after his birth and 75 years after his death, Nile Kinnick (40BA) remains one of the most compelling figures in the history of the University of Iowa, the state of Iowa, and college athletics. Here are 10 ways Kinnick's spirit still burns bright in 2018:
---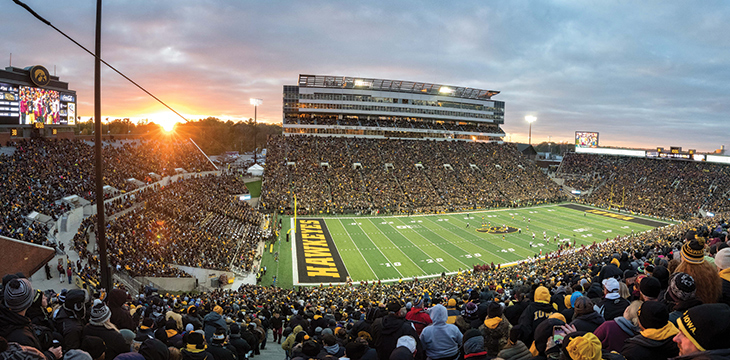 Photo: Justin Torner/UI Strategic Communications
The sun sets over Kinnick Stadium during a 2017 game.
1

Kinnick Stadium, which was renamed in 1972, is a college football landmark.

The university's student government voted in favor of renaming Iowa Stadium after the fallen Kinnick following World War II. But Nile Kinnick Sr. wasn't comfortable with the idea of his son being singled out over other students who had died in the war. Finally in 1972, when a local sportswriter rekindled interest in the idea, the elder Kinnick gave his blessing. At a dedication ceremony that fall, Nile Sr. was on hand to see Iowa Stadium officially become Kinnick Stadium. Built in 1929, the historic venue has undergone big changes over the decades, including a current $89-million renovation of the north end zone set for completion in 2019.
---
2

Players touch his statue for luck before every home game.

Soon after the 16-foot-tall statue of Kinnick was unveiled outside the stadium in 2006, a new tradition was born: Iowa coach Kirk Ferentz and his team rubbed the bronze helmet that sits beside the left foot of the statue on their way into the stadium each game day. The statue immortalizes Kinnick, an honors student and student body president, wearing his Iowa letter jacket and carrying textbooks. Likewise, inside the main entrance of the stadium stands a 20-foot bronze relief depicting Kinnick and the Ironmen scoring the winning touchdown in their famous 1939 win over Notre Dame.
---
3

His Heisman speech is considered one of the greatest of all time.

Kinnick was a thoughtful writer and eloquent speaker who had the ability to inspire a locker room or banquet room full of people. That charisma was never more evident than the night of Dec. 6, 1939, when Kinnick accepted the fifth annual Heisman Trophy in front of 800 people at the Downtown Athletic Club in New York. "I thank God I was warring on the gridirons of the Midwest and not on the battlefields of Europe," Kinnick said before the audience erupted in applause. Today, his memorable speech is played at Kinnick Stadium on game days before the national anthem.
---
4

Nebraska is also home to a Kinnick Stadium.

Omaha Northwest High School plays its home football games at Nile Kinnick Stadium, and a trophy case inside the school displays Kinnick's Iowa letter sweater and other artifacts. Kinnick was born and raised in central Iowa, but before his senior year of high school, his family moved to Omaha when Nile Sr. took a job at the Federal Land Bank there. Kinnick was a star basketball and football player at Benson High, and in 2007, Kinnick was inducted into the Omaha Sports Hall of Fame. Kinnick's younger brother by a year, Ben Kinnick, also was a sports standout in Omaha before attending Iowa State University. A little more than a year after Nile's death, Ben, who like his brother was a pilot, died on a mission in the Pacific.
---
5

Kinnick's likeness is etched on the coin flipped before Big Ten football games.

For more than 50 years, Kinnick has been a part of every Big Ten football game. When team captains meet at midfield before the opening kickoff, officials flip a ceremonial coin that features a portrait of Kinnick on the "heads" side and the Big Ten symbol on the "tails" side. The coin has been tossed at more than 4,000 games since it was introduced in 1962.
---