Above: A surfer prepares to ride the waves in Punta Banco, Costa Ricaóone of O'Meara's favorite places on Earth.
How do you find places to eat, sleep, and work?
I try to eat as local as I can while Iím on the road. I think food is a huge part of the overall experience of a place and culture. Food is engrained in people, so I try to eat as the people do, which is usually the cheapest option anyway: cooking local recipes or eating at cheap roadside stands. I have a tough stomach so Iím not fussy about trying strange things, although I have gotten very sick on several occasions.
Finding a place to sleep usually consists of checking hostels or cheap hotels depending on the country and how long I want to stay. Hostels have been great for making friends along the way from every different country that you can imagine. If I plan to stay for a while and the country is cheap, then I will opt for an apartment.
Finding work is very tricky. You always require a work visa which is either impossible to get or very tricky and expensive. However, there are ways to find ďvolunteerĒ positions if you just ask around at hostels, and you may even get a job that pays cash in hand. I have volunteered at hostels, waited tables, bartended, done manual labor, worked as a baker, and now I am working as a chef.
How long do you stay in each place, and how do you know itís time to move on?
When I first started to travel, I was too eager, too anxious, and I tended to move quickly to the next place. I have learned over the years that the real experience comes with spending an extended time there. I want to feel the place out like a local, meet people from the area, and get a routine down the same way that a local would. Itís nice to go through the same struggles, whether it is shopping for vegetables while living in Havana or going to the dentist in Cambodia. Itís the ordinary experiences that I have learned the most from. Itís time to move on when the visa expires or when I feel I have gotten too used to the routine.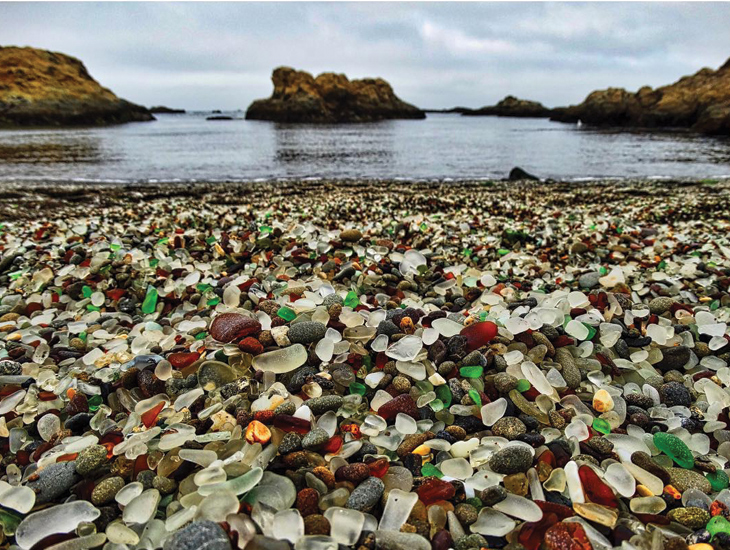 O'Meara draws attention to environmental issues he encounters at sites such as Glass Beach in Fort Bragg, California, which was used as a dump site for more than six decades. He says, "Although the pieces of glass will eventually crumble into sand, it is a telling tale of how we have relentlessly polluted our Mother Earth."
What have you learned from your travel experiences?
Mostly, I have learned about what makes people tick. Itís hard living in the bubble of the U.S. for years to comprehend the rest of the world, but as soon as you step outside, you realize the world is not such a different place and neither are the people in it. We are all subjected to certain political and social forces that direct our lives, but in the end, we all want the same things. We just don't get them. Iíve learned a great deal about compassion, kindness, reality, sympathy, human nature, and resilience. Iíve seen incredibly sad things, but Iíve also seen pure happiness from the simplest of things.
One more important thing I have learned from travel is that it should be selfish in the sense that you should do it for yourself, because it is an investment in who you are. You canít do it for anyone else, or it wonít be authentic enough to be worth the time. From that selfishness, you learn the most, and you get the great pleasure of sharing what you experience with everyone who may be curious about it and not have the opportunity to do the same. Your travels can make the world a smaller place, and thatís all we need it to be.
How do you raise awareness of humanitarian and conservation issues through your photography?
Iíd like my photos to speak for themselves. Whatever you see in the image should tell you something about yourself. I like to take photos of people mostly, and I like to make up my own stories about how their day might be going or what adversities have landed them in the position they are in. I want my images to make me think about the state of the world and the state of humanity, and itís not always so pretty. I think by seeing ourselves or our loved ones in other people, it can help us be better to each other and better to the planet.
Costa Rica
What inspires you?
People. I love hearing stories about other travelersí experiences, what theyíve done or what theyíve seen and how it changed them, how they have changed since they left their respective countries. I think itís inspiring to meet people who are open-minded and allow different perspectives to enter their life, so they can grow. I also love hearing stories from people who have grown up in the countries I am visitingóhow was their childhood and what challenges they face and how that was different to what I experienced growing up. Itís just fun, and I think of it as an investment in myself, because there is so much personal growth.
What advice do you have for people about this lifestyle?
My advice to someone who is curious about this lifestyle is that it is generally not a carefree one, no matter what you see on Instagram. My days are filled with constant challenges, whether itís money, transportation, or being alone in a new place where I donít speak the language. There is a lot of fear, but you learn that you can dig your way out of anything, and it gives you an incredible amount of confidence. The short version is that there will be many challenges, but you can rise to the occasion, and, when you do, the rewards are like nothing youíve ever experienced.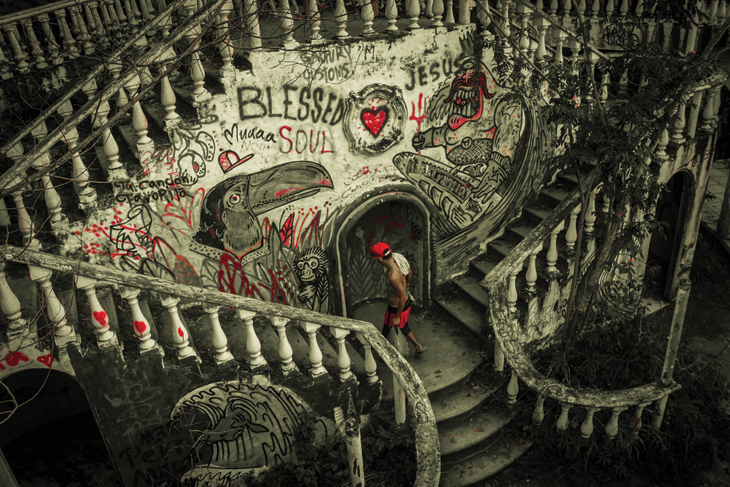 The once grand entrance of an abandoned restaurant in Puntarenas, Costa Rica, has turned into a haven for graffiti.
Whatís next?
I just want to keep on moving. I am noticing a trend in my travels of staying longer and longer in most of the places I visit. Maybe Iím getting old and Iíll want to settle down soon. Who knows?
---
Follow Paki's adventures on Instagram