Through his work at YouTube, UI business grad Tuma Basa helps set the trends in hip-hop music.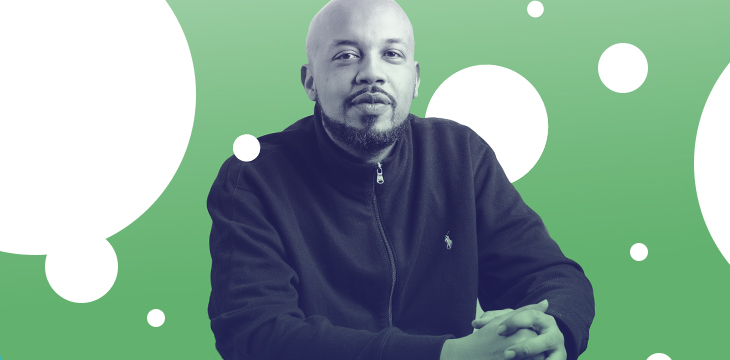 PHOTO: SCOTT GRIES
UI alumnus Tuma Basa recently returned to campus to speak during the Tippie College of Business Black in Business series about his career as a hip-hop music curator.
Tuma Basa was a master of the mixtape as a UI student in the mid-1990s—choosing songs by Tupac Shakur, Biggie Smalls, A Tribe Called Quest, and one of his all-time favorites, De La Soul.
His mixtape obsession was a precursor of things to come: For the past three years, Basa's job has been to create hip-hop playlists for the music-streaming giant Spotify. Up until last month, he served as curator of the service's largest hip-hop playlist, RapCaviar, which has more than 8.8 million listeners, and also curated 25 other playlists. Now he's leaving for YouTube, which is preparing to launch a music subscription service.
Basa recently returned to campus to speak during the Henry B. Tippie College of Business' annual Black in Business series and to share his story with UI students in English and marketing. "I hope I left students with the understanding that I'm no more special than any of them," he says. "They just have to figure out what they want and how to get it, just like I did."
Basa's pursuit has led him to become a major player in the music business. He knows all the acts in hip-hop and receives dozens of songs every day from artists both famous and unknown looking for a spot on his playlist.
They have good reason to curry his favor. Basa's musical touch is such that acts like Migos and Lil Uzi Vert became multiplatinum stars after earning play on RapCaviar. Few had heard of Brooklyn rapper Desiigner until Basa added his song "Panda" to Spotify's playlist in 2016, but it quickly became a national sensation and eventually reached the top spot on Billboard's Hot 100 music chart. "Black Beatles," by the Atlanta-based Rae Sremmurd, followed a similar trajectory.
Last year, Billboard wrote: "Basa has built RapCaviar into the type of hit-making platform once exclusively the domain of powerhouse radio stations, in the process growing its base by more than 3 million followers in a year." But Basa adamantly rejects titles like "kingmaker" or "gatekeeper." His own personal musical tastes haven't necessarily reflected those of his channels' listeners. "It's about the audience," he says. "You have to respect their tastes. And sometimes they know better than I do."
Basa was born in the Democratic Republic of the Congo and moved to Iowa City in 1980 as a 5-year-old. His father, Gatsinzi Basaninyenzi (86PhD), was a UI doctoral student in English. After moving with his family to Zimbabwe at age 13, Basa later returned to the United States to attend college at his father's alma mater.
Basa majored in economics and minored in business administration at the Tippie College of Business. He arranged for many internships, including one with Black Entertainment Television through the university's Washington Center partnership that turned into a full-time job in the network's music programming department.
Basa eventually joined Spotify in 2015 as global curator of hip-hop and became key in helping break new acts. He frequents clubs, reads taste-making blogs, and listens to dozens of songs to see what directions the art and the audience are going. That's one reason he has been called a curator, not a programmer. Basa likens the difference to that between a cook and a chef: A cook can put together food that's nutritious and filling, but it takes a chef to create a delicacy.
"Curating is about the touch," he says. "It's about the sequencing, what song makes sense next to another song, and it's creative. You're taking other peoples' music and making it dope and telling a new story."
Just like those mixtapes he made when he was a student.