Hayden Fry's former bodyguard finds a new way to give back to the UI.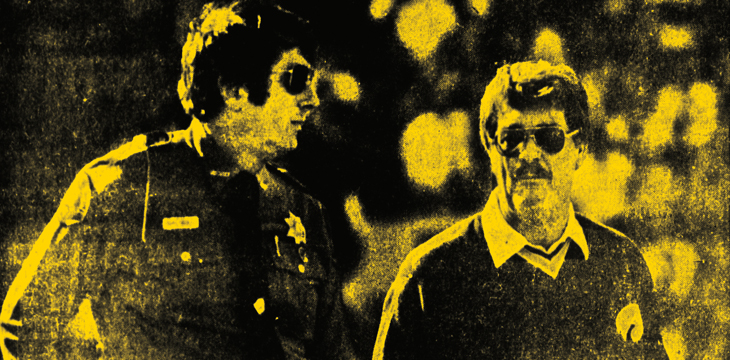 PHOTO: BYRON HETZLER/DAILY IOWAN
Hawkeye fans may recognize Gary Hughes from his days as the security escort who accompanied legendary coach Hayden Fry onto the field at Kinnick Stadium. But even before becoming the Hawkeyes' first sideline bodyguard, Hughes had strong ties to the University of Iowa.
Hughes, a native of rural Iowa City, says: "I practically grew up at the children's hospital."
Hughes' first hospital visit came at 9 years old when he was diagnosed with polio. Gary spent four months in the hospital; his second visit three years later proved to be much more severe. Gary upset a farm tractor and was pinned underneath for several hours, which left the left side of his body paralyzed.
Even though 12-year-old Gary's outlook was dire, he had a world-renowned orthopedic surgeon on his side: the late Arthur Steindler. Steindler, who led the UI Department of Orthopedics for more than 30 years, designed a brace to help Gary regain feeling and blood flow in his left arm. After spending several months in the hospital and wearing the brace for two years, he regained full use of his arm.
"I had the best care you could get at the time. I knew I wanted to give something back."
Gary Hughes
Hughes' experiences at what is now known as UI Stead Family Children's Hospital were life-changing. Without the care he received, Hughes most likely would not have been able to run multiple small businesses, work on the family farm, or serve in law enforcement for more than 20 years—including 16 years as Johnson County Sheriff and as Fry's trusted police escort from 1982 to 1989. "I had the best care you could get at the time," says Hughes. "I knew I wanted to give something back, but I didn't know what I wanted to do."
It wasn't until after he, his brother, and his nephew, were diagnosed with diabetes that Hughes discovered an area where he could make an impact. A conversation with two longtime friends, Kirk and Mary Ferentz, helped him turn intentions into action. "Mary suggested that, much like football players receive scholarships, I could support a faculty member in diabetes," says Hughes, a 2011 National Iowa Varsity Club honorary letter winner. "I thought that seemed like a great idea."
In late 2017, Hughes pledged $1 million to create the Gary D. Hughes Professorship in Pediatric Endocrinology within the UI Stead Family Department of Pediatrics. For Hughes, the gift shows his support for Iowa's most vulnerable patients.
"It's a traumatic experience to be diagnosed with diabetes as a child," he says. "My main goal is to help others—whether it's easing the burden of a child having diabetes or helping researchers find a cure. We have one of the best children's hospitals in the world, and I wanted to do my part."