SCOTT BECK (07BA) AND BRYAN WOODS (07BA)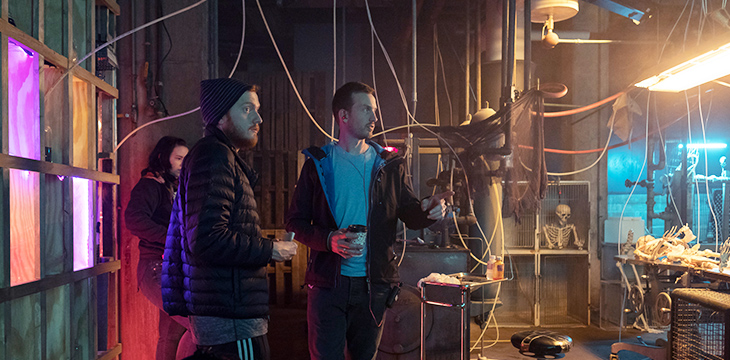 PHOTO: BRIAN DOUGLAS
UI alumni Bryan Woods and Scott Beck direct on the set of Haunt, which is slated for a fall release. The duo wrote the original script for A Quiet Place, which was chosen from nearly 2,500 films to open this month's South by Southwest Film Festival and had its trailer aired during the Super Bowl.
WHY DID THEY MAKE HEADLINES?
Bettendorf, Iowa, natives Scott Beck and Bryan Woods penned the original screenplay for A Quiet Place, a supernatural horror film opening nationwide next month that stars married Hollywood couple Emily Blunt and John Krasinski in their first joint on-screen performance. Beck and Woods first developed a rough concept as UI students and sold the screenplay last year to Paramount Pictures. Generating plenty of buzz once the deal was announced in March 2017, A Quiet Place's trailer premiered this past December—receiving more than 5 million views to date online.
WHERE DID THEY GET THE IDEA?
Making films together since middle school, Beck and Woods knew their desired career path well before attending the UI, but opted for communication studies degrees to broaden their education. One of their favorite courses, Nonverbal Communication, sparked the idea for A Quiet Place, which uses silence and sign language in its story. "We became more aware of all the different cues human beings have as communicators," says Beck. "Sometimes what's being said is what's not being said."
In January 2016, the duo fleshed out a script within a few months and brought it to Michael Bay's production company, Platinum Dunes, which held a first-look deal with Paramount. "We had zero expectations," Woods says. "We thought 'here's a weird little idea that we find interesting and maybe no else will.'"
The interest was there, and Paramount set a release date. Soon after, Blunt and Krasinski—who also rewrote the script and directed—signed on, and the project came together quicker than any film Beck and Woods had previously worked on.
WHAT'S THEIR APPROACH TO FILMMAKING?
While A Quiet Place gained steam, Beck and Woods were pulled in another direction as they simultaneously started writing and directing the horror thriller Haunt. The duo communicated by phone with Krasinski, who shifted a few elements of the script for A Quiet Place, but still preserved much of the original vision. Due to the unpredictability of which scripts will hit or miss, Beck and Woods have followed a "stay busy" philosophy since their UI days of creating feature films while juggling finals.
Raised on Alfred Hitchcock movies, Beck and Woods are drawn to the horror and suspense genres for the communal theater experiences they create. Still, they've always wanted their films to extend beyond the thrills. "The movie should never be just entertainment," says Beck. "There should always be some sort of subtext you can gather beneath the surface."
WHAT'S NEXT?
Beck and Woods are editing Haunt, planning a TV show with Sony, and will fulfill their blind deal with Paramount to write and direct a new film. Similar to how A Quiet Place took flight, Beck and Woods are eager to seclude themselves for a while to write their next script. "We would love to keep staying in the space of generating original ideas," Woods says. "It's exciting when we get to see other people's work that feels fresh and new. That's what we're trying to do."
When A Quiet Place debuts, Beck and Woods hope to watch from the seats of their hometown theatre—returning from Los Angeles to the state that inspired the idea nearly a decade before. "It's still kind of hard to process," Beck says. "A story that we wrote for an Iowa setting is all of a sudden going to be seen around the world by potentially millions of people. It's very surreal."