Late-night downtown ambassadors join the UI's efforts to give students peace of mind.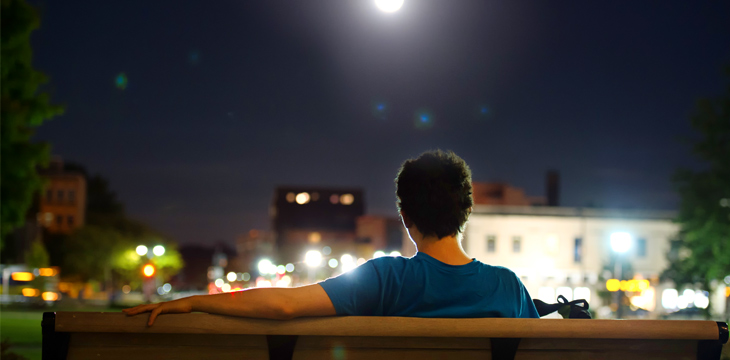 PHOTO: JUSTIN TORNER/UI OFFICE OF STRATEGIC COMMUNICATION
A unique crop of rookies joined Iowa City and UI police on the downtown beat this academic year. Wearing bright orange shirts and equipped with police radios and body cameras, a group of student ambassadors patrol Iowa City as part of a new UI Department of Public Safety pilot project. The SHOUT program, or Students Helping Out, deploys teams of ambassadors trained in bystander intervention during the downtown's busiest hours—11 p.m. to 3 a.m.—and other events with large student crowds. The program is one of several new initiatives and tools promoted by UI Public Safety to bolster student safety on campus and in the greater community.
Four SHOUT ambassadors roam downtown during each late-night shift: two on foot and two in a SHOUT vehicle. The ambassadors lend a hand to fellow students who are lost or separated from their group, help people arrange safe transportation home via UI's Nite Ride service, and assist in non-violent situations using bystander intervention techniques. Their focus is community service and not law enforcement, meaning they don't contact police for minor infractions, but they do summon officers when immediate safety concerns arise. UIPD leaders say the ambassadors add another layer to the department's community policing strategy and free up officers to respond to more critical situations. At the same time, the program provides a new way for students to seek help who may not feel comfortable approaching police.
Even more, UI leaders say the SHOUT initiative allows students to play an active role in keeping their campus and community safe. "They feel like they are making a difference and they are helping people make decisions, so they can avoid becoming a victim of a crime or do something that may result in arrest," UI Public Safety Director Scott Beckner says.
While out on patrol, SHOUT ambassadors inform fellow students about Hawk Watch, a free mobile application that allows friends, family, or UI Department of Public Safety staff to serve as their virtual guardian when they're traveling alone. When students activate the app, their escort can track their location via GPS, and the app notifies the guardian if a student hasn't reached a destination by a certain time. Users can also hit a panic button to call UIPD for immediate help or report anonymous tips.
Meanwhile, another new program led by the UI Department of Public Safety—Better Men. Better Hawkeyes.—promotes healthy masculinity across campus. The free one-hour workshop addresses sexual violence by fostering conversations about gender stereotypes, sexual consent, and healthy relationships. The department also hosts a series of women's self-defense classes titled RAD, or Rape Aggression Defense. The four-day, 12-hour course teaches a blend of avoidance strategies and real-word assault resistance techniques to improve self-awareness and confidence in threatening situations.