Revolutionary doctor of Orthopedics dies.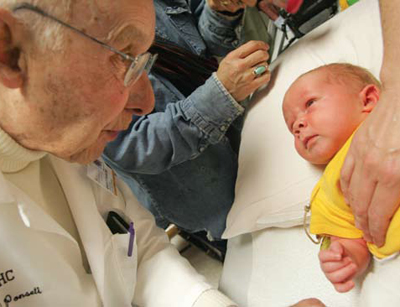 Why was he in the news?
Thousands of children can run around playgrounds and climb jungle gyms thanks to UI professor emeritus of orthopedics Ignacio Ponseti. On October 18, the 95-year-old pioneer of a revolutionary non-surgical clubfoot treatment died following complications from a stroke. Word of his death spread worldwide, with parents of babies treated by Ponseti offering heartfelt condolences to his family and the university. Earlier this month, the UI honored him with a memorial service.
A genetic defect that causes the feet to turn inward, making it difficult—if not impossible—to walk, clubfoot affects 200,000 babies each year. Ponseti, 44R, 07DSC, determined that traditional surgical treatments caused more damage than good and he devoted his career to finding a better way. His clubfoot treatment, which involves gently manipulating foot joints and ligaments into proper position with a series of casts and braces, is the breakthrough that gained him international fame—and the one for which he will be long remembered.
What do people say about him?
Colleagues, friends, and families alike recall Ponseti with admiration, fondness, and gratitude. Working right up until a few days before his death, Ponseti—the man who often calmed babies with gentle whispers—showed a passion for his patients that they never forgot, as evident in tributes posted to local newspaper articles:
"I was a patient of Dr. Ponseti's in the '60s and '70s. He was extraordinarily kind. What saddens me the most is that one of the most beautiful bedside manners I have ever experienced is gone. A truly beautiful man who deserves to be described with words like iconic and legendary."
"We flew from South Africa so that Dr. Ponseti could treat our son. Dr. Ponseti provided hope when no doctor in our country could help. He was a warm, wise, and generous human being with healing hands that performed miracles on our baby's twisted feet."
Close friend Paul Etre, the administrator for UIHC's department of orthopedic and rehabilitative surgery, offered this touching description to the Press-Citizen: "He lived for children, that was his obsession. He was a great man, he was a gentle man, he was humble. He was one of the brightest men you could ever meet. "He's Mother Teresa and Einstein mixed together."
What is his legacy?
Ponseti's memory lives on in the footsteps of children. Although his treatment was slow to gain widespread acceptance, it is now the gold standard for correcting clubfoot. Doctors around the globe will continue to practice his treatment, benefiting patients for generations to come.
Says Stuart Weinstein, 72MD, 76R,* UI professor of orthopedics, who worked with Ponseti for more than 30 years: "Through his students, his legacy will continue. We have that obligation. The entire university community can take pride in all he achieved."