The power of the Internet brings a UI Press book about noteworthy Iowans to the world's attention.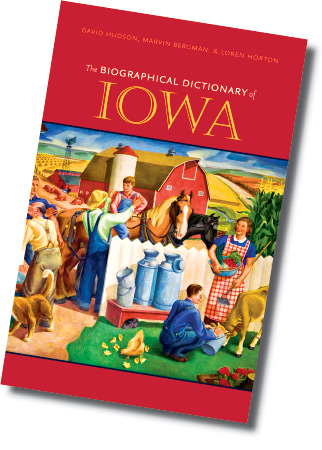 In June, the University of Iowa Libraries celebrated a milestone—the acquisition of its five millionth volume. To mark this achievement, libraries staff chose a fitting volume: The Biographical Dictionary of Iowa, which celebrates some 400 outstanding Iowans who made their mark at the state and national levels in politics, art, education, sports, exploration, and other realms of enterprise and discovery.
The selection also commemorated the 40th anniversary of the University of Iowa Press, which published the book and has a close partnership with the UI Libraries. Now, thanks to another collaborative project between the university's press and libraries, a wider audience can appreciate the achievements of those notable Iowans.
The dictionary is one of 51 UI Press digital editions made freely available on the libraries website for use by faculty, staff, and the public. Many are out-of-print books, while some can be downloaded as free pdf versions.
"Sales of these fine titles from our deep backlist have dwindled in recent years, so we were very happy to partner with the UI Libraries to introduce these books to a new generation of readers in a new format," says UI Press Director Holly Carver. "People may prefer to read these books online, or they may sample a digital edition before ordering a copy of the print edition. Either way, this new format will allow them to discover an excellent collection of books and authors."

The print edition of the biographical dictionary is still available for purchase from the UI Press and other book-sellers. Viewers of the digital version can easily search the biographies by name, date, contributor, and topic.

The dictionary presents a roll call of men and women who helped change their world—from familiar characters, like U.S. President Herbert Hoover, to lesser-known people, such as American Indian and women's rights activist Jean Adeline Morgan Wanatee. Many of them were pioneers, ahead of their time. How fitting that they're now helping extend the boundaries of publishing.