A $500,000 grant gives a specialist researcher creative freedom.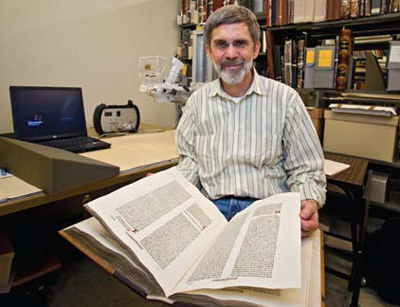 When Tim Barrett left a faculty staff meeting to answer a persistent phone caller, he walked out of the room as a research scientist and an adjunct professor of papermaking at the UI Center for the Book. He returned a certified genius.
During that phone call in September, Barrett discovered that he'd received a $500,000 fellowship—unofficially known as a "genius grant"—from the John D. and Catherine T. MacArthur Foundation in recognition of his groundbreaking work in the history, techniques, science, and aesthetics of hand papermaking.
The MacArthur grant-making process is shrouded in secrecy, with recipients typically unaware that they've been nominated, so Barrett had no idea that the mysterious phone call would change his life—albeit in ways that he can still barely comprehend. "I'm still stunned," he admits. "But I'm incredibly moved by the recognition, which honors the university, the Center for the Book, and everyone working in my area of specialty."
First intrigued by Japanese handmade paper while at high school, Barrett has become an acknowledged expert in his field. Since joining the UI Center for the Book as a paper specialist in 1986, he has researched the history of handmade papers and why papers from certain periods are exceptionally long lasting and aesthetically pleasing. Barrett and his colleagues at the center also study more broadly the impact of books on society and culture, and how books are likely to adapt in an increasingly technology-driven world.
In 2000, for a unique project for the National Archives and Records Administration, Barrett's UI team of staff and students created special handmade paper to cushion and help preserve the Declaration of Independence, the Bill of Rights, and the U.S. Constitution.
Barrett hasn't yet determined how he will spend the time or money provided by the no-strings-attached, five-year MacArthur fellowship. Perhaps he'll create new artist's books, conduct further research into surprisingly durable papers from 15th century Europe, or even pursue a personal interest in the tanning and beading traditions of Plains Indians.