A book by Doug Stanton, 88MFA, Scribner, pp. 336.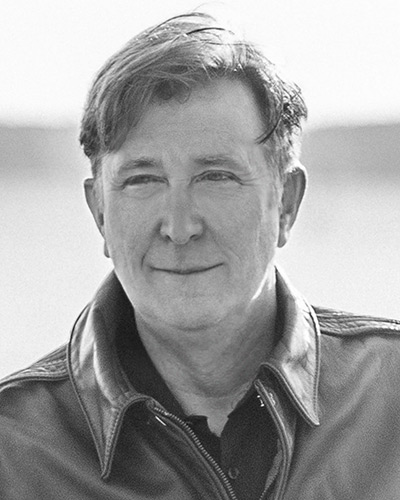 Doug Stanton
Journalist and New York Times best-selling author Doug Stanton was in Afghanistan in 2005 researching his second book, Horse Soldiers, when he met a U.S. Army officer with an extraordinary past. As Stanton waited aboard a Chinook helicopter to leave Kabul for a U.S. Special Forces camp, he struck up a conversation with Stan Parker, an airfield leader in his late 50s whose military career began decades earlier in Vietnam.
Parker told Stanton about his time with Echo Company, an Army reconnaissance platoon that had just arrived in Vietnam in 1968 when the North Vietnamese Army launched the Tet Offensive—a series of surprise attacks on scores of cities in South Vietnam. In the months to follow, Echo Company fought their way through a gauntlet of brutal battles day and night in villages, rice paddies, and jungles. Parker was wounded three times in combat with the North Vietnamese army and Viet Cong guerrillas but ultimately made it out alive—unlike so many other young American soldiers.
In 2009, Stanton published Horse Soldiers—the true story of a secret band of soldiers who entered Afghanistan on the heels of 9/11 to pursue the Taliban. But he never forgot Parker's story. Back in the U.S., the two reconnected in 2012, and Stanton set to work on a new book retracing Echo Company's perilous time in Vietnam. The result is Stanton's latest military history account, The Odyssey of Echo Company, which details Parker and his platoon mates' fight for survival, and how they coped with that trauma upon returning home from an unpopular war.
In addition to releasing his third book, Stanton has collaborated recently on a Hollywood adaptation of Horse Soldiers titled 12 Strong, which opens nationally in theaters this month. Stanton served as an executive producer on the film starring Chris Hemsworth and produced by Jerry Bruckheimer.
Stanton, who studied poetry and fiction at the Iowa Writers' Workshop, lives with his family in Traverse City, Michigan, where he has written for the New York Times, Washington Post, and other national publications. In 2009, he and wife, Anne, founded the highly regarded National Writers Series, which has brought dozens of renowned authors to their city for onstage conversations and educational programs.
IAM: Why was Echo Company's story an important one to tell?
STANTON: Echo Company's story is poignant because it mirrors the experiences of millions of others who served in Vietnam. That is, they fought 24 hours a day, sometimes for a year or more, then came home and didn't talk about it anymore. It's a war they wanted to forget, and it's a war that America told them it wanted to forget. Vietnam, if anything, remains our hidden war, and this book tries to tell that story.
IAM: What made Stan Parker's perspective unique?
STANTON: He fought in Vietnam as a young 19- and 20-year-old, and when he came home he was confused, as were millions of others like him, about what had happened and how they were supposed to make sense of it. But when Stan came home from Afghanistan, it was completely different. There's a scene in the book where someone tries to give him his first-class seat coming home from Afghanistan, and he won't take it. The pilot wouldn't take off until he switched seats. As he's walking down the aisle to take the seat, he thought, "This is generous." But in the back of his mind he wondered if they'd still be clapping if they knew he fought in Vietnam. That sense of bewilderment has never left many of these veterans.
IAM: What has it been like to help adapt Horse Soldiers into a movie?
STANTON: It's an enormous battle book, and to see it come to life on the screen is an amazing experience. But it also magnifies those small moments of humanity and interactions within the families of the soldiers, and interactions between the soldiers and the Afghans. It shows how important those moments really were.


— Josh O'Leary
---