Matthew Rooda, 16BA, and Abraham Espinoza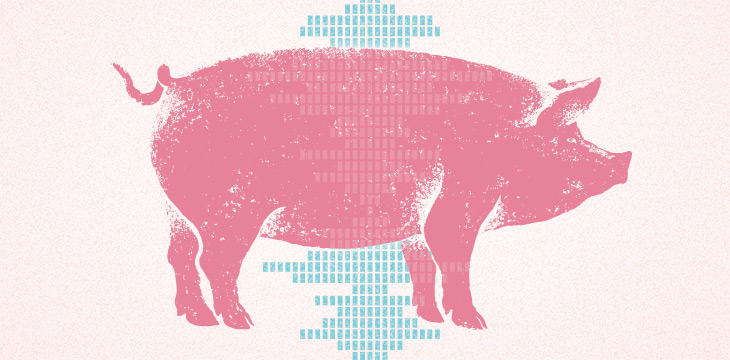 It started out like any other day for Matthew Rooda, 16BA, who a few years ago was balancing community college classes with his job at Schneider Pork Farms outside of Waterloo, Iowa. When he arrived at work, though, he discovered a disheartening situation—nine deceased piglets crushed beneath their mother.
"One or two dead piglets was normal," says Rooda, a recent alumnus of the UI's enterprise leadership program. "I was really frustrated. I knew that I had to do something to stop it."
Piglets getting crushed by their mothers is a complicated issue that farmers have been struggling with for decades. As many as six million piglets die every year as a result, according to the United States Department of Agriculture. That's approximately 5 percent of all piglets.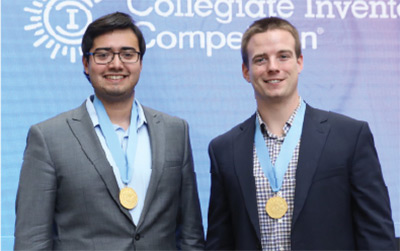 Photo COURTESY Matthew Rooda
Espinoza and Rooda
"Farrowing crates make it more difficult for mothers to crush their young," says Rooda. "But consumers want pigs to have more freedom and live a more active life, and when you do that, more piglets are, unfortunately, going to die. It's hard balancing what the consumer wants and what producers want, which is a profitable business."
Rooda went looking for a solution and enlisted a friend, Abraham Espinoza, whom he met in Waterloo. With the help of the Founders Club, an incubator at the UI's Bedell Entrepreneurship Learning Laboratory that supports students as they pursue startup businesses, the duo founded SwineTech in 2015.
At the UI, Rooda and Espinoza benefited from business training and coaching, as well as from connecting with other Hawkeyes throughout the country, including business collaborators Mike Brown, 17BA, and John Rourke. Says Rooda: "The University of Iowa provided us with everything we needed to learn and grow as business owners."
Rooda and Espinoza now have released a product that is starting to make an impact in the hog industry. The system, called SmartGuard, monitors the wavelengths and frequencies of piglets' squeals. When it detects a piglet in distress, it delivers a vibration to a patch affixed to the mother, which prompts her to stand and free her piglet.
"We've worked with animal welfare specialists and veterinarians to ensure that our system doesn't harm—but helps—the animals," says Rooda, who, along with Espinoza, has received numerous honors and awards for SmartGuard. The duo won the undergraduate category of the 2017 National Inventors Hall of Fame Collegiate Inventors Competition, has been named to the 2018 Forbes magazine "30 Under 30" list for manufacturing and industry, and became finalists for the American Farm Bureau Federation Rural Entrepreneurship Challenge, which will be decided this month.
Currently, a handful of farmers nationally are using SmartGuard. Rooda and Espinoza plan to roll out their product to the masses at the 2018 World Pork Expo, which will be held in Des Moines this June. "I hope that SwineTech creates a better quality of life for pigs while still helping producers maintain profitable businesses," says Rooda. "We want the industry to be even better."