Lisa Dondlinger, 96BM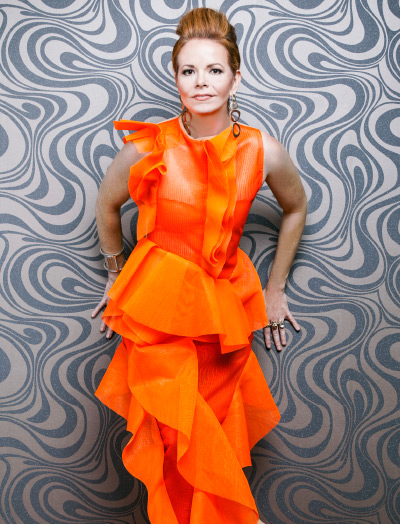 Photo: Adina Doria
Grammy-nominated violinist Lisa Dondlinger, 96BM, spent dozens of hours as a high school senior on Interstate 80, laying the foundation for a road that eventually led to Hollywood. Each Saturday morning, she would ride from Des Moines to Iowa City for 90-minute lessons with UI music professor Allen Ohmes, who helped her secure a scholarship to Iowa. It was his guidance that set her on course for a career in which she's collaborated with some of the music world's biggest stars. "He was really inspirational in getting me to realize how hard you need to work," Dondlinger says. "That was a real turning point for me."
Another major turn came beneath the gold leaf ceiling and crystal light fixtures of Davenport's Adler Theatre, where Dondlinger reimagined her career in classical music through one final performance as Miss Iowa. With an electric violin in hand and dancers on stage, Dondlinger rearranged a classical music piece into a modern dance number and finished her reign in 1999 with a clear vision of her next step in music. "That performance really changed everything that I wanted to do with music," says Dondlinger, who previously envisioned an orchestra job or teaching music.
Today, Dondlinger stars as a soloist once more. After serving as a backing musician for numerous artists, film scores, and TV shows through an illustrious career in Los Angeles, Dondlinger will launch a tour this May to support her 2017 solo debut album, Movies and The Masters. Her violin leads alongside a backing orchestra on the nine-song record fusing classical and film score melodies—such as Beethoven with Pirates of the Caribbean. Also a talented vocalist, Dondlinger aims to bring a communal concept to her live performance that's more engaging than the typical orchestra concert. The show will include a drum corps, a choir, and dance numbers that involve the audience. "I want to change the symphony-going experience for people," she says. "I want to break down those barriers, so when they come to an orchestra concert, they feel like they're a part of it."
A backing instrumentalist for several Grammy Award shows, Dondlinger submitted her solo work for this month's 60th annual show in three categories, including Best Contemporary Instrumental Album, Best New Artist, and Best Arrangement, Instrumental or A Capella. While Dondlinger continues her supporting roles in high-profile projects for artists such as Celine Dion and Beyoncé and films such as Finding Dory and The Jungle Book, she's eager to push her creativity and music's boundaries as an individual on stage. "I love the feeling of knowing that you're affecting that many people," says Dondlinger. "I feel just as comfortable on a stage as I feel sitting in a chair talking to my family. It's kind of a comfort zone."
To hear Dondlinger's debut album, visit lisadondlinger.com.