MARK MOSS, 93BSE
WHY DID HE MAKE HEADLINES?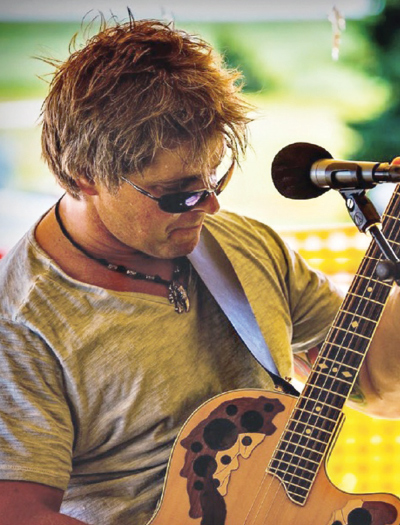 PHOTO: COURTESY MARK MOSS
Dallas, Texas, musician and former farm boy Mark Moss grew up just 40 minutes north of Iowa City, where he was born. Yet, for most of his life, this "naturally curious guy"—who learned at age 8 that he'd been adopted—knew little about the circumstances of his birth.
That troubled Moss, 93BSE, for decades, driving him to pore over microfilm as a student at the University of Iowa, beg for clues from his adoption agency, and even hire a private investigator. Then, earlier this year, Moss appeared on the TLC television show Long Lost Family, which reunites long-separated family members. What it revealed changed his life—and showed him the surprising power of genetics.
WHAT DID HE DISCOVER?
In spring 1968, a young woman from Davenport found herself in a terrible predicament: She was pregnant and single—and planning to attend the UI on a full-ride cello scholarship in the fall. Instead, she landed in a home for unwed mothers, and after delivering a boy in Iowa City on Dec. 26, 1968, she gave him up for adoption, leaving only a note in his medical records that said she hoped he'd share her love of music.
As it turns out, he does—though he never got the chance to tell her. Moss's mother, Barbara, moved to Arizona and became a certified public accountant, music teacher, and church organist. She married; gave birth to a daughter, Rebecca; and died of breast cancer in 2008, without ever meeting the son she couldn't forget.
"I had an ugly cry about that when the cameras weren't rolling," says Moss. "It was sad, but I try to focus on the positive, which is that her story didn't die because I have a half-sister, and she lives on."
Not only did Long Lost Family reconnect Moss with this sister, but he also got to meet—and jam with—his biological father, David, who is a working musician, too. This new family has become an important part of Moss's life. He spends time with them; he's introduced them to his adoptive family; and he plans to invite them all to his 50th birthday bash next year.
HOW DOES IT FEEL TO HAVE ANSWERS?
Moss, who adopted his son from a Russian orphanage, is grateful to have solved the mystery of his origins. Now he knows that he shares his sister's smile—and that he inherited his musical talent from his birth parents. "For more than 40 years, I wanted answers to these burning questions, and now there's peace," he says. "I can pay homage to where I came from—and there's just more love to go around."