One of the great college football squads of the 20th century played in Iowa City. But they didn't wear black and gold.

Newsreel of the Seahawks in action during their victory over Michigan in 1942
On the last day of August 1942, a group of 70 naval officers and cadets reported to duty at a sunbaked field next to Iowa Stadium—today known as Kinnick Stadium. They gathered around Bernie Bierman, a white-haired lieutenant colonel who had put out the call for volunteers at the newly commissioned U.S. Navy pre-flight school on the University of Iowa campus. Among the servicemen was a tall, broad-shouldered platoon leader named Forest Evashevski, who taught hand-to-hand combat at Iowa Pre-Flight.
Despite the searing afternoon heat, the drills were a welcome diversion from the turmoil elsewhere in the world. The following day would mark three years since Hitler's army invaded Poland and set in motion the deadliest war the world had ever seen. Japan's sneak attack on Pearl Harbor nine months earlier drew the U.S. into the war, prompting college campuses across the nation—including in Iowa City—to lease their facilities to the military for training grounds. But for an hour and a half, Evashevski and the other men could forget about the perils that lay ahead. Fall was coming, and even with the world at war, there was football to be played.
Soon, leather balls whizzed overhead, and Bierman's whistle competed with the thumping of punts and shoulders cracking against tackling dummies. It was the inaugural practice for the Iowa Pre-Flight Seahawks, who over the course of three short seasons would become one of the nation's best war-era teams. For the 23-year-old Evashevski, a former star quarterback at Michigan, it was his first day of football in Iowa City—a preamble to his return a decade later as head coach for the UI, where his Rose Bowl teams became the stuff of Hawkeye legend.

This fall marks the 75th anniversary of that Iowa Pre-Flight team, which from 1942 through 1944 boasted a veritable all-star cast of coaching greats, college standouts, and even NFL players who converged in Iowa City for naval training. In an effort to preserve the college game during a time when dozens of universities mothballed their football programs, military schools like Iowa Pre-Flight were allowed to compete collegiately and the prohibition against professional players was lifted. Across the nation, a number of star-filled service teams emerged, but none proved better than the mighty Seahawks, whose nickname reflected this unique wartime marriage of the Navy and Hawkeye State.
Last year, the Associated Press released a list of its top 100 college football teams of all-time based on the rankings it's compiled since 1936. Remarkably, Iowa Pre-Flight made the list as the No. 98th best program, despite playing just 31 games over three seasons. (Iowa ranked as the No. 25 program of all time.) Even more, the 1943 Seahawks, whose only loss came by a single point against eventual national champion Notre Dame in a game for the ages, are still considered by many experts to be among college football's greatest teams. The three Seahawks squads went a combined 26-5, outscored their opponents 801-315, and finished with two AP top 10 finishes. The Seahawks twice played the Hawkeyes at Iowa Stadium, cruising to victory in 1943 and 1944 against UI teams depleted by the war.
Yet the Seahawks' legacy today is largely relegated to the footnotes of football history. In Iowa City, the vestiges of the team are contained in just a couple of boxes at UI Special Collections—stacks of fragile photos, game programs, and the pre-flight school's old newsletter, the Spindrift. Outside South Quad, which was built by the Navy in 1942 and currently houses the UI's ROTC program, a small plaque commemorates the commissioning of the pre-flight school. But there are no Seahawks artifacts on display at the UI Athletics Hall of Fame, and UI Athletics leaders aren't aware of any remaining traces of the team on campus. Indeed, in a town with deep college football and military service traditions, memory of the Seahawks has largely faded with time.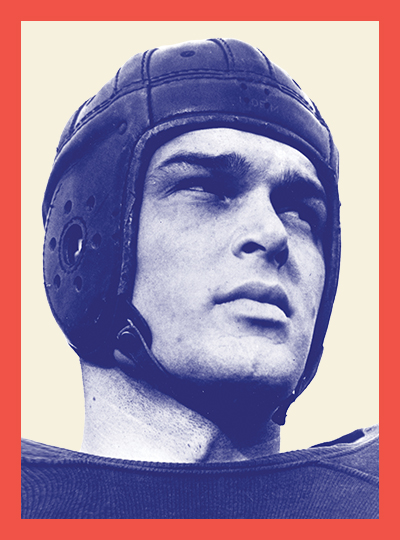 PHOTO: UM football, Bentley historical library, University of Michigan
Forest Evashevski
On April 15, 1942, UI President Virgil Hancher, 18BA, 24JD, 64LLD, ceremonially handed over use of university facilities to Navy Rear Admiral John Downes, establishing one of four pre-flight schools around the nation. University and Navy dignitaries joined hands to form a "V" for victory as they raised the flag on the east lawn of the Field House. Quadrangle and Hillcrest residence halls became naval barracks, and aviation cadets soon filled much of the Field House and several acres of west campus playing fields. Over the next three years, more than 21,000 men went through pre-flight training in Iowa City—once referred to as the "Annapolis of the Midwest"—before heading to primary aviation training and naval bases, ships, and cockpits overseas.
Sports played a central role in the cadets' 11-week regimen, which had three components: military tactics, academics, and athletics. Beyond football, Iowa Pre-Flight fielded a number of other varsity squads that competed regionally, including Seahawk baseball and basketball teams. Additionally, all men were required to participate in daily intercompany sports like boxing, wrestling, and swimming. Their sun-up to sun-down training was nothing short of grueling. As Downes put it, cadets were expected to "chop wood, dig ditches, go on 40-mile hikes, wrestle, box, and in all sorts of sports build up a strong, tough body."
The most notable Iowa Pre-Flight ensign was future astronaut and U.S. Senator John Glenn, among the first group of cadets to arrive at the new school in 1942. Glenn, who died in 2016 at age 95, didn't play varsity football, but his platoon was assigned to be "scrimmage fodder" for the Seahawks, as he described it years later.
The stars of the day, though, were the football players. Evashevski, for one, had made headlines across the nation for his exploits as a bruising blocking back from 1938 through 1940 at Michigan, where he cleared paths for Heisman Trophy winner Tom Harmon. As it happened, during Evashevski's autumn at pre-flight school, downtown's old Iowa Theatre played Harmon of Michigan, Hollywood's silver-screen depiction of that Wolverine squad in which Evashevski played himself. Several former UI players also lined the 1942 Seahawks roster, including halfback Bernard "Bus" Mertes, 47BSPE, 50MA; center George "Red" Frye, 47BSPE; and quarterback Al Couppee, 47BSC. Frye and Couppee were members of Iowa's famed 1939 Ironmen squad. They were joined on the Seahawks by former college standouts from schools such as Notre Dame, Minnesota, and Ohio State, along with pro players from the likes of the Chicago Bears and Green Bay Packers.
Bernie Bierman, the Seahawks' decorated coach, had a quiet but authoritative presence on the sidelines. The World War I veteran and Marine was the nation's top football mind at the University of Minnesota before the war. Under Bierman's charge, the Gophers recorded five undefeated seasons and were the two-time defending national champions before he was called to serve as director of physical training at Iowa Pre-Flight.
Despite the talent on hand in Iowa City, Bierman was skeptical about the Seahawks' ability to compete given the demands of their training. "Our cadet personnel is in constant flux, and we will have no single cadet from the first practice until the final game," Bierman said before the season. "No man on the squad has varsity football as his primary interest or responsibility. Cadets and officers alike must first go through their rigorous daily routine before going out for the football drills."
Military historian Wilbur Jones, author of Football! Navy! War!, says Navy leaders recognized football's benefit in developing toughness, leadership, teamwork, and hand-eye coordination—all skills needed in the air over the Pacific. "Many of these boys were trained as fighter pilots and ended up flying off carriers, and these teams attracted a lot of guys who were gung-ho about joining the Navy and Marine Corps," Jones says. "The physical training these players received helped tremendously in winning the war."