BEHIND ITS SHINY VENEER; PERSONAL STORIES SHAPE THE NEW UI STEAD FAMILY CHILDREN'S HOSPITAL.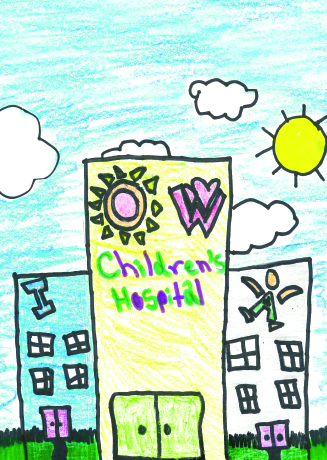 COURTESY OF UI STEAD FAMILY CHILDREN'S HOSPITAL
During the planning process, dozens of patients sketched ideas for what they wanted in their new hospital.
Tami Pollari still has the picture saved in her office. It's a wide tower, drawn by a wobbly young hand in bright marker, with long rows of windows and rainbow stripes. A helicopter swirls past, piloted by a tiny stick man pulling a tiny stick lever, no doubt on his way to save a tiny stick patient.
Pollari, director of patient and family-centered services, thinks of that drawing whenever she looks up at University of Iowa Stead Family Children's Hospital, newly gleaming over the health care campus. Before architects drafted plans for the glassy, oval-shaped tower, patients seized crayons, markers, and colored pencils to sketch their own plans for the perfect place for healing.
There's good reason why that young patient's rainbow creation is reflected in the facade of the new hospital, which is encircled by vertical, multi-colored light wells that illuminate the building at night. Pollari and her team didn't just pin the kids' pictures to a bulletin board and forget about them. Instead, they compiled a portfolio of the drawings for hospital leaders, architects, and committee members as inspiration in planning one of the most ambitious projects in the university's history.
The project leaders noticed a common thread: the pictures didn't look all that much like hospitals. They had cats and dogs. Doorknobs and picture windows. Slides and swings. Flowers and sunshine.
Simply put, they looked a lot like home.
Today, the $360-million, 14-level tower is serving its first patients after officially opening its doors late last month. Connected to the main hospital and overlooking Kinnick Stadium, it's the realization of a longtime vision of a facility dedicated to pediatric medicine. All told, more than 4,000 construction and craft workers labored on site, over 600 faculty and staff members conducted years of planning, and more than 11,000 donors from 50 states provided financial support.
Just as crucial were the patients and families who collaborated to fill the hospital with thoughtful human touches that complement its advanced technology. Soothing respite areas like the rooftop garden and small conveniences like in-room refrigerators ensure the 507,000-square-foot hospital creates a sense of comfort and home—even when home is miles away and life is suddenly unfamiliar.
"When we were having debates, it was so great to see people in the room look to the parents and ask them, 'What do you think?'" says Pollari, 81BSN, 01MSN, 01MBA, who coordinates the hospital's family and youth advisory councils. "That open ear is definitely reflected in the building."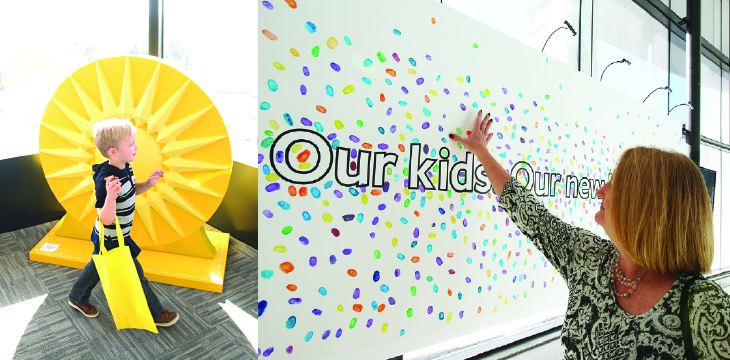 PHOTO, LEFT: TIM SCHOON/UNIVERSITY OF IOWA/OFFICE OF STRATEGIC COMMUNICATION; PHOTO, RIGHT: COURTESY OF UI STEAD FAMILY CHILDREN'S HOSPITAL
Colorful art pieces add a touch of whimsy and cheer.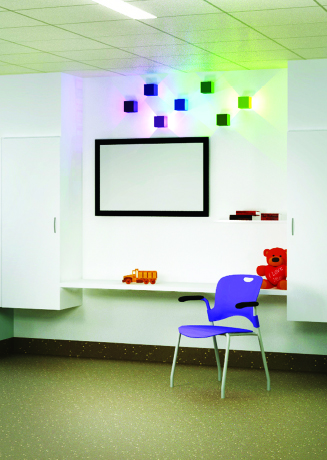 COURTESY OF UI STEAD FAMILY CHILDREN'S HOSPITAL
Drew's Lamp provides comforting light in patient rooms.
A mong these contributors was a patient named Drew Wall, who ensured the new hospital was infused with a little bit of magic. On the wall opposite of the bed in each inpatient room hangs a bank of seven glowing cubes known as Drew's Lamp. Adjustable by remote control or touchscreen, patients are able to swap the colors of the LCD-lit cubes to suit their mood, or make them pulse from one color to the next.
In 2008, doctors diagnosed 11-year-old Drew with a form of bone cancer called osteosarcoma. In the ensuing years, he endured round after round of chemotherapy and radiation, as well as nine long surgeries, including a partial leg amputation.
Each time Drew was hospitalized, he would pack—among other reminders of his Cedar Rapids home—his desk lamp. A straight-A student who played on his high school golf team with a prosthetic leg, Drew took pride in his school work, keeping his mind engaged even as his body failed him. Although his doctors needed the bright overhead lights to work, and his nurses could draw his blood in virtual darkness in the night, Drew preferred to study under the familiar, comforting glow of his lamp.
When Drew was asked to serve on the youth advisory council during the early stages of planning for a new hospital, he pitched the idea of putting a kid-friendly lamp in each room. Wall died in 2012 at age 16, just as the construction crews broke ground. His vision, though, burns bright inside the new tower. Drew's Lamp gives rooms a soft and calming ambience in contrast to the typically harsh lighting found in hospitals. It also provides patients with a small sense of control during a time when many can feel helpless.
"He was such a light to so many people," says his mother, Robin Wall. "It's great to have other families know his story and how he wanted things to be better for kids. He would think this is really cool."