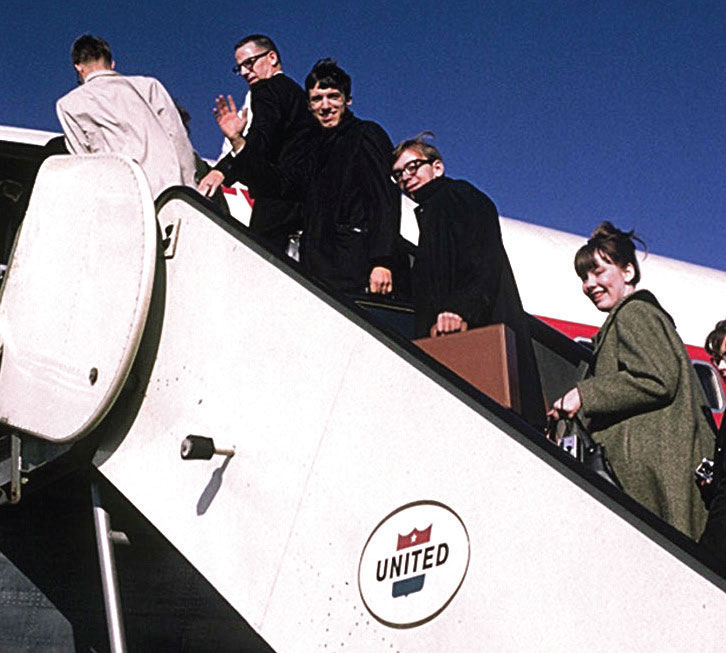 PHOTO: STEVE SEYMOUR
A
t Checkpoint Charlie, an unsettling mix of dread and anticipation grew in their stomachs as East German police boarded and inspected the buses. After registering with the U.S. military, the young Iowans rode behind the Iron Curtain and into a different world—one with machine guns trained upon the Wall to keep people inside.
The atmosphere was so bleak and gray that band member Dennis Young remarked, "I brought all of this color film and this country is in black and white."
Cold War tensions were high between the U.S. and USSR that spring of 1966, when a group of UI Symphony Band musicians launched their tour of the Soviet Union. In fact, the odyssey had begun weeks earlier. At 2:45 a.m. on Saturday, Feb. 12, 1966, the 88 students boarded a bus in Iowa City for Des Moines to later catch an international flight from New York City to Lisbon, Portugal. They ambled up the jet stairway, bundled in coats and clutching their carry-ons, waving with wide grins at the prospect of adventure. In the wee hours of that brisk Iowa morning 50 years ago, these students embarked upon a 10-week artistic-diplomatic mission to Europe—one that would include 20 unprecedented days in the USSR.
School of Music Director Himie Voxman, 33BSChe, 34MA, himself had negotiated the financial and bureaucratic particulars with the U.S. Department of State to establish a cultural exchange to bring American music to the Soviet Union. Perhaps most importantly the exchange was designed to give young people from opposing sides of the political spectrum an opportunity to meet and learn from each other. In honor of this program and the man who made it possible, members of the 1966 UI Symphony Band symbolically gathered at the new Voxman Music Building this past August to celebrate the 50th anniversary of their historical trip.
Pete Trotter, 69BA, 72MS, 83PhD, a sophomore bassoon player and reunion committee member, seized the opportunity to hold the festivities in the new music facility (see sidebar). He was especially thrilled that the reunion was Voxman's first official event before opening for classes a few days later.
After inviting Swanson and other audience members onstage to dance in sombreros like the Three Amigos, the duo kicks off an uproarious evening of banter and banjos.
"Our memories have stayed with us forever and we've stayed in touch over the years," says Trotter, chuckling at how he naively traipsed across Europe. Little did the musicians understand how closely they would bond during this lifechanging journey, or the logistical and political complexities required to take dozens of college students overseas.
Politics almost derailed the plan altogether. Shortly before their flight, the band members received stunning news: their tour to the Soviet Union was off. Negotiations had faltered, but lastminute arrangements turned the program into a Western European tour. Nevertheless, after a fuel stop in New York City, the TWA plane touched down in the balmy air of Lisbon. Jerry Zinn, 66BA, 70MA, a senior music major in saxophone, was struck by how the temperature and palm trees contrasted the Iowa winter he'd just left. Several students, still in winter jackets, immediately ran toward the shore of a Portuguese beach.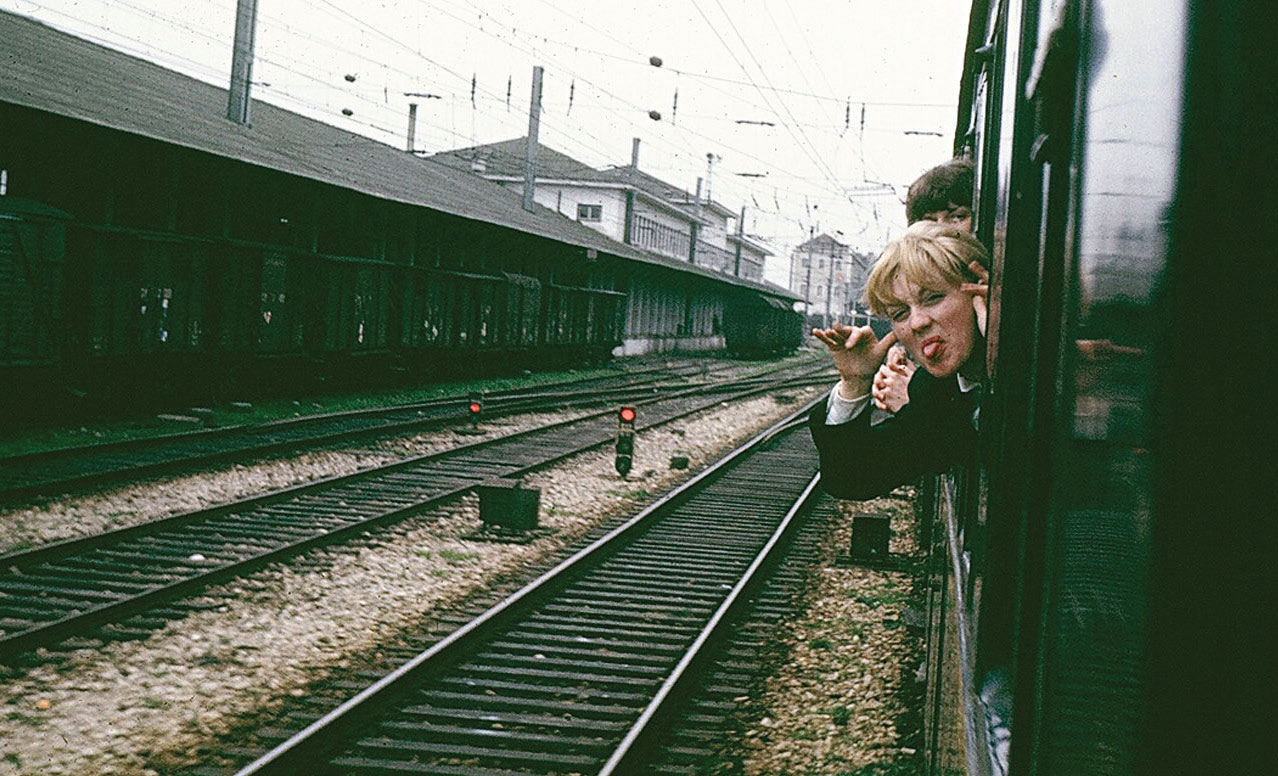 PHOTO: FRAN PUHL HERMANSON
Conductor Fred Ebbs organized most of the day-to-day activities and performances while William Lovegrove (a former member of the World War II Monuments Men) accompanied the group as the state department liaison. Then there was band manager and former Hawkeye Ironman Max Hawkins, 41BA, who dispensed per diem amounts of currency, arranged meals, and booked transportation by bus and train—including a jaunt on the legendary Orient Express. By all accounts, Max traveled with a small suitcase of clothes and a year's worth of cigars.
The musicians soon set about rehearsing for their European debut at the University of Coimbra. From Portugal, they moved on to give 40 concerts in Belgium, Luxembourg, Germany, Austria, Spain, and France. Everywhere it went, the band brought down the house—playing for packed venues and to rave reviews from people eager to hear an American band interpretation of classical and modern music. In between shows, the Iowans had plenty of time for exploring the sights and visiting with local university students. Although they were wide-eyed, boisterous, and impressionable, these talented musicians proved incredible ambassadors.
Recent doctoral student Larry J. Petersen, Jr., 12DMA, documented this reception extensively in his dissertation about the history of the Iowa band program, noting how Coimbra newspapers suggested the band "exuberantly proved that discipline and enthusiasm go very well together. … The value of this group [is] very significant." He also cites the favorable opinion of the U.S. ambassador to Belgium that "the band is improving the image of American university students and of Americans in general, in all countries in which it is appearing."
Halfway through the Europe tour, band members learned they'd be performing in the Soviet Union after all. They spent 10 glorious museumand- café days in Paris preparing for the extension to Leningrad, Kiev, Kharkov, and Moscow. In a detailed travel diary, assistant conductor Warren Hatfield, 59MA, 67PhD, marveled at the warm, enthusiastic, and appreciative Soviet audiences. They went wild with standing ovations and calls for encores.
"Of particular note was seeing tears in one older woman's eyes as we played the 'Stars and Stripes Forever,' which she had requested," Hatfield observed. "She took a medallion from her neck and gave it to one of our percussionists when we finished the march. No doubt she had deep memories of World War II and positive feelings for America."
GROUP PHOTO: STEVE WRIGHT
The Russians were especially spellbound by the side jazz band that Hatfield conducted. They seemed positively hungry for this American art form, and the band played extra gigs wherever venues presented themselves. Often, conversations between the American and Soviet students would go long into the night, and Hatfield believes such exchanges contributed in some small way to the eventual thawing of the Cold War.
"Our mission to firm relationships on this tour is really accomplishing that goal. The state department is impressed," he wrote in his journal. "Today, at least, the Communist factions succumbed to the power of American band music, American jazz, and a group of talented, enthusiastic Iowans."
In those concert halls, toes tapped and heads swayed and language and political barriers fell away. What remained—and all that mattered—was the universal way music delights the heart and soul.