Seung Min Kim
---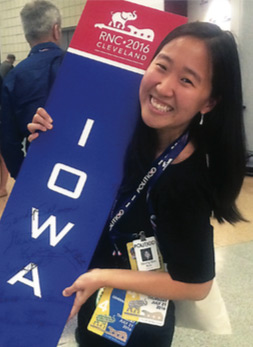 PHOTO COURTESY: SEUNG MIN KIM
F
The world watched as Republican presidential candidate Donald Trump stood before a packed arena in Cleveland this past summer to accept his party's nomination. But while most viewed the historic moment on TV, Seung Min Kim, 07BS, was there in person, breaking news from the floor as a congressional reporter for the political journalism site POLITICO.
As a former Daily Iowan editor, Kim first developed a passion for political reporting while getting up-close and personal with presidential candidates during the 2004 Iowa caucuses. "With the state's prominent position in presidential politics, I got an experience that college students wouldn't get anywhere else," says the UI journalism and political science graduate, who now serves as president of the DC chapter of the Asian American Journalists Association.
Since joining POLITICO in 2009, Kim has covered everything from fiscal crises and immigration reform debates to the fight for control of the House and Senate. But reporting from the floor of the 2016 Republican National Convention ranks among the most exciting moments of her journalism career. "You are witnessing history," she says. "It's not only interesting to political junkies, but it also has major implications for everyone in the country."