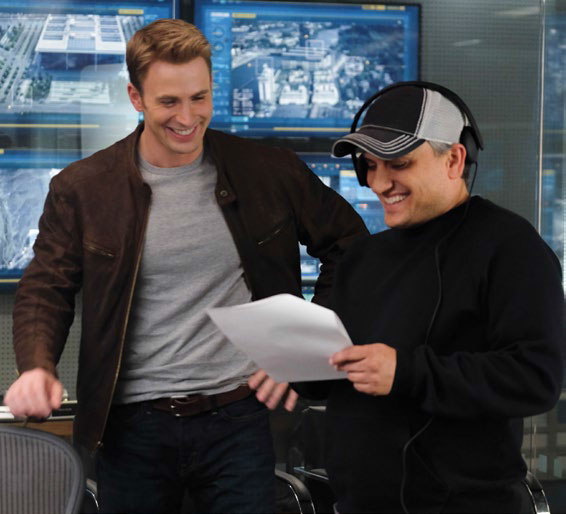 PHOTO: WALT DISNEY STUDIOS
Joe Russo (right) shares a laugh with Captain America actor Chris Evans.
G
uiding Iron Man and other superheroes in an epic battle scene for
Captain America: Civil War
,
Joe Russo
was overwhelmed with the passion he first felt for the Avengers as a 7-year-old comic book aficionado.
"It's real childhood wish fulfillment for me to play with these characters," says Russo, 92BA, who directed the latest Marvel summer blockbuster with his brother, Anthony. "I grew up reading these comics, and now I have the chance to tell the stories of characters who had an emotional impact on my childhood."
Civil War, which releases on DVD and Blu-Ray on Sept. 13, shattered international box office records and earned $179.1 million domestically during its opening weekend—the fifth-best premiere in cinematic history. Celebrated by fans and critics alike, the third installment of the Captain America series stars Chris Evans and Robert Downey Jr. as conflicted superheroes facing public scrutiny for the destruction left by their crime-fighting.
The Russo Brothers first stepped into the Marvel universe in 2014 with Captain America: The Winter Soldier and are currently in pre-production for Avengers: Infinity War, a two-part movie scheduled for release in May 2018 and 2019. Although the forthcoming Avengers films are "top secret," Russo says they feature the beloved superhero squad reuniting to face its greatest threat yet.
Whether directing a paintball fight scene in the NBC sitcom Community or an Emmy Award-winning episode of Arrested Development, Russo focuses on building an emotional connection with audiences through his storytelling.
Now directing his childhood heroes, Russo often looks back at his youth to capture the sentiments that first drew him to characters like the young and vulnerable Spider-Man. Despite working brutal 15-hour days, he draws upon his Iowa past to foster a creative environment by treating the cast and crew as family and encouraging collaboration.
Russo enrolled at the UI to take advantage of the literary community created by the Iowa Writers' Workshop. The Cleveland native majored in English while working as a teaching assistant for religious studies professor Jay Holstein. "Dr. Holstein's teaching had the most profound impact on me," says Russo, who learned the role of metaphors and archetypes in storytelling from the popular instructor.
Iowa City was not only where he polished his craft, but also where he met his wife (at Joe's Place). The director holds such fond memories of the UI that he even planted a shout-out to Iowa City in The Winter Soldier.
Russo says the lessons in deconstruction he learned at Iowa can be seen in his propensity to ground Marvel's superheroes. "I had a difficult time with Captain America as a kid, because his morality was simplistic with all the shades of gray present in the modern world," says Russo. "Because the character is frozen in time and awoken in the modern era, it gave [me and my brother] an opportunity to bring a new tone to him. That's what we've brought to the Marvel universe."
Thanks to Rhonda Roeder Evans, 91BSN, 13MSN, for the tip!