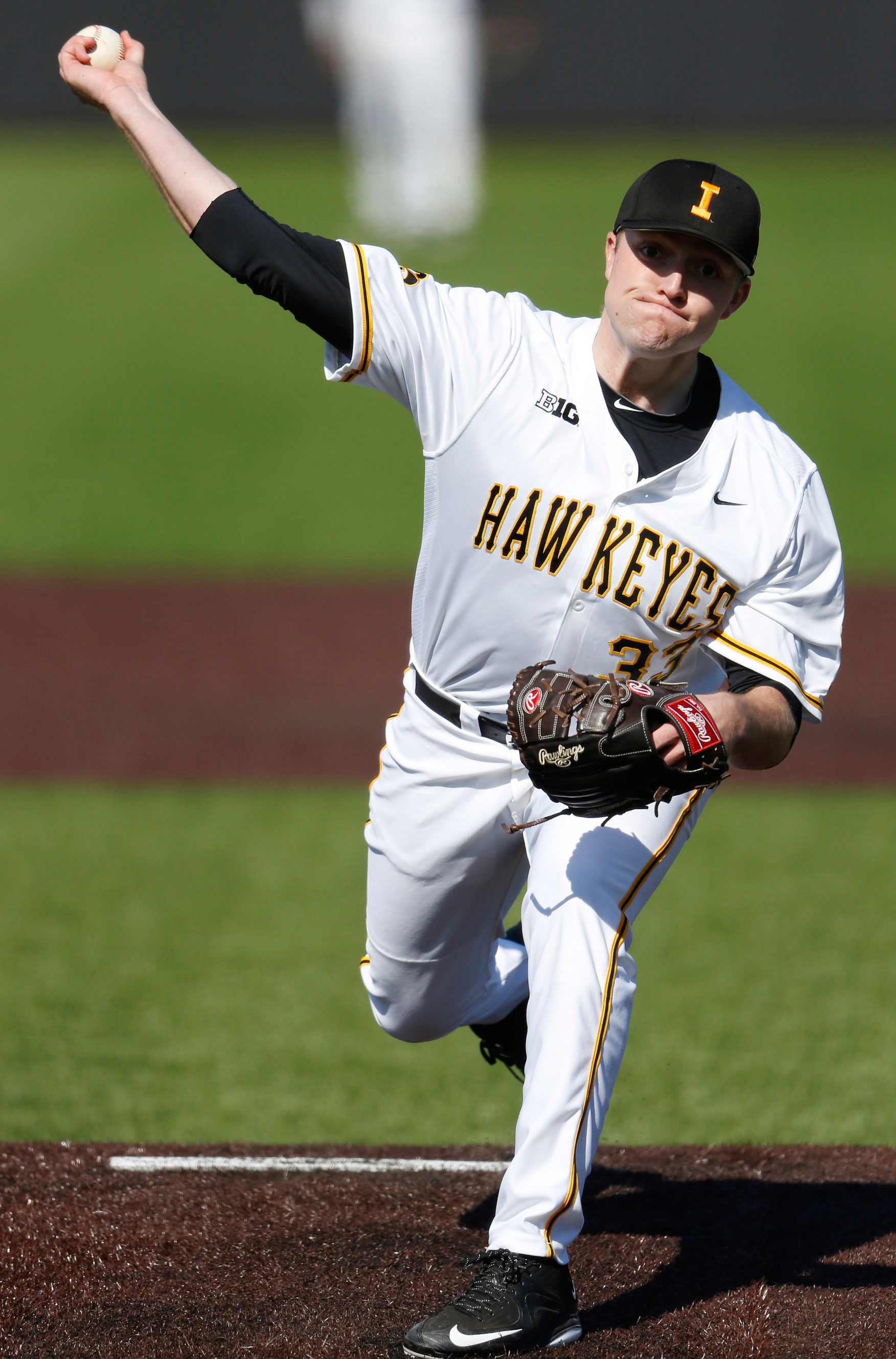 PHOTO: BRIAN RAY/HAWKEYESPORTS.COM
C.J. Eldred grew up shagging balls in big league parks, dreaming of playing in the majors like his father. Yet Cal Eldred told his son not to worry about following in his footsteps, and instead forge his own path.
As it turns out, C.J. has done a little of both. With a pitching style all his own, the younger Eldred left home after high school to play for Big Ten rival Indiana rather than the University of Iowa. But after a coaching regime change in Bloomington, C.J.'s path brought him back to the field that launched his father's long career.
Calvin John (C.J.) Eldred Jr. recently wrapped up his first season on the mound with the Hawkeyes, where he established himself as one of the team's top young talents. After redshirting a year in Indiana, then sitting out last season because of Big Ten transfer rules, he's now playing under the Banks Field lights—which Cal helped the UI purchase with a donation in 2002.
Cal grew up in Urbana and played for the Hawkeyes from 1987 to 1989, becoming one of the best pitchers in college baseball and a first-round draft pick in 1989. He went on to play 14 seasons in the majors with the Brewers, White Sox, and Cardinals, amassing an 86-74 career record. He currently holds a position with the Kansas City Royals.
While Cal was known as a hard-throwing right-hander with a big breaking ball, C.J., also right-handed, has an entirely different approach. Rather than overpowering batters, C.J. relies on an arsenal of sinkerballs and changeups to keep opponents off balance.
"Growing up, I always heard what my dad did here, and now to be doing the same thing is something I'm enjoying," C.J. says. "It's cool to be taking the same route he did, and if I even have close to the career he had, it's going to be a lot of fun."