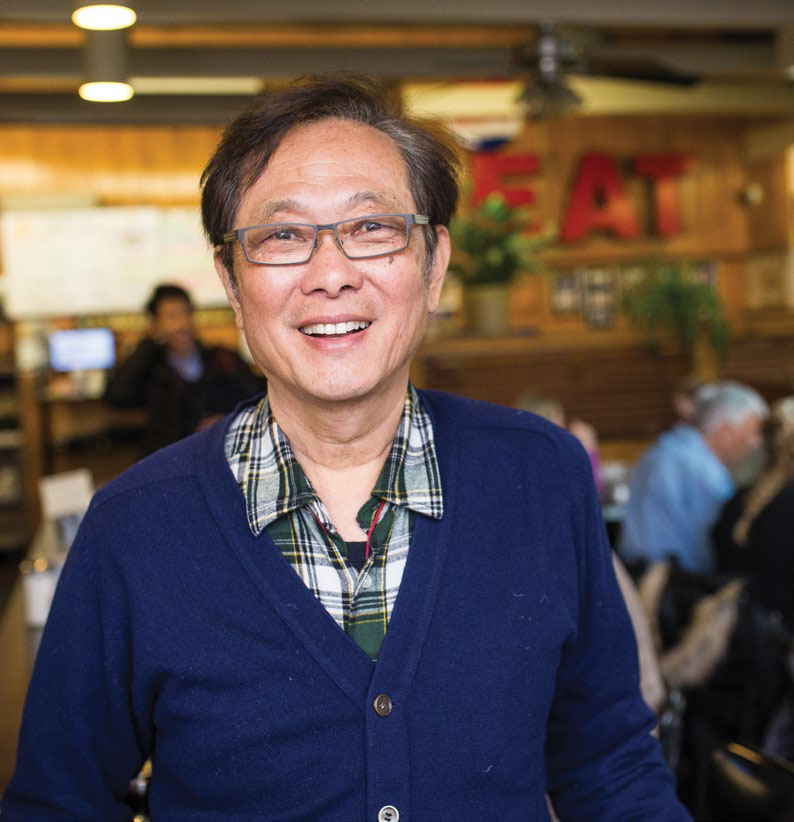 PHOTO: REGGIE MORROW
As the new owner of the Hamburg Inn, "Hawkeye Michael" Lee has big plans to expand this slice of Americana into Coralville, Cedar Rapids, Des Moines, some of Iowa's neighboring states, and his native China. He's also exploring future collaborations between China and the UI in areas such as education, medicine, and study abroad programs.
Forty years ago, modern international relations between the United States and China began over a game of ping pong. Those bonds may soon strengthen—with the leadership of Chinese entrepreneur Michael Lee, 70MA—over pie shakes from the Hamburg Inn.
Since 1948, the Hamburg Inn No. 2 has been a fixture in downtown Iowa City, serving omelets and burgers in a charming and unpretentious atmosphere. During a business trip to campus late last year, Lee ordered the eggs Benedict and instantly fell in love with the traditional family diner. He pictured the Hamburg Inn as a potential culinary ambassador to bring Midwestern culture to China. Says Lee: "I wanted to generate this feeling of tradition in China and introduce a more complete concept of American culture."
As chief executive officer of the Shanghai-based ASA (Academic Studies Abroad) Global, Lee has long specialized in promoting cultural and educational exchanges among students in China, Taiwan, the United States, and the United Kingdom. The businessman saw bringing the Hamburg abroad as an extension of this mission, and immediately asked longtime owner Dave Panther about the possibility of a branch in Lee's hometown of Shanghai. Already considering retirement, Panther not only agreed, but also allowed Lee to purchase the Hamburg Inn No. 2 last spring.
Lee plans to market the Shanghai branch as the "American Presidents Diner," leveraging China's fascination with the U.S. political system. The name also celebrates the Hamburg's role in hosting politicians such as Presidents Ronald Reagan, Bill Clinton, and Barack Obama—especially leading up to Iowa's first-in-the-nation caucuses.
English lessons, Chinese martial arts performances, and other cultural exchanges could take place in his diners. Chinese entrepreneurs might also qualify for green cards by investing in new U.S. restaurants, creating jobs for American workers and international students alike. Says Lee: "I think it will be a great opportunity on both sides—for the Chinese to learn about America and for Americans to learn about China."