Kevin Kriegel
---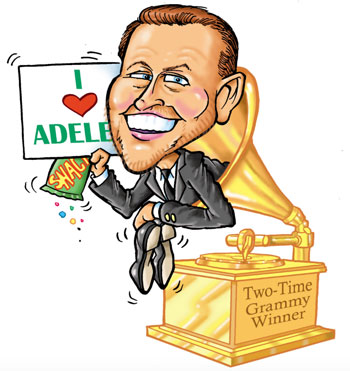 ILLUSTRATION: BUCK JONES
Inside the Microsoft Theater in Los Angeles earlier this year, Kevin Kriegel and his fellow choir members sat in suspense waiting for an envelope to open.
When the emcee finally announced Phoenix Chorale as the winner of the 2016 Grammy award for "Best Chorale Performance," the group erupted in cheers. The victory marked the second Grammy for Kriegel, 98MA, 04DMA, in his nine years as a tenor with the Arizona ensemble. Members of the professional choir were recognized for their performance of Sergei Rachmaninoff's All-Night Vigil with the Kansas City Chorale, released in spring 2015 on the 100th anniversary of the Russian Orthodox choral masterpiece's premiere. The group also received a nomination this year for "Best Engineered Album, Classical."
Kriegel, a piano and choir instructor at Glendale Community College in Arizona, wasn't able to attend the Grammys in 2009 when the Phoenix Chorale won for "Best Small Ensemble Performance." However, this time, the entire choir–led by conductor Charles Bruffy–shared in the excitement of the red carpet extravaganza.
Here's Kriegel's advice on making the most of the Grammys:
1. Envision yourself a winner.
2. Wear comfortable shoes and smile.
3. Stay hydrated.
4. Spot A-list stars like Adele and Beyoncé on the red carpet, but don't get too starstruck.
5. Bring snacks–the after-party buffet is hours away.