Dawn Comstock
Why was she in the news?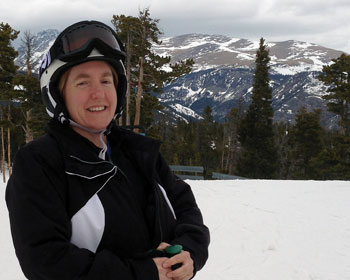 PHOTO COURTESY: DAWN COMSTOCK
Dawn Comstock, a sports enthusiast, uses her epidemiological research to help prevent concussions in high school athletes.
When the media–or athletic governing bodies–need the facts on sports-related injuries, Dawn Comstock is one of the first experts they call. As an associate professor of epidemiology at the University of Colorado Anschutz's Colorado School of Public Health, Comstock, 98MS, recently appeared on the Charlie Rose Show and NBC Nightly News to address ways to prevent concussions in high school athletes.
As recently as a decade ago, no widespread data existed on high school sports injuries. Then, in 2004, Comstock received a grant to launch the country's first and largest national high school sports injury surveillance system, High School RIO (Reporting Information Online). The Internet-based system collected athletic trainer-reported data on 22 sports from 280 high schools across the United States last year. Sports governing bodies like the National Federation of State High School Associations now use the information to make important, evidence-based decisions that improve the safety and health of more than 7.7 million high school athletes nationwide.
For her efforts, Comstock has been honored with the National Athletic Trainers' Association's inaugural Youth Sports Safety Ambassador award and was invited to speak at the White House during the 2014 Healthy Kids and Safe Sports Concussion Summit.
How has she seen sports change?
Before Comstock began the database, many people didn't associate sports concussions with serious brain injuries. Parents and coaches alike too often viewed concussions as "the price you pay to play" or "just part of the game" until the NFL recently began addressing the health concerns of former players.
Now in the 11th year of her surveillance efforts, Comstock has seen her comprehensive research lead to preventative efforts such as rule changes and educational programs that reduce injuries during kickoff in high school football, mandate protective eyewear for high school field hockey, and limit player contact drills in sports practices. She's also noticed an increase in awareness, reporting, and diagnosis of concussions and other injuries.
What advice does she have for parents of young athletes?
"I never want any parent to hear about my research and be afraid for their children to play sports," emphasizes Comstock, who sees sports as an ideal way for children and adolescents to stay physically active.
Comstock encourages parents to make more informed decisions on their students' participation by considering injury risks, which vary by sport, activity, gender, and age. Heavy-contact sports like football, rugby, men's ice hockey, and men's lacrosse have higher concussion rates than sports like track and field, swimming and diving, tennis, volleyball, baseball, and softball. In gender-comparable sports, girls also have higher concussion rates than boys, although reasons remain unclear.
Before children become involved in a sport, Comstock recommends that parents investigate the coach, league, and officials, making sure they are accredited or at least have adequate training and emergency action and safety plans. "Too often parents defer to the authority of a coach unwaveringly and unquestionably," says Comstock. "If you think your kid isn't safe, speak up and demand change."