A new "master class" gives students exposure to top faculty in the College of Liberal Arts and Sciences.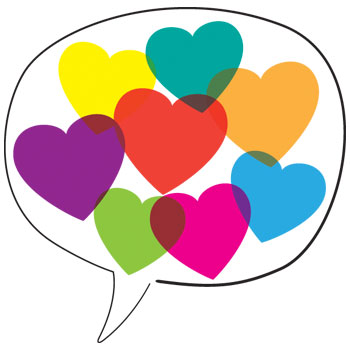 F
rom his vantage point on the stage of Macbride Auditorium, chemistry professor Russell Larsen began his lecture by deflating a balloon in liquid nitrogen, then throwing the liquid across the stage where it sizzled and bubbled in all directions. That certainly caught his students' attention. As he continued on, Larsen described three of his personal beliefs on love and how the principles of chemistry help explain them:
Love requires physical attraction.
Love is dynamic.
Love is complicated.
That is what a chemistry professor talks about when he talks about love. But what about others?
A chemist like Larsen will talk about how the words like "bond" and "reaction" used to describe romantic love are strikingly similar to the words we use for chemistry experiments. A philosopher will talk about Kierkegaard's belief in following one's deepest passion. A speech pathologist might talk about community engagement, teaching children to overcome stuttering, or the challenges of learning English as a second language.
When English professor Judith Pascoe talks about love, she talks about "intellectual pandemonium." That's the phrase she uses to describe her new University of Iowa "Master Class" in the College of Liberal Arts and Sciences, a course which brings together the college's best and brightest faculty to deliver lectures around a common theme. In this case, they answered the question: "What do we talk about when we talk about love?" The course debuted this past fall in Macbride Hall's auditorium with 244 undergraduates–many freshmen who have yet to declare a major–eager to catch a glimpse of what it might be like to be a student in the chosen disciplines.
Pascoe got the idea the previous year to bring eight of the college's most dynamic professors, each from different departments, to rally around a mutual topic. It would be like sample day at the grocery store, only with diverse faculty perspectives, and it could serve as a recruiting tool for their areas. She wanted the theme of the class to be something big, something universal in appeal, and so she chose to see how the professors could illuminate the notion of love.
The course title references a 1981 Raymond Carver short story collection, What We Talk About When We Talk About Love, but the connection ends there. Pascoe brought her proposal to CLAS department chairs, asking them to recommend their most engaging lecturers from theatre arts, religious studies, chemistry, computer science, philosophy, art, and communication sciences.
"I think many of them felt honored to be invited by the College to do this," says Pascoe, adding that selected professors volunteer their time as guest lecturers. "It's a recognition of their teaching."
In his talk, philosophy professor David Cunning discussed the philosophical side of love with his presentation, "Kierkegaard, Passion, and the Public." He spoke about Kierkegaard's belief that people should identify a personal passion and follow it with gusto, not yielding to the pressure to follow boring societal norms. Cunning described Kierkegaard's writings about the knight of faith, with the wind of passion at his back, and the knight of resignation, who lets his dreams fade away without seizing them. Not surprisingly, Kierkegaard advocates for the knight of faith's approach. But, as Cunning told the master class students, this gets more complicated in a real-world economy where passion alone may not lead to stable, lucrative employment.
It was a perfect lecture for the many freshmen like Sydney Zatz looking to make a mark in the world. Zatz, a freshman pursuing journalism and mass communication, theatre arts, and French, enrolled because she couldn't resist learning more about love. "I have never taken a class like this, but I [adore] the concept," Zatz says. "I like how we have a new speaker each week, not only to change up the class, but so we see all sides of love."
Religious studies and classics professor Robert Cargill lectured on the evolution of love in antiquity. At one point, he called a male and female student on stage and invited them to read love passages aloud from the Song of Songs–also known as the Song of Solomon–a passage from Scripture that celebrates intimacy.
To promote the course prior to the fall, Pascoe reached out to academic advisors. It was also important to Pascoe that the environment prove welcoming to international students and English language learners, so she spoke with specific UI staff and faculty to discuss strategies for making the class an inclusive place. Some instructors video-recorded Pascoe's class, so that ESL students who are not enrolled in the master class could practice listening and following the lectures. Pascoe also invited ESL students–as well as members of the UI community–to visit during class time.
Another practical benefit for students was the course's note-taking requirement. Students learned several note-taking methods and practiced them during different lectures, so that they could exit the class with a better sense of what style suits them best. Students used their notes to complete two short tests, each based on the content of three lectures, with other course requirements including near-perfect attendance and completion of a final survey.
For freshman Alexis Cazarez, a pre-med student majoring in neurobiology, the lecture that most closely aligned with her field of study was Larsen's chemistry talk. In fact, Cazarez was enrolled in another course of Larsen's during the same semester, and she found it interesting how he applied his knowledge in a different context and successfully connected it to the overall topic.
Along with being able to more closely explore a discipline related to her own, Cazarez also appreciated the interdisciplinary scholarship involved.
"Upon reading the class description, I fell in love–no pun intended–with the class theme of love and how we'd get to listen to different professors across the College of Liberal Arts and Sciences," she says. "If I had to pick a class that 'felt' like college, this would be it."
The course will likely be offered each fall, with Pascoe and history professor Lisa Heineman alternating as lead instructors. Next fall, Heineman's class will examine the history and context of news and current affairs. Current students voted on possible future topics including time, family, friendship, death, and danger. Pascoe delights in the possibilities, saying "a physicist would have a different approach to time than a Shakespearean scholar in the English department."
Time will most certainly tell.