W
hat's so great about being a University of Iowa student in 2016? With 5,000+ courses offered per year, 25 graduate programs ranked among the top 25 in their fields, and 200+ majors, minors, and certificate programs, the UI offers a wide range of opportunities and experiences. Here are just some of the highlights from the colleges:
---
Tippie College of Business
---
With programs built on principles of integrity, innovation, and impact, Tippie teaches students the "Power of I."
BAIS grads enjoy a 100 percent placement rating.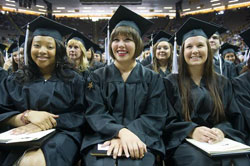 Repeatedly, firms and corporations stress a growing need for talented people who can interpret and make decisions based on big data. Tippie's new Business Analytics programs train students for this critical role through two tracks in the Business Analytics and Information Systems (BAIS) major, which position graduates to help design and manage data to achieve business solutions:
The Business Analytics Career Academy in the full-time MBA program, featuring hands-on projects where students work with data for real companies.
A graduate-level Business Analytics certificate and master's degree offered in Cedar Rapids, Des Moines, and the Quad Cities.
College of Engineering
---
The College of Engineering educates students for dynamic, global careers.
Two professors have received a grant from the U.S. Department of Defense, Department of the Navy, for "Engaging Undergraduates and High School Students in Naval Science & Technology." The Office of Naval Research will provide about $600,000 over three years to establish a new UI certificate program in naval hydrodynamics.
The Virginia A. Myers Nexus of Engineering & Art allows students and faculty in both areas to collaborate and reach their creative potential. The creation of the Nexus is a tribute to Virginia A. Myers, a former UI professor emeritus in printmaking who passed away last December and epitomized both artist and engineer.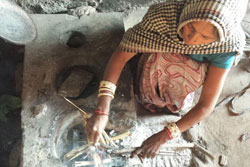 H.S. Udaykumar, a UI researcher and professor of mechanical and industrial engineering, works with students to develop solar cookers in India and recently created an inexpensive metal grate that will limit the need to prepare food with firewood.
The invention will reduce deforestation and global warming, and improve the health of women and children previously subjected to the carbon fumes from traditional wood-burning stoves.
College of Public Health
---
The Undergrad-to- Grad (U2G) program allows incoming undergraduate students to earn both bachelor's and master's degrees in five years rather than the typical six, saving time and money.
Public health is one of the fastest growing undergraduate majors in the U.S., with the number of majors increasing 750 percent over the last 20 years.
Students will begin enrolling in the college's new bachelor's degree program this fall. It is the only undergraduate public health program in Iowa offered by an accredited school of public health. "Fundamentals of Public Health" is part of the curriculum and emphasizes pertinent issues, challenges, and potential careers. A recent lecture illustrated how frac-sand mining in Iowa has raised concerns about environmental impacts, as well as the contamination of groundwater and the proliferation of crystalline silica dust known to cause silicosis and cancer of the lungs.
97% of College of Public Health graduates have job placements within 12 months of graduation or are pursuing further education.
College of Nursing
---
U.S. News & World Report ranks nursing service administration and gerontology No. 2, anesthesia No. 11, pediatric nurse practitioner No. 12, and the master's of science in nursing No. 11.
"The DNP degree has not only enhance my nursing skills, but has further enhanced my knowledge in leadership, health policy, information technology, ethics, and evidence- based practice. I am better equipped to advocate for our profession to improve patient care."
—Michelle Cline, 13DNP
The nursing school has begun offering a new Adult/ Gerontology Acute Care Nurse Practitioner specialty through the Doctor of Nursing Practice (DNP) program. Students can also earn a DNP in pediatrics.
"This achievement really does signify the realization of the mission statement of the college: to prepare nurse clinicians, scholars, and educators to meet the health needs of the people of Iowa."
—Patricia Clinton, professor emeritus of nursing
College of Education
---
The UI offered Iowa's first public teacher training program. Tracing its roots to the University of Iowa's founding in 1847, this program was the only one specifically called for when legislators created the State University of Iowa just 59 days after Iowa became a state.
The National Council on Teacher Quality ranks the elementary education program in the nation's top 6%
and secondary education in the nation's top 2%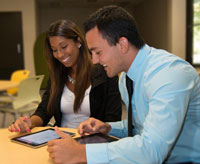 All Hawkeyes graduate with a Teacher Leader Certificate that sets them apart from the rest. Taken from what employers say teachers need to be successful in the 21st century classroom, students receive advanced training and opportunities in assessment, technology, and diversity/community engagement.
Students from around the world can now earn a master's degree in Educational Measurement and Statistics completely online. They learn from faculty with wide expertise in the field, including those involved in real-world applications such as Iowa Testing Programs, ACT, and Pearson.
College of Dentistry
---
For more than 125 years, the College of Dentistry has served as a resource to the state. A majority of Iowa dentists are alumni.
Since the late 1960s, the college has offered extramural programs that send dental students across Iowa to acquire the skills necessary to treat underserved populations and the comfort to do so after graduation. Whether they decide to practice in community health centers or open practices of their own, the extramural program gives students the confidence and tools to treat patients in need. In addition to clinical care, students participate in outreach activities such as health fairs and screenings at shelters and nursing homes.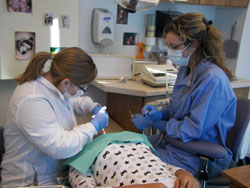 While extramural rotations are mostly in Iowa, the college also has locations in Alaska, Michigan, Minnesota, South Dakota, Colorado, and several Indian Health Service Clinics. Students can participate in international exchanges with Denmark, the Netherlands, and Spain, as well as service trips to Guatemala and Cambodia to treat children and adults with cleft lip and children in orphanages. The student research group pairs interested participants with faculty experts to work on projects of interest.
"[The extramural rotation] was my favorite part of dental school," says Michelle McQuistan, 01DDS,04MS, now the program director. "Students write papers at the end and talk about how the experience opened their eyes."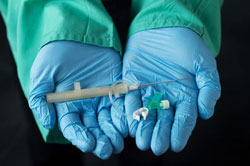 Interdisciplinary Invention
A team led by UIHC intensive care nurse Robert Anderson invented a device that will prevent blood vessel walls from being broken during IV placement. The Segmented Stabilization System uses a flexible wire that gently steers the catheter into place without busting a vein, reducing the number of pokes for patients. The UI Research Foundation recently licensed the technology to a Shanghai-based company to bring the device to market in China, and the team will likely seek approval for the United States. Tippie marketing students determined whether there was a market for such a device, including a survey of 100 UIHC nurses that found a patient is typically poked 2.4 times before an IV catheter is successfully inserted. Law students worked on intellectual property and engineering students designed the product.
College of Liberal Arts & Sciences
---
CLAS offers the best of both higher-education worlds–a rich liberal arts experience at the heart of a major research university.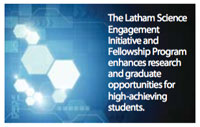 With 65 majors, 67 minors, and 18 certificates, CLAS makes it easy for students to discover their interests and combine areas of study to create individualized academic portfolios.
Magid Center for Undergraduate Writing helps students from all disciplines improve their writing and communication skills. In addition to sponsoring the Certificate in Writing, the Magid Center also publishes the student literary magazines Ink Lit Mag and earthwords, supports the Iowa Writers Living- Learning Community in cooperation with UI Housing and Dining, and is home to the Iowa Youth Writing Project, a K-12 nonprofit literacy outreach.

I've had the opportunity to intern at the Pomerantz Career Center, which has helped me prepare for my future goal of attending graduate school for Higher Education and Student Affairs. I want to continue working with students in a university setting."
—Elizabeth Skogerboe, senior sociology major in the College of Liberal Arts & Sciences
The Iowa Policy Research Organization allows students to engage in the analysis of critical public policy issues for the state legislature and non-profit organizations, performing actual policy development for the legislature.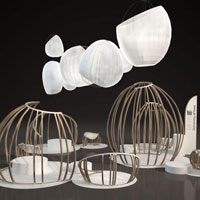 For the second consecutive year, students in the 3D Design Program in the School of Art & Art History, one of the top design programs in the United States, won CONNECT—the national design school competition at the Sculpture Objects Functional Art (SOFA) and Design Fair. SOFA is one of the world's premier art fairs dedicated to 3D art and design.
College of Law
---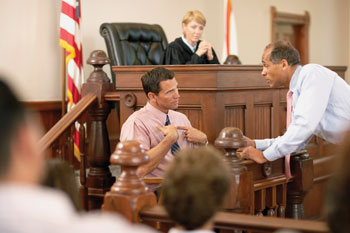 The University of Iowa Law Library was founded in 1868 with a collection of 612 books. Today, it boasts 1.3 million volumes and is one of the largest and finest collections of print, microform, and electronic legal materials in the United States.
Iowa is an ideal place to study law: small enough to know professors well, yet large enough to be nationally renowned and provide opportunity.
The college's annual Iowa Supreme Court Day honors the state's top court and recognizes the college's origins in the court's chambers. Four student advocates selected from the previous spring's Moot Court Competitions argue a moot case before the justices. The public is invited to attend the arguments and faculty host dinners for the justices and students in their homes.
With a bar exam pass rate among the best in the United States, the UI law school ranks in the top 15 for the percentage of graduates in full-time, long-term jobs that require bar passage. UI was also named a "Go-To Law School" by the National Law Journal for having the highest percentage of 2014 graduates in associate jobs at the 250 largest U.S. firms.
College of Pharmacy
---
Through collaboration, excellence, and innovation, the college is redefining the role pharmacy plays in tomorrow's health care system.
Lawrence Fleckenstein, professor emeritus in the Department of Pharmaceutics and Translational Therapeutics, has spent years working with a team from around the world on new uses for Pyramax, an anti-malarial drug. The Pyramax team recently received approval of a new pediatric formulation and expanded uses for the drug.
According to the World Health Organization, about 3.2 billion people–nearly half of the world's population–are at risk of malaria. In 2015, there were roughly 214 million malaria cases and an estimated 438,000 malaria deaths. Increased prevention and control measures have led to a 60% reduction in malaria mortality rates globally since 2000.
The college's Placement Day this past fall provided graduating students the opportunity to interview on campus with 36 recruiters. Students participated in anywhere from three to nine interviews each. Typically, 50 percent of students receive job offers from these interviews.

Many recruiters are UI graduates who place a high value on hiring fellow alumni, whom they consider hardworking, dependable, and confident. [UI grads are] the best talent, best candidates, and best prepared for anything,"
says Mike Fuller, 97PharmD,
a pharmacist with Walgreens.
Carver College of Medicine
---
The Roy J. and Lucille A. Carver College of Medicine is a highly ranked medical school where students learn to become accomplished physicians, researchers, and educators.
Many researchers working in the college's 280+
laboratories are internationally renowned.
4 faculty members are Howard Hughes Institute Investigators, 12
are members of the Institute of Medicine, and two are members of the National Academy of Sciences.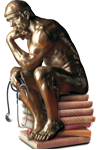 Carver College of Medicine offers numerous avenues to pursue the humanities in medical education, including the Writing and Humanities Program–led by an Iowa Writers' Workshop graduate–and the annual Examined Life Conference which celebrates its 10th year in 2016. The college also produces the literary Examined Life Journal.
Distinction tracks: Medical students with particular interests in a topic can earn a degree with distinction in six areas:
1. Global Health
2. Humanities
3. Research
4. Service
5. Teaching, or
6. Health care delivery science and management
Each track requires completion of a final project under the guidance of a faculty mentor.
The college is home to several specialized centers, including:
The Holden Comprehensive Cancer Center, one of 39 NCI-designated comprehensive cancer centers in the nation;
The Senator Paul D. Wellstone Muscular Dystrophy Cooperative Research Center, one of six such NIH-funded centers in the nation;
The Carver Family Center for Macular Degeneration; and
The Iowa Institute for Biomedical Imaging.