Volker Thomas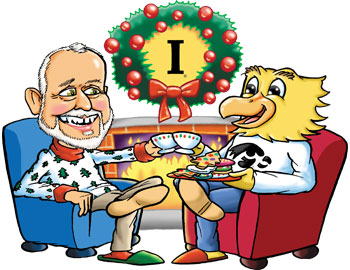 ILLUSTRATION: BUCK JONES
H
oliday shopping and baking, along with prolonged times of family togetherness, often lead to stress during what's supposed to be the most wonderful time of the year. As professor and coordinator of the Couple and Family Therapy Program in the UI College of Education's Rehabilitation and Counselor Education Department, Volker Thomas helps families ease holiday pressures to experience true joy. Says Thomas, whose own holiday traditions include listening to Handel's Messiah while eating German gingerbread by candlelight, "It's important for people to realize that there is tension in all families—even the healthiest and happiest of families—and that's normal."
1. Set realistic expectations for family gatherings.
2. Communicate in advance about what holiday traditions to continue and how to create new ones together.
3. Share favorite memories or stories from the past and give verbal presents of encouragement to one another before opening gifts.
4. Stay mindful by unplugging from smart phones and other technology.
5. Focus on non- competitive activities that everyone can enjoy, such as taking a walk, cooking, or watching a favorite movie.