Brett Greenwood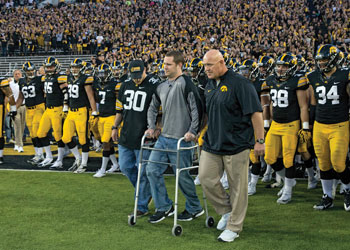 PHOTO: BRIAN RAY/HAWKEYESPORTS.COM
A
n energetic black-and-gold crowd at last September's Pitt night game turned emotional as Brett Greenwood stepped onto the field at Kinnick Stadium. Assisted by his former Hawkeye teammate Pat Angerer and Iowa strength and conditioning coach Chris Doyle, Greenwood, 10BBA, led the Swarm to the deafening roar of a standing ovation. The magical moment proved the former Hawkeye walk-on-turned-all-Big Ten defensive back continues to surpass his prognosis, showing agility and strength just four years after suffering a devastating anoxic brain injury. Here are the factors that led to a pregame coin flip like none other:
RESILIENCE
In fall 2011, Greenwood collapsed during a routine workout at his former high school in Bettendorf, Iowa. A heart arrhythmia led to sudden cardiac arrest, and he was airlifted to the UI Hospitals and Clinics where he was put into therapeutic hypothermia and a medically-induced coma for nearly a month. Doctors told Greenwood's parents that he would likely never see, walk, or move again. But while his prognosis looked dim, Greenwood and his family didn't give up. After years of intense rehabilitation, he has regained his sight, improved his short-term memory, and now walks with assistance.
HAWKEYE SUPPORT
Angerer, 09BA, who also hails from Bettendorf, has been an instrumental part of Greenwood's recovery, offering help and encouragement at home and in workouts with Doyle at the UI. In a Twitter tribute about his friendship with Greenwood, Angerer says, "He's done more for me than I have ever done for him. It's great being able to watch one of your heroes beat the odds."
INSPIRATION
As honorary captain for the Hawkeyes' first night game in three years, Greenwood motivated the team without speaking a word. Inspired by Greenwood, the Hawkeyes came back from a 10-point deficit at halftime for a stunning 27-24 victory over the Panthers. "Brett is the epitome of the Tigerhawk and what the program is made of," Angerer told the Hawkeyes the Friday before the game. "They told him to pull the plug and quit, but he kept fighting. They said he would never walk—and tomorrow he is going to lead you guys on the field."