Ellen Bryant Voigt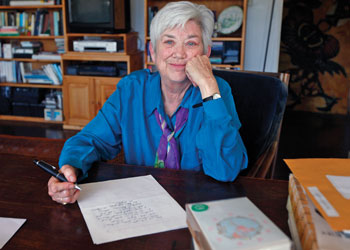 PHOTO: JOHN D. AND CATHERINE T. MACARTHUR FOUNDATION
A
t home one fall day on her quiet farmstead in Cabot, Vermont, Ellen Bryant Voigt received a phone call that changed her life.
By the time the conversation ended, the accomplished poet and writing instructor had learned she was an official genius. More precisely, she was named one of 24 recipients of the 2015 "genius grant" from the John D. and Catherine T. MacArthur Foundation.
The prestigious MacArthur fellowship rewards talented individuals in their artistic, intellectual, and professional pursuits with a $625,000 grant. Recipients don't apply for the award, nor do they hear of their nomination, so the fellowship often comes as a complete surprise.
Voigt, 66MFA, looks forward to the financial security of the no-strings attached, five-year grant that will allow her to travel less for teaching positions and spend more time at home writing poetry. To celebrate the win, Voigt and her husband popped open a bottle of Prosecco sparkling wine.
What's her background?
The poet laureate of Vermont from 1999 through 2003, Voigt has previously served as chancellor of the American Academy of Poets and received grants from the National Endowment for the Arts, the Guggenheim Foundation, and the Vermont Arts Council.
In 1976, she helped found the country's first low-residence MFA writing program—in which students can participate remotely—at Goddard College in Plainfield, Vermont. The program later moved to Warren Wilson College in Swannanoa, North Carolina. Voigt has also taught at Iowa Wesleyan University in Mount Pleasant, Iowa, and the Massachusetts Institute of Technology in Cambridge, Massachusetts.
What's her poetry like?
Voigt, who was raised on a farm in Virginia, often explores such themes as natural phenomena, will, fate, and the relationship between humans and nature. Celebrated by the MacArthur Foundation for her "mastery of line and rhythm," she writes poetry with a distinct musical sound that reflects her training as a pianist.
As the author of eight volumes of poetry, Voigt has continually experimented with both form and technique. Such innovation can be seen in her most recent work, Headwater (2013)—devoid of punctuation—as well as Kyrie (1995), a finalist for the National Book Critic's Circle Award, and Shadow of Heaven (2002), a finalist for the National Book Award.
"I try to make poems that capture something of the world and the human experience of living in the world, which is fraught," says the Iowa Writers' Workshop graduate. "It seems to me that poetry is able to capture some of those complications in a way that none of the other arts exactly do."
---