Art imitates life in the UI tour company's new emphasis on educational outreach.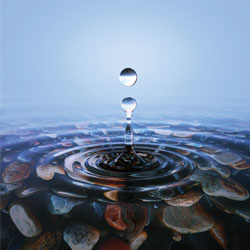 PHOTO: TIM SCHOON/OFFICE OF STRATEGIC COMMUNICATION
Three dancers keep their bodies touching at all times, moving with fluidity as they represent two hydrogen molecules and a single oxygen molecule. A dancer moves and the other two must react while maintaining the point of connection.
Then, they break apart and join the larger group at the request of Jessica Anthony, 13MFA, co-director of Dancers in Company, the University of Iowa's touring dance ensemble. They continue to ebb and flow in more complicated movements, immersing themselves in choreography that reflects a most precious resource: water, the theme of this year's repertoire.
The twelve undergraduates who will perform the water dance are part of the 32-year-old Dancers in Company, which prepares young artists for the experience of becoming professional dancers. Students rehearse throughout the fall and then spend the spring semester traveling to different venues across Iowa, including schools, community centers, and museums. In the process, the dancers become skilled at performing under various circumstances and for diverse audiences—invaluable real-world training for a career on stage.
This year, however, the longstanding company has embraced a new approach. Not only have directors adopted a theme for this year's tour, but they've also added community outreach to the overall program. Thanks to partners such as the College of Engineering and the Center for the Health Effects of Environmental Contamination, the show will feature workshops to engage Iowans on the issues and complexities surrounding water.
Anthony and her co-director Michael Sakamoto, both new to the faculty this year, chose water as a socially relevant topic that lent itself equally to art, conversation, and interdisciplinary investigation. Water is universal, covering our planet and running through our bodies. We can't live without clean H20, yet so many people worldwide have no access. Water possesses a complex power to replenish and destroy and to cut deep canyons into rock. Both beautiful and terrifying, water is an increasingly important topic in Iowa, which has known its share of flood and pollution issues. Here, it is a resource to be protected and respected.
The department decided the company should more effectively engage local communities around topics of social, economic, political, and environmental significance, says Sakamoto, adding that the water theme will anchor the company's five choreographed pieces and also provided grist for a one semester hour research class during the fall.
By the statewide tour's opening night in Iowa City later this winter, the show will have gone through a months-long research, preparation, and choreography process. The dancers explore whatever they need to inform their work, drawing upon their personal understanding of water and Anthony and Sakamoto's creative imaginations.
Really, anything goes.

To enhance their comprehension, dancers consider water from multiple angles. They ponder the rhythm and patterns Anthony sees when she observes the flowing Mississippi River near her hometown of Bettendorf. They study the political and economic effects on women in other parts of the world who are forced to walk farther and farther distances in order to collect a container of life-giving water. They play with the image of a river bursting beyond its banks—the very river that is just a block away from the building in which they are rehearsing.
One afternoon in the semester, a group of a dozen students stare down into a massive tank in the UI's water treatment plant. College of Engineering Professor Craig Just, 01PhD, walked them through a tour, explaining the process by which Iowa River water transforms from murky to clear, clean water that serves campus drinking fountains and laboratory sinks. As the students listen to Just, they're also watching the water behind him, noting its direction and speed, whether it's moving softly or violently. These observations will come in handy later as they replicate water's velocity and flow.
Anthony and Sakamoto also invited a series of guest speakers to class. Charles Connerly, director of the School of Urban and Regional Planning, gave students an overview of the environmental history of Iowa's prairies, including a discussion about the current legal battle over agricultural pollution in the Des Moines and Raccoon Rivers. Peter Weyer, 74BA, 87MS, 98PhD, associate director of the Center for Health Effects of Environmental Contamination, spoke about what it's like to conduct epidemiological studies and the delicate nature of communicating crises to the public.
Dorothy "Dot" Armstrong, a junior from Winona, Minnesota, was particularly moved by Connerly's description of the wisdom of prairie plants, some of which have root systems that grow deeper than the plant is tall, allowing them to absorb water and then slowly release it and feed streams and rivers in the process. "These plants got by with very little water but they thrived," says Armstrong with wonder. Her voice shifts to frustration as she adds, "Now we are paying the price for ripping out these structures."
Although the principles of Connerly's presentation to the students may not directly appear in any of the dances, Anthony believes the speakers impact and inform the students' performances. In rehearsals, a student may ask "Do you remember what Dr. Connerly described about the prairie?" or point to certain course readings meant to emphasize water as a treasured natural resource.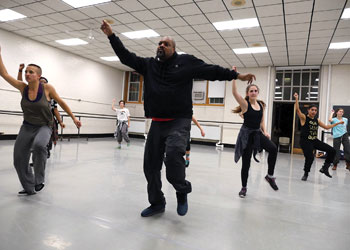 Personal associations also contribute to the emotional depth dancers will bring to their performance. Junior Brooke Robinson is paying special attention to the public health crisis regarding lead levels in drinking water in Flint, Michigan, near her home. How this care and concern might influence Robinson's dancing remains to be seen, but the professors have seen how other performers have effectively translated such experiences. Colleague Jennifer Kayle's dance, "Smoke Screen: This and Other Warnings," staged during an environmental conference last year, features dancers becoming entangled in a growing number of plastic bags. At once provocative and deeply felt, the piece surprised audience members with its ability to suggest the helplessness about an environmental predicament.
For the water theme, Sakamoto and Anthony are each choreographing a piece. Two other UI dance faculty and one visiting artist will also contribute pieces to the repertoire—each devised in conversation with the dancers who will apply their skills and experiences to develop a final performance. Says Sakamoto: "You are making materials out of your concerns, your own life, your own abilities. If you have 12 different dancers involved, then you'll have 12 different ways of moving and 12 different interpretations."
Armstrong delights in playing a bigger role in the choreography. "Because we have a class that is devoted to research while we're also rehearsing," she says, "I think we'll be able to have a much more nuanced and personal approach to performing."
For his piece, Sakamoto was inspired by an old song popularized by Billie Holiday, "Come Rain or Come Shine," which also serves as the title of the dance.
Sakatomo uses water to convey the everyday highs and lows of the human heart. "Our bodies are nearly two- thirds water," he notes, "so there's a very embodied manifestation of water in each of us that is entirely integrated with our emotions, minds, and spirits."
Further elaborating on his own investigations this past semester, he sounds both energized and saddened: "We have a very fraught relationship with water, the element we are most dependent on," Sakamoto says. "We abuse it, we take it for granted. But, in other ways, we also honor it."
Professor Eloy Barragan will contribute "It's Time"—a trio of dances that explores young people's reaction to climate change—while Professor Armando Duarte has reconfigured an earlier piece titled "Correnteza," in which eight dancers are in constant motion to imitate the flow of a stream. Heaving forward, undulating near the ground, and moving in unison, the dancers resemble waves or porpoises. Acclaimed street dance and hip-hop choreographer Rennie Harris will also submit a fifth and final piece after a weeklong residency with the students. Titled "Spirit Water," the high-energy dance explores youth and identity in the wake of social concerns around race relations.

Participation in Dancers in Company is a prized experience; this year, 30 dancers auditioned for the 12 company spaces, which went primarily to juniors and seniors. Aware that a dance career is not the easiest path, the department is committed to providing its students with an array of experiences. "Artistic careers, whether you're dancing or teaching or helping to manage a company, require a multitude of skills," says Sakamoto. He adds that helping the students learn how to become teachers and arts advocates is part of what they gain through their participation in Dancers in Company.
Toward that end, students couple their performances with workshops during which company members demonstrate aspects of dance or lead audience members in a short exercise. This spring's workshops will allow the students to engage community members in several water-themed exercises and discussions.
Anthony studied public engagement when a UI graduate student, embracing the model in which scholars and artists collaborate with public partners to create projects of mutual benefit—both to the community and to those presenting the work. While a fellow in the Obermann Graduate Institute on Engagement and the Academy, she was inspired to develop a program that brought undergraduate dancers to the Iowa Juvenile Home (IJH) in Toledo, Iowa, to work with young female inmates.
She traveled to Toledo every Saturday morning for several weeks to offer workshops that gave participants tools for creating meaning and telling stories through dance. There, she witnessed firsthand public engagement's power to bring people together. Her students worked alongside the girls at IJH to create and perform the final dance for the entire home, and the undergrads also engaged in weekly readings relating to the juvenile justice system.
Just, whose own research includes many elements of international public engagement, applauds the influence and reach of the creative arts. In fact, the College of Engineering now requires its undergraduates to take arts classes. Someone once told Just that engineers think outside the box, but artists don't even have a box, and he relishes opportunities to collaborate because "[artists] expand our notion of what is possible."
Similarly, Connerly thinks this particular set of dances can bring new appreciation to the aesthetics of water.
"What we have to do with regard to our waterways is to rediscover their beauty," says Connerly, currently writing a book about sustainability efforts in the state. "We've really lost that in Iowa."
Dance as a mode of expression for sociopolitical topics may not be familiar to many audience members who will encounter next spring's water-themed performances. Leslie Finer, 06PhD, director of Arts Share, the UI office that coordinates Dancers in Company's performances and workshops, points out that dance is quite underrepresented in schools. "There might be a square dancing unit," Finer jokes, "but that's about it."
One of the only traveling companies in the state of its caliber, Dancers in Company can offer exposure to dance and enrichment throughout Iowa communities. The new theme will make it easier for the company to visit schools, which often require performances to have a curricular connection.
Dancers in Company opens the season in February with a family performance at the Iowa City Public Library. In late April, the dancers will perform—fittingly—on the banks of the Iowa River at the Iowa Memorial Union's amphitheater as part of a daylong educational event about water sustainability with the fall semester's partners.
By spring, when the ice and snow start to melt into waterways, the dancers hope audiences will gain a new appreciation for experiences where art meets science. Perhaps the students will come away the luckiest of all, having felt what it's like to be water. Water as a point of political and social debate. Water as a trio of molecules. Water as a mighty force.