Bruce Harreld is a month into his University of Iowa presidency. Iowa Alumni Magazine presents a glimpse of the path that led him here.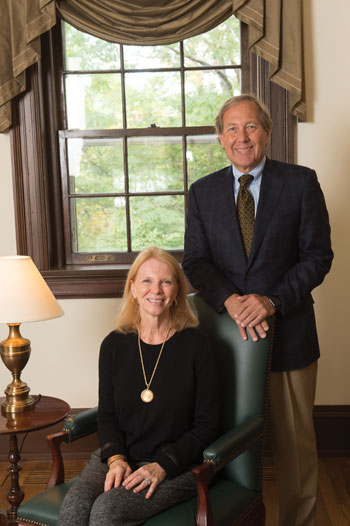 PHOTO: TIM SCHOON/OFFICE OF STRATEGIC COMMUNICATION
Bruce and Mary Harreld pose for a photo inside the President's Residence on Church Street.
W
hen Bruce Harreld was a boy growing up in Gallipolis, Ohio, he spent a lot of time with his father—as young boys are often wont to do. James Harreld was an "engineer's engineer," able to troubleshoot almost anything, and he brought his son along on various jobs.
Of all the memories, and there are many, Harreld recalls the year a local judge lost his mobility and needed a wheelchair to get around. So, Harreld's father designed ramps for all the community courtrooms to allow easy access. As he did this work, he posed math and engineering problems to his eager assistant.
After measuring the judge's arm force, he'd ask, "OK, Bruce, what is the maximum incline on the ramp that we can tolerate?"
"I would have to go through all the calculations. Of course, I'd get them all wrong and my father would correct me," laughs Harreld, who earned his engineering degree from Purdue University in 1972, followed by an MBA from Harvard. His father was a mechanical engineer from Purdue, and it was always expected that Harreld would follow in his footsteps. Whenever people ask Harreld why he became a Boilermaker, he tells them there wasn't any other option. That's just what his family did.
Studying those ramps in Gallipolis prepared Harreld for Purdue's engineering program and launched his journey of higher education—an adventure that began on the sidewalks of small- town Ohio, wound into the upper echelons of the corporate world, and now arrives at 101 Jessup Hall.
On Nov. 2, Bruce Harreld officially became the 21st president of the University of Iowa. In the weeks since his September hiring, he has met with faculty, staff, students, and alumni, and he has accommodated a packed schedule of events and meetings in an effort to introduce himself to the UI community—particularly those opposed to his hiring. While Harreld realizes much of that discontent was aimed at members of the state Board of Regents, whom faculty felt tossed aside public input during a controversial search for Sally Mason's successor, he still felt the sting.
Putting the past behind him, Harreld's doing what he can to earn acceptance and support for the future, fully aware that his atypical résumé of executive leadership at corporations such as Boston Consulting Group, Kraft General Foods, Boston Market, and IBM means all eyes are on these first 100 days. Asked many times why he decided to switch paths toward Iowa City at this point in his career, Harreld first highlights his experience as an adjunct faculty member at Northwestern and Harvard Business School and then answers not unlike anyone else who values academia:
"I am a graduate of a public research institution, and I believe these institutions are the foundation of our future," Harreld says. "Through their mission of teaching, research, and service, they promise to make our individual and collective lives better. I've heard plenty of misconceptions about my vision and values, so let me suggest this: If you hear something that worries you, simply ask me directly. I'll give you an answer."
Honesty and hard work were hallmarks of Harreld's Midwestern upbringing. He was born on Dec. 12, 1950, in a rural community in southern Ohio. Gallipolis (population 7,500) knew its share of difficult times and the Harrelds worked hard to make a living. Both his parents were first-generation college graduates, and, by all accounts, Harreld and his brother enjoyed an idyllic life along the Ohio River. His father, James, grew up on an 80-acre farm in Marion, Indiana, and spent the bulk of his career building power plants across the Midwest for the Atomic Energy Commission. His mother, Ann, hailed from Indianapolis. Her parents had emigrated from Romania and managed a grocery store that suffered mightily in the Great Depression. Ann Harreld later earned a master's degree in education and was a teacher all her life.
In high school, Bruce Harreld played football, baseball, and golf. Later at Purdue, he experienced the usual undergraduate anxieties of being away from home for the first time and managing his own schedule. He remembers the butterflies in his stomach upon walking into his first-year calculus class, which had three times as many students as his entire high school senior class. Hoping to fit in and build a campus network, he ran for freshman class president and joined Sigma Chi fraternity.
During Harreld's sophomore year, his father died. With the first real mentor in his life gone, Harreld felt adrift. His friends accompanied him home for the services and Harreld struggled to refocus after he returned to school. He started coursework for a master's in industrial engineering but decided to take a year off to work for Sigma Chi International Fraternity, traveling around the country to improve and address problems at chapters. This experience brought his emerging analytical and leadership skills to the surface, and it was during this time that another mentor suggested Harreld combine his math and engineering training with his interest in leadership. He eventually decided to attend business school.
Maybe it's the businessman in him, but Harreld does not shirk from tough topics. He understands many people are concerned about his intentions and the importance he places on tenure, research, and the fundamental missions of a liberal arts education. Harreld also recognizes all of this comes from an incredible history of loyalty, passion, and enthusiasm for the University of Iowa, which he considers a tremendous asset.
Harreld, as he gets to work, is focused on earning trust and leading the University of Iowa forward.
"This isn't the first time I've been through periods like this," he says. When Harreld arrived at IBM from Boston Market, his new co-workers questioned what he brought to the table because "what does anyone in the food industry know about semi-conductors? No one ever mentioned that I had an engineering degree."
People often express a natural fear when it comes to change, Harreld continues. Change represents the unknown and can be scary, yet it's critical to success. In group and one-on-one meetings around campus, Harreld repeatedly asks: "What's your vision—what's our vision—for the University of Iowa?" Though it's too early in his presidency to see where these brainstorming sessions may lead, Harreld would like to start the conversation about the UI's future. He doesn't want to make plans alone.
"I think this community needs to go through a process of finding that answer," he says. "I know how to facilitate that and part of that is me stepping aside and creating an environment where it's OK to talk about it."
Creating collaborative environments is a leadership skill Harreld has refined throughout his career. The team-building approach where people exchange ideas, listen carefully to each other, and work toward solutions has been the secret to his past success. Harreld says he applied this strategy to unify people at Kraft when several food companies merged under one umbrella. Similarly, he sees how he can bring cultures together on campus where silos might exist. Business isn't all about having a decisive leader who rolls in with the remedy, he says, or an ogre eager to slash and burn. Most organizations thrive on collaboration—not only is it fun, it works. In a 2013 essay titled "Six Ways to Sink A Growth Initiative," which he co-wrote for the Harvard Business Review, Harreld writes: "All too often CEOs and their senior teams see managing today's earnings as their main job and don't spend enough time on the pursuit of growth and building the kind of learning organization and culture that growth requires."
At the UI, Harreld says he fully backs faculty tenure, the history of shared governance on campus, the university's investment in people and the state, and its balanced commitment to the arts, sciences, and humanities. He shared these sentiments in a public statement prior to his campus arrival, a gesture that UI Faculty Senate President Christina Bohannan found extremely encouraging.
"We appreciate President Harreld's explicit support of our fundamental values, as these are the hallmarks of great universities," says Bohannan, a professor in the UI College of Law, adding that the senate is "trying to separate the process by which we got here from how we move forward."
Bohannan says faculty have been the driving force behind innovation and discovery at the University of Iowa for 170 years and will be working with Harreld to discuss their ideas and concerns about the university's future. "Building trust will undoubtedly take time and will depend on the good faith of all of us," she says, "but creative thinking and problem-solving are what faculty do best."
While Harreld is dedicated to protecting the timeless university goals that have been a longtime benefit to society, he also believes they're under attack. When he said "I think I can help" at the press conference after his selection, he had in mind diminished federal and state funding, as well as other modern problems public teaching and research institutions face: increased competition, political pressures, the impact of rising tuition, and growing questions about their value.
"If you look at the consequences of reduced funding and short-term metrics [on universities], they're dangerous. Maybe they're well-intended, but the consequences are dangerous," Harreld says. "We can find a way to start constructively dealing with these issues. I have some ideas, but I think, as a community, we need to engage on that. That's leadership and that's what I do for a living."
Harreld offers a parallel between academia's modern pressures and the challenges that plagued IBM two decades ago. In the mid-1990s, IBM suffered a major financial crisis. Its profitability was collapsing and the environment was in real chaos. Although the company faced dire threats, Harreld believed it was an international asset worth protecting. As senior vice president, he worked with the CEO to chart a transformation that brought IBM from the brink of bankruptcy and ultimately produced $15 billion in new, profitable revenue across 20 new businesses. His work on this turnaround would later form the core of Harreld's curriculum on executive strategy at Harvard Business School: form a vision, build consensus, and move forward. In 2008, Harreld joined the Harvard adjunct faculty with dual appointments in the entrepreneurial and strategy units. He relished his time in the classroom, taking special delight in project-based mentoring with students. Spending time with UI students is a key aspect of his new job that Harreld embraces.
In the book Public No More: A New Path to Excellence for America's Public Universities, former UI business dean and interim president Gary Fethke suggests that much of what a university president does is not academically specialized. Instead, he contends that a leader with business skills can strengthen and better position schools for the future.
Fethke, 64BA, 68PhD, points out that roughly 80 percent of the UI's financial activity in its $3.7 billion annual budget comes from enterprises that follow a basic business model: they capture revenue and pay their costs. A university president must confront an array of business enterprises along with the equally important academic programs. "The claim is made by some that a university president must first of all have a solid background in teaching, research, and academic administration to be effective in this environment," Fethke says. "I believe one could just as well switch the claim and argue that a public university president should first know a great deal about setting financial criteria, leading fundraising agendas directed at alumni who primarily work in the business world, and developing a consistent strategic agenda to strengthen areas of excellence."
The ability to hire and retain top faculty and staff does depend on the reputation of the university, Fethke says, and some argue that being led by a president who has not been long associated with the unique features of higher education will damage the UI's academic reputation. However, Fethke says it's what the university does going forward that really matters.
"President Harreld has shown a deep respect and personal appreciation for academic culture; his championing and support of that culture will provide us with much-needed credibility with those who provide funding," he says. "Does anyone really believe that students who come to the UI to obtain an education that will support them in the job markets are put off by having a president who has spent his life trying to create business value? Give our president a chance to succeed. He is open to learning. I believe there is a chance that we will learn from him."
Adds P. Barry Butler, UI executive vice president and provost: "In the short time I've known [Bruce], I can tell he has a very collaborative style of management that will engage a wide range of constituents at the University of Iowa. Bruce is a person who listens to everyone and is a fast learner. It's amazing how quickly he picks up on details of complex issues and quickly synthesizes them."
Joining Harreld in Iowa City is the best thing that's ever happened to him: Mary Gillilan Harreld, whom he met while she was studying interior design at Purdue. They married in Pittsburgh— near her hometown—42 years ago. The Harrelds have lived everywhere from Munich, Germany, where Harreld helped build an office for Boston Consulting Group; to Golden, Colorado, when he was president at Boston Market; to Armonk, New York, during his days at IBM. Throughout it all, the one constant in Harreld's life has been Mary, the undisputed glue and pillar of the family. All four of their children—Sara, Kelly, Christopher, and Natalie—have graduate degrees and have pursued varied careers in the arts, business, and leadership. Natalie, the youngest, is still in school earning her Ph.D. in leadership studies at King's College in London.
In the days and months ahead, Harreld knows he has a lot of relationship-building to do and looks forward to hearing from deans and other campus leaders about what the priorities should be. Though he's already learned much, much remains to be learned. His success will depend on consistent, honest communication as he works toward building a university that leverages age-old strengths to elevate its reputation and relevance. A recipient of the Distinguished Alumnus Award in Engineering from Purdue, Harreld stresses that alumni are an important part of the equation, and the University of Iowa needs support and engagement now more than ever.
Says Harreld: "We need to remember why so many of us have chosen Iowa as a place to study, work, and live. We are creative and collaborative, inspired by this place and its history. We're pragmatic but not afraid to think big. We value hard work, we speak forthrightly, and we honor our promises. That's why we are Iowa."
Honoring what his father taught him, he promises to keep doing the calculations to find the right angle for our incline.