Steve Swanson, 89MA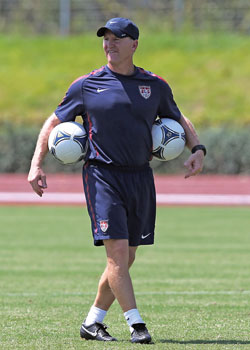 PHOTO: MARTIN ROSE-FIFA/GETTY IMAGES
Soccer fever swept across America this past summer as the nation rallied behind the U.S. women competing in the World Cup. The excitement reached a crescendo when America soundly defeated defending champion Japan in Vancouver to take home its third World Cup title. U.S. Women's National Team assistant coach Steve Swanson, 89MA, shares some of the factors that culminated in a major victory not only for the team and country—but for a growing American sport.
IOWA INFLUENCE
After a four-year professional soccer career in the U.S. and Canada, Swanson followed in his parents' footsteps to earn a UI degree. While at Iowa pursuing his master's in athletic administration, he worked as an intern in UI Athletics and coached the Hawkeye men and Iowa City West High School boys' soccer teams. Swanson credits his mentors at the UI for helping to shape him into a world-class coach, particularly female leaders such as
Christine Grant
, 70BA, 74PhD, who prepared him for a career in women's athletics.
WEALTH OF EXPERIENCE
Swanson came to this high-profile coaching job with plenty of victories under his belt. He is also the head of the University of Virginia program, former leader of the Dartmouth and Stanford women's soccer teams, the only coach in Division I history to win championship titles in three different conferences, and was the 2013 NSCAA National Coach of the Year. Since 1999, Swanson has coached various levels of U.S. Soccer, including the under-20 team that won the World Cup in 2012 against Japan. His responsibilities as assistant coach of the women's national team included working with the midfield line and researching and scouting the opponents.
GRIT TO GLORY
Swanson says the U.S. women's team didn't always play well in its first few matches against formidable opponents Australia, Sweden, and Nigeria. Yet as the competition intensified, so did the American drive to win. "As the games got bigger, our performance got better," says Swanson. "[The World Cup championship is] a tribute to our players' mental toughness."
FAN FRENZY
The World Cup title was largely decided in the first 16 minutes of the final, when the Americans gained a four-goal lead over Japan. By scoring three times in one game, American Carli Lloyd gave a sellout crowd of more than 50,000 fans in the stadium, as well as a worldwide TV audience, the thrill of witnessing the first hat trick in women's World Cup history.
Swanson says he noticed America's growing love affair with soccer in the unprecedented numbers watching the World Cup and in the welcome the athletes received back home following their 5-2 final victory. "The national pride was amazing to witness," says Swanson. "It was neat to see all the players get the adulation and recognition they deserve."