The University of Iowa honors its most famous art faculty member: Grant Wood.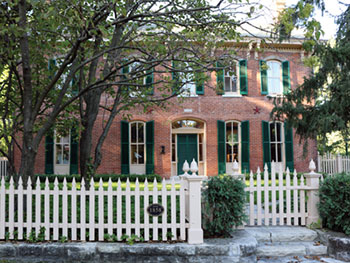 The Oakes-Wood-Hayes home on Court Street.
T
he echoes of Grant Wood greet visitors who step inside the front room of 1142 E. Court Street. It's easy to picture him at his kitchen table, hunched over a lithograph with a cigarette dangling from his mouth. Or chiseling away at a piece of limestone he'd brought over from Stone City, as sculpture occupied his interest toward the end of his life.
The juniper trees he planted, the built-in bookshelves he installed, the fireplace hood he hammered out of copper—if love is in the details, then Wood poured as much of his heart into his home as he did into paintings like Young Corn or American Gothic. Although he only lived in the Iowa City house from 1935 until his death from pancreatic cancer in 1942, he transformed the place through his craftsmanship and loving restoration.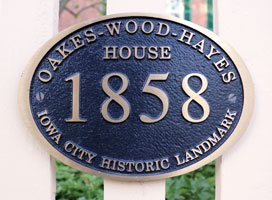 Yet, when Wood died one day before his 51st birthday at UI Hospitals and Clinics, it was almost as if his presence in Iowa City vanished with him. "For decades, the fact he was even here was not widely known," says Joni Kinsey, UI professor of American art history and Grant Wood historian. Recently, however, that's begun to change as the university moves to strengthen ties with Iowa's beloved icon through the development of the Grant Wood Art Colony. Created to nurture artistic progress relevant to the art and life of Grant Wood, the colony welcomes artists from around the world to live and work in homes behind 1142 E. Court Street.
Wood could not have asked for a better curator of his handiwork than current owner Jim Hayes, 64JD, an Iowa City attorney who once lived in the backyard Carriage House before he bought the home in 1975. Hayes has gone to great lengths to retain the artist's spirit throughout the 19th century, Italianate-style brick house. Under Hayes' faithful care, 1142 was placed on the National Register of Historic places in 1978 and is considered an Iowa City landmark. Further, Hayes has ensured with his 2002 gift agreement that the UI will one day become the steward of the home and surrounding property on the promise that it remains a symbol of Wood's impact on the arts and Iowa.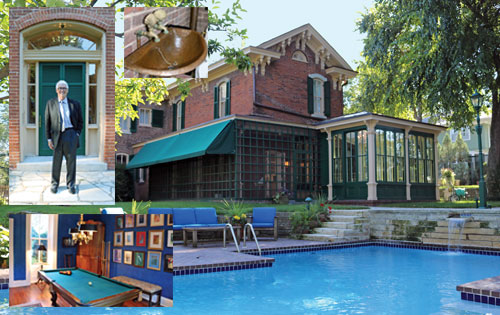 PHOTOS: LEAANN RANDALL HENRY
Back in his day, Grant Wood would've considered the partnership a doubtful proposition. Unlike Wood's hometown of Anamosa, or Cedar Rapids, where he lived and worked at 5 Turner Alley, the UI mostly maintained a lengthy silence about the man who created the second-most recognizable painting in the world. But the university and Wood have come a long way since he joined the UI School of Art & Art History faculty in 1934. In 2009, Hayes started working with administrators on an official Grant Wood Program, currently housed in the UI provost's office, which supports a biennial national conference and an art colony that reflects the creative communities Wood tried to cultivate in Cedar Rapids and Stone City. The first fellow of the Grant Wood Artist Colony arrived in 2011 and the program has welcomed two to three each year since, providing one-year post-MFA/postdoctoral fellowships in painting, printmaking, and interdisciplinary performance. Winners are selected through a national competition and receive a fellowship to teach, studio time to pursue their own work and research, a salary, and furnished lodging in one of the four additional homes Hayes purchased along Burlington Street, directly behind the Carriage House. Painted red with green trim, the homes occupy land that was part of the original plot owned by Nicholas Oakes, the brickmaker who built the Court Street home in 1858, and have the capacity to eventually accommodate up to seven fellows.
HOUSE PHOTOS: LEAANN RANDALL HENRY
The four Grant Wood Art Colony homes on Burlington Street.
This past summer, the Board of Regents, State of Iowa, approved a long-term agreement with Hayes for the homes on Burlington Street, allowing the university to cultivate the artist colony residency program. An initial improvement on the site includes the installation of a gifted decorative fence around the four homes, which will eventually connect with the 1142 property and its fences for a campus-like space.
Rod Lehnertz, 02MBA, interim senior vice president, says the lease approval and Hayes' gift agreement for 1142 E. Court Street represent an important milestone in the growing relationship between the university and Wood: "The collection of these homes—anchored by one of the city's most historic structures—enables the university to advance the already established residency program and colony so fitting of Wood's legacy. We look forward to [making] the colony program a central part of the university's commitment to arts education."
To Hayes, Grant Wood is Iowa and will always be one of the state's greatest treasures. "It's of great satisfaction for me to see this come about for Grant Wood's memory," says Hayes. "He was forgotten for 70 years and now the University of Iowa is welcoming him back to campus."

RENDERING: BILL NOWYSZ
A sketch of the gate and fence, a gift from John, 83R, and Kim Callaghan, 78RadT, currently being constructed.


Born in Anamosa, Wood trained at the Art Institute of Chicago and the Academie Julian in Paris, France. He studied many styles of paintings but is best known as a major figure in American Regionalism, which created realistic scenes of rural life. Wood chose to paint what he saw and what he knew best. In explaining his switch from European persuasions to American Regionalism, he once said:
"I found the answer [about what I knew] when I joined a school of painters in Paris after the war who called themselves 'neo-meditationists.' They believed an artist had to wait for inspiration, very quietly, and they did most of their waiting at the Dome or the Rotonde, with brandy. It was then that I realized that all the really good ideas I'd ever had came to me while I was milking a cow. So I went back to Iowa."
By the time Wood arrived at the UI, he was already famous. American Gothic had catapulted him to stardom in 1930 and he'd lectured around the country and appeared in Time magazine for a story on Regionalism. In a department heavily influenced by Impressionism and older European forms, UI American art professor Joni Kinsey says Wood's style was not well received. Most faculty regarded him as an untrained hack in overalls and later he clashed mightily with new department chair Lester Longman, a strong advocate of modern art who considered Wood too provincial.
"In a nutshell, their relationship developed into some nasty business and Wood died at the height of that tension," Kinsey says. "Those who hated him erased his memory. [The Grant Wood Art Colony project] has much larger implications than just adding a few visiting artists to the faculty; it's really a major opportunity not only to recognize Grant Wood's contribution to the history of the university, but also to demonstrate how important his work was and still is to the people of Iowa."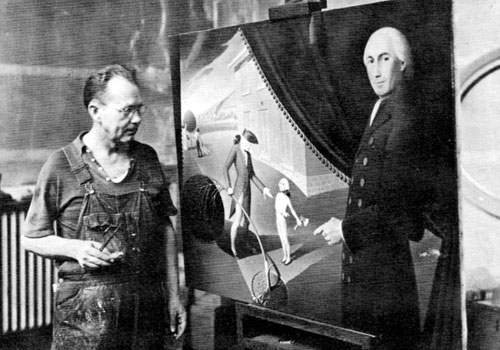 Grant Wood with his painting, Parson Weems´ Fable, 1939. Courtesy of Cedar Rapids Museum of Art Archives. Completed while Wood lived in Iowa City, the home in the background is inspired by his Court Street house.
Even as relations with his academic peers strained, Kinsey says, Wood delighted in the cultural atmosphere of Iowa City. He loved a good party and hosted the likes of Carl Sandburg, Robert Frost, Henry Wallace, Katharine Hepburn, Gertrude Stein, and all manner of dignitaries passing through town. Hayes loves a good party, too, and his gift agreement with the UI for the Grant Wood home stipulates that it not turn into a period museum but a lively hub of university activity: a place to host events and special guests, to engage in thoughtful conversation, movement, and laughter, and to encourage the next generation of artists.
This year's art colony painting fellow, Neal Rock, comes to Iowa from the Royal College of Art in London. He was impressed how the program—by providing a home, a wage, and time and space to create—makes it possible for artists to reach their potential.
"I don't see a distinct separation between education and my role as an artist," says Rock, grateful for the opportunity to mentor students. "When I was looking for fellowships across America to see where I could make my next move, this was one of the best."
When he's not teaching in the classroom, Rock spends time painting and drawing inspiration from the idyllic atmosphere of his Iowa City home—just as Grant Wood once did.