The UI College of Pharmacy's "Learning and Living" curriculum brings modern ideas to a time-honored profession.
Blue, red, and green pills occupy squares in the plastic box labeled Monday through Sunday. The patient peers at the instructions for the newest prescription in her repertoire. She has lots of doctors who've prescribed her various medications, but she's not exactly sure how this new drug will interact—or if they're even safe together.
Her granddaughter drives her to the pharmacist to get those questions answered.
"Have you taken this medication before?"
"No. I wonder if it will cause any problems or side effects with the others."
The patient hands over three amber bottles and waits for advice from the professional behind the counter.
Pharmacists fill a role no one else can on a patient's health care team. Far more than a dispenser of medications ordered by doctors, pharmacists provide complex clinical services that balance various factors: How old is this patient? Does she have allergies? Does he drink alcohol? What over-the-counter meds does she take? A pharmacist must know the answers to such questions and far more to offer safe and effective care. It's a high-stakes job that requires advanced skills and no room for error.
"Doctors don't have time to do it all," says Lindsay Hendricks Antonios, 08BS, 12PharmD, a pharmacist in Bartlett, Illinois. "Pharmacy is a profession that's more readily available for patients to reach out and ask questions. Some people will even go to the pharmacist first for advice. We are frontline caregivers."

According to the IMS Institute for Healthcare Informatics, Americans filled 4.3 billion prescriptions representing nearly $374 billion last year, 25 percent more than in 2013. The sheer volume of pharmaceuticals on the market, the aging of the 75-million-strong Baby Boomer generation, debates over Medicaid eligibility, growing rates of prescription drug abuse, questions about the efficacy of certain drugs—all these factors combine to present significant challenges to the pharmacy profession and to new pharmacists entering the field.
This fall, the University of Iowa's College of Pharmacy debuted a new doctor of pharmacy (PharmD) curriculum to give students the tools they need to navigate and excel in this ever-changing environment. The first major changes to the doctorate program in 20 years, the requirements reflect the growing trend in health-sciences training toward team-based education, professional exploration, and patient-centered care.
The new "Learning and Living" curriculum replaces isolated, subject-specific work with courses much more aligned with the problem- solving and decision- making pharmacy will require from PharmD graduates. Beyond providing foundational skills and practical experience, the program is designed to train students how to be lifelong learners—a skill they will need to keep up with rapidly expanding knowledge.
Now that she's worked in pharmacy for a few years, Antonios can attest to the importance of this focus. "Staying on top of the literature—it's challenging," she says. "That's one of the realities coming out of school as new therapies continuously are being developed. Pharmacy school sets an amazing foundation, but by all means you don't come out with everything you need to know. Things are always changing, and there has to be a personal drive to stay on top [of the latest information]."
The curriculum revamp is the result of six years of study and discussion among key faculty, alumni, and allied professionals who call themselves, quite fittingly, the Transformers. Similar to the successful curriculum overhaul unveiled last year in the UI Carver College of Medicine, the program encourages students to be active participants in their education instead of relying upon information delivered from a lecture stand.
Gary Milavetz, associate professor of pharmacy and head of the school's Division of Applied Clinical Sciences, says it's simply not possible to give students all they'll need to know to practice pharmacy; many of the drugs and therapies they'll use in ten years haven't been developed yet. "Our learning program has morphed to keep us amongst the best colleges of pharmacy in the country, but other colleges have been getting better," says Milavetz. "Dean [Donald] Letendre thought it time to go back to the drawing board. We want our students to adapt to change, have the tools to process new knowledge, and use evidence-based pharmacy to improve the care of patients."
At the dean's request, the Transformers met twice-monthly to discuss the best methods that would most benefit future pharmacists in today's health care landscape. Their report became the new PharmD "Learning and Living" curriculum, beginning with the Class of 2019 and expected to be fully implemented over the next three years.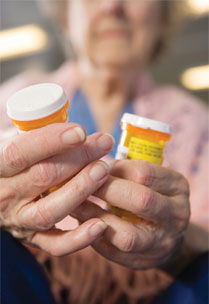 During an initial two-week orientation to the program, called Professional Engagement, students begin identifying themselves as emerging professionals and are assigned professional, peer, and faculty mentors to guide them through all aspects of the curriculum. They learn about leadership roles, professional standards of conduct and expectations, and begin to embody the professional they will become when they receive their white pharmacist coats in a ceremony at the end of the pre-semester course. From that point forward, the curriculum breaks down into an educational experience that emphasizes interdisciplinary learning, professional development and discovery, and organ system-based medical science.
Students begin with the science. After a first year of foundational courses in pharmacy practice, biological sciences, and pharmaceuticals, the curriculum shifts to the Aligned Component Course (ACC) series, a human organ system-based approach to how the body works. ACCs focus on the treatment of specific diseases, integrating pathology, pharmacology, drug evaluation, ethics, and other factors for a holistic take on selected conditions.
Brianne Bakken, 15PharmD, now in a two-year pharmacy administration residency at the UI Hospitals and Clinics, says she finds this new approach beneficial for treating patients with complex medical issues like diabetes. Under the old curriculum, students first would learn about the physical effects of the disease—along with many others—in a pathophysiology course. In another class, they'd learn about the medicinal chemistry and how the drugs work to treat the disease. The next semester they might learn more about the patients themselves. By the end of their course of studies, a student would have all of the elements they needed to treat a diabetic, but that knowledge was collected over time. Under the ACC model, students get all the information they need to treat a patient at once—resulting in a comprehensive understanding of the human body and the ability to more easily make connections between disease and the drugs intended to treat them.
The curriculum also allows students more opportunities for community engagement and to pursue collaborative research projects. Inside a packed lecture hall last August, newly enrolled PharmD students listen as Susan Vos, clinical associate professor and director of the curriculum's Professional Experience Program, describes some of the assignments they will complete over the next two-and-a-half years: immunization clinics or free screenings for cardiovascular disease, osteoporosis, or diabetes; involvement in a professional pharmacy organization; and participation/ leadership in community engagement activities. Instead of writing papers, they will outline what they want to achieve through these experiences and document progress toward their goals.
When all is said and done, this year's class will accumulate leadership and service activities well before their professional rotations, the point at which previous PharmD students would first apply their learning in a real-world setting. Their instructors attend all community events to ensure safety and professionalism, and to search for teachable moments. A continued emphasis is placed on practice-based learning where students complete experiences in various settings that reflect the traditional capstone of the PharmD program. The coursework also requires that students complete professional discovery projects, whether a literature review, data collection, or other research endeavor.
Even though much of the curriculum remains fixed with crucial foundational courses, the emphasis on community engagement and discovery intends to open avenues for students who wish to complete dual degrees or certificates, such as public health, that will expand their options after graduation.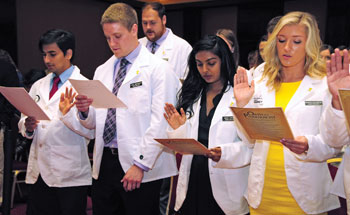 PHOTO COURTESY: COLLEGE OF PHARMACY
Just as the medical school's curriculum considers a patient's entire team—doctor, dentist, specialist, physical therapist—so, too, does pharmacy. Throughout the course of their studies, PharmD students work with peers from other health-science colleges on the kind of teams they likely will encounter as professionals. At the heart of this team is the patient, considered an equal partner in health care decisions and not merely a condition to be diagnosed and fixed.
In discussing the professional development activities, Vos often repeats the phrase "recommendations to the patient"—respectful words that place value on that individual's interest and involvement in personal health. Today's pharmacists must possess superior listening and communication skills, plus a solid background in pharmaceutical science, Vos says. That way, they can respond to their patients' needs, concerns, and special circumstances to establish trust and create realistic drug plans. "In many curriculums we've focused on the science and tried to fit patients and pharmacotherapy to the mold," Vos says. Now, it's widely recognized that patient character and input must come at the forefront of any treatment process.
Right outside Vos' classroom, framed photos of more than 70 years of classes remind students and faculty of pharmacy's long story. A glass cabinet holds awards from the American Pharmacists Association and the American College of Clinical Pharmacy, a testament to the College of Pharmacy's 130-year history of leadership in educating the nation's best pharmacists and pharmaceutical scientists.
"If you go back a very long time ago, pharmacy started as a very hands-on, practical profession where you learned with a mentor and learned by doing," Bakken says. In some ways, she says, the pendulum swung too far in the other direction to passively sitting in classrooms listening to lectures. But the "Learning and Living" curriculum, she says, balances all the best practices in a meaningful way.
Perhaps one day the College of Pharmacy's photo wall will include an image from 2015, marking another milestone moment when the school transformed to meet the demands of the day. Despite the passing of the years, one aspect of the field has remained steadfast: the donning of the white coat, a symbol of the pharmacist's pledge to patients and to the profession's enduring principles.