TODD ERICKSON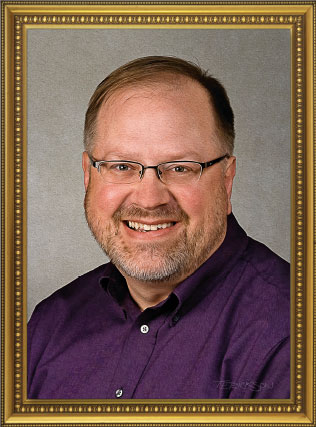 SELF-PORTRAIT BY TODD ERICKSON
W
hen Brandon Scherff, 14BA, 14BS, earned consensus all-American honors this past season, he became the latest in a series of Hawkeye football players painted by
Todd Erickson
. The artist's works are among those on display in the UI Football Operations Center near Kinnick Stadium, where paintings of 22 Iowa greats—including
Nile Kinnick
, 40BA,
Alex Karras
, and
Andre Tippett
—hang in the All-American Room. Here's why Erickson enjoys being a part of this rich Iowa tradition:
LONGTIME HAWKEYE
Ever since Erickson arrived at the UI in fall 1979 on an art scholarship, he's been a loyal Hawkeye. After graduating from Hawkeye Community College in Waterloo, Erickson worked for 29 years at the UI Center for Media Production. He's also had season football tickets since 1985 and looks forward to seeing his nephew Cole Erickson wrestle for Iowa this fall.
PHOTO TO FRAME
Erickson has been Iowa football's portrait artist since 2003, when he created oil paintings of Robert Gallery, 03BA, and Nate Kaeding, 04BA. Since then, he's gone all-digital, using Photoshop to add layers, effects, and brushstrokes that simulate the look of an oil painting. After four to six hours of work with a player's photo, he's ready to print it on canvas, give it a glaze, and add final touches. "Not only do I love working with the university, but I'm also a big Hawkeye fan," says Erickson, "so I feel like I'm creating a part of history."
ART HISTORY
Erickson aims to keep his style consistent with the previous painter, Tommy McDonald, a former Oklahoma all-American and member of the Pro Football Hall of Fame who spent 12 years in the NFL. In the Hayden Fry era, McDonald was commissioned to paint all of Iowa's all-Americans and continued the practice through 2002 with Eric Steinbach, 03BS.
SPRUCING UP SPORTS
In addition to the digital portraits, Erickson also freelances for UI Athletics, including football, track, men's and women's basketball, men's golf, volleyball, and wrestling. One of Erickson's more recent projects was designing a gallery for defensive coordinator Phil Parker's office of all the defensive backs he's coached to the NFL.