Taylor Yocom, 15BFA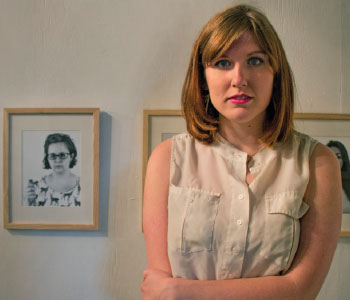 PHOTO: Peter Kim/Daily Iowan
Why was she in the news?
Keys spiked between the knuckles of a clenched fist—they're a makeshift weapon many women use to feel safe while walking home at night. Although different women employ different strategies—including mace, whistles, and stun guns—this feeling of heightened vigilance is a common female experience.
Taylor Yocom, 15BFA, documented these self-defense mechanisms in Guarded, a series of 33 black-and-white photos of women holding the objects they carry when walking home alone. Yocom, a recent photography graduate, posted the completed project online last year. This May, about a year later, the photos showed up on actress Zooey Deschanel's website, "HelloGiggles." From there, the series exploded in popularity. It now has over a million views on Buzzfeed and has appeared in the Huffington Post, USA Today, and news outlets from the UK, Italy, Sweden, and Greece.
What inspired the project?
The idea for the project came from a conversation in one of Yocom's art classes last year. While discussing a string of then-recent sexual assaults in Iowa City taxicabs, women in the class began comparing the objects they carried to feel safe while out alone. In doing so, they affirmed that the threat of assault was an everyday reality for each of them—one they were reminded of every time they pulled out their keychains. Although the topic was grave, the tone was casual. Yocom says the men in the class were shocked. By seeing the issue through the experiences of women they knew well and viewed as their peers, it became more real for them than it ever had before.
When Yocom saw this, she wondered if she could provoke the same effect through photography. She knew she had to try.
"I think this issue is really important—it affects so much of the population," she says. "In not talking about it, it's so easy for others who are privileged to keep their head in the sand."
What has the response been like?
Yocom says the tremendous response to her photos has been humbling, rewarding, and completely unexpected. She remembers receiving a message from a male friend last year when she had first started the project. "He said, 'This series made me tear up. I think this project should go worldwide,'" says Yocom. "I took it as a compliment, but thought, 'yeah, in a million years.' Of course, the next year, it did go worldwide."
During Yocom's last week of UI classes, she received countless emails, both from news outlets planning to report her story and from women who wanted to share their own experiences of being "guarded." "I even got an email saying, 'In my country, we can't have mace, but I use my umbrella walking home,'" says Yocom. "Seeing that it's resonated with so many people has given me momentum."
What's next?
Though she graduated from the UI this past spring, Yocom plans to continue the project. She will travel to college campuses around the country to speak about Guarded, and extend the series with photos of women from other campuses.
---
To see Guarded and other photos, visit www.tayloryo.com.